For many backpackers (and maybe you too) it is a dream to work as a barista in Australia. But what is it like to work as a barista in Australia? What is the salary, which requirements do you have to meet and would other backpackers recommend this job to you?
We have interview with a backpacker and a Cafe owner about their experiences in Australia.
So you can find out, if the job as Barista is the right job for you.
Short version
If we sum up all the answers we received from baristas, then the job as a barista is especially suitable for you if you drink coffee yourself. Each of the baristas had a personal connection to coffee even before their job and regularly drank coffee themselves.
The wage for baristas is usually above the minimum wage. Previous experience is important, but there are smart ways to get this experience.
Barista courses are good to get a quick start, but many managers do not take them alone as a qualification.
Questions and answers from baristas (and café managers)
Let's move on to the more detailed questions and answers we received. We took the opportunity to ask backpackers baristas about their job and also used the contact to café/restaurant managers, because they hire baristas and could therefore give us valuable knowledge.
Franziska (Barista): Franziska was a backpacker in Australia in 2020 and made her way from a waitress to a barista. She tells us about her experiences and how she managed to get started.
Verena (Café owner): Verena emigrated to Australia over 15 years ago. She now owns a cafe in Airlie Beach and also hires people herself. Therefore she is perfect for an insight into the cafe world.
Question 1: What would you recommend to someone who wants to work as a barista?
Franziska (Barista): If you have no previous experience as a barista, then start as a waitress. From there, you will usually also get the opportunity to get your first experience at a catering coffee machine. If you show real interest, you can also make the leap to a permanent position as a barista. It also helps if you are a coffee drinker yourself. I recommend you to be curious and penetrating, then the learning process will work best.
Verena (Café owner): If you want to work as a barista, you should love coffee yourself and have a real passion for coffee. I do not hire a barista if he/she does not drink coffee himself/herself.
As a barista I only hire experienced people. To make a good coffee requires much more than you think at the beginning. To have experience I count at least 3 months of regular coffee making as a minimum. Your sense of smell and taste should be good, but you can also learn to do that. Even when pouring the coffee you can make "mistakes".
.
Question 2: Do you need previous experience to work as a barista?
Franziska (Barista): Personally, I had no previous experience as a barista. I started out as a waitress in a café and after a few weeks I was able to make my first experiences as a barista step by step. After about 3 months I had the opportunity to change from the service to the position as a barista.
In my experience, gastronomy in Australia varies greatly from region to region. Melbourne is THE coffee city where baristas are well paid. If you're up for competitions and championships, that's the place to be.
In Sydney, I only got very badly paid job offers as a barista. Often people tried to pay me below minimum wage, but I refused these jobs.
In my experience, Brisbane was in the middle between Melbourne and Sydney. The offered payment as a barista in Brisbane was ok (about AUD 23 per hour for part-time/full-time).
Verena (café owner): As a barista I only hire people who have at least 3 months of practical experience. Therefore I would clearly say that previous experience is required.
But there is a good way to gain experience. If you are interested but do not have experience as a barista, we often hire as a service person. This way you can step by step make your way towards becoming a barista, besides your normal work.
Barista is a complex profession, mainly because of the different types of milk and diets. Some guests mix different things to get their desired coffee. An order a la "cappuccino, with almond milk, 1 shot, half strength and no chocolate on top" is a nightmare even for an experienced barista.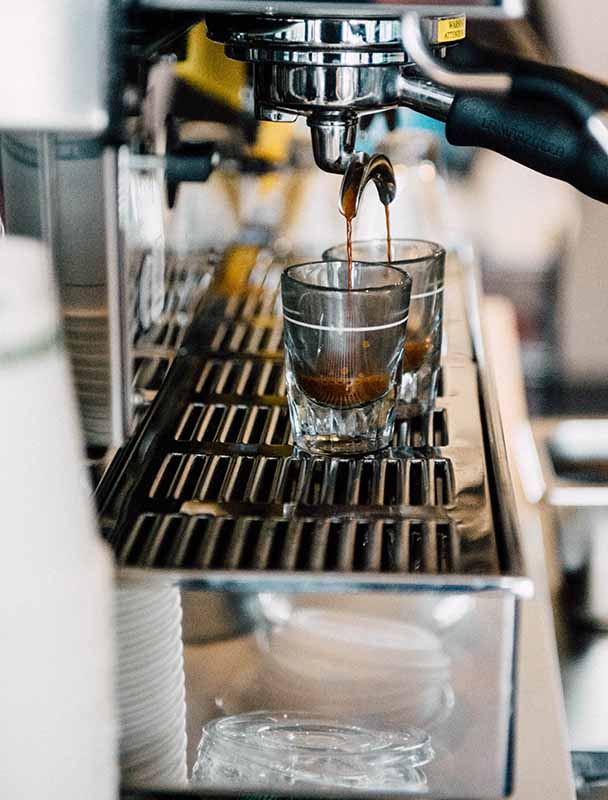 Question 3: What do you earn per hour? Do you get bonuses such as accommodation, food, etc.?
Franziska (Barista): My first income as a barista was AUD 18 per hour, when my boss gave me a really hard time. But I didn't stay there for long either.
Normally I was paid 23-26 AUD per hour. On weekends there were surcharges. I had to find my own accommodation. Depending on the length of my shift, I had meals in a café when it was a bit quieter. Unfortunately this was rather rare and most shifts were rather well attended and therefore often without a major break.
Verena (café owner): As a barista with us you earn AUD 26 per hour. Our café is open every day from 7 – 13 o'clock. So you can work a maximum of 42 hours.
We do not provide food or accommodation, the employee has to take care of that himself.
Question 4: How many hours a week do you work on average?
Franziska (Barista): I usually worked between 25 and 40 hours a week, depending on the job. At least in the beginning, I usually work part-time. If you prove to be resilient and reliable, however, in my experience, full-time work is also quickly possible.
Verena (Café owner): Our café is open 7 days a week. Therefore we can only work a maximum of 42 hours.
Question 5: Which coffee speciality do Australians prefer to drink?
Franziska (Barista): In my experience, Australians drink a lot of coffee with foamed milk. Flat White and Cappuccino are the best-selling coffee variations I remember. Followed by the classic Americano. Then follows by far all other coffee specialities. With the milk types it becomes then depending upon café strenuous, usually there were 3 to 5 different milk types to choose from.
Verena (café owner): We sell cappuccino the most, followed by flat white, latte and long black. Ice Latte, Ice Coffee, Espresso and the other coffee specialities follow at a distance.
As a barista you should ideally be able to present a pretty good cappuccino or flat white at your interview. If you can already conjure up patterns with the milk, this is a bonus that will help you and ensure a quicker job contract.
The most frequently asked questions about the profession Barista in Australia
What you should do now
You want to work as a barista? Then write your first applications today and find your next employer in Australia.
You're unsure about your resume? Then book our resume package and let us help you with your perfect resume.
What else might interest you:
Disclaimer
:
Please note that some of the links marked with a * are affiliate links, and, at no additional cost to you, I may earn a commission if you make a purchase. I use all the companies listed and recommend them because they rock and have made my travels better. If you are ready to book your trip and would like to support Working Holiday Blog, using these links is one way to do that. If you have any questions about the companies, e-mail me.
Ciao Julian 🙂
Follow Me on YouTube, Facebook, and Instagram.
If you find this helpful: Share It with your friends!