In this article we will introduce you to everything you need to know about the Australian Resume. You'll learn what to look out for, how the Australian CV differs from the Resume and how you can easily fit all informatons on one page. The resume in Australia is much more important than the cover letter. That's why you have to do your best to put everything on one page in a short and compact way in your Resume for Australia.
The Resume in Australia
Resume is usually referred to in Australia as the resume. There is also the CV (Curriculum Vitae), which is usually slightly longer and more comprehensive than the normal Resume. If you are a backpacker in Australia, the resume is enough if your potential employer does not explicitly ask for a detailed CV (Curriculum Vitae).
In Australia, a good resume is much more important than a cover letter. In your resume you should highlight all the information that is important for your potential employer in a clear and detailed way. Emphasize points that are important for your future job. Here you can also mention some of your previous experience which is helpful for your future job.
It is important that you match your resume in Australia to the job advertisement for each new application. This will greatly increase your chances of getting a job.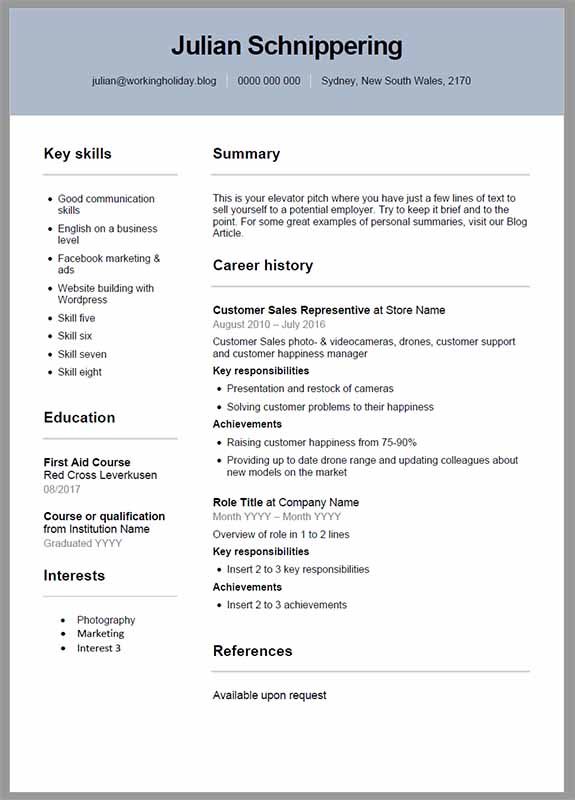 ▷ Here you can find our article for the perfect resume template for australia.
What types of Australian CV or resume do exist
The above mentioned resume, is the most widely used resume in Australia. This version focuses on your practical experience and previous professional activities. This is exactly what your potential employer is interested in during your application.
This type of resume is especially suitable if you have had jobs in the past and can list them in order.
The resume is structured as follows:
Personal Details
Here you list the most important personal data. This includes your name, telephone number and e-mail address. It's important that you include an Australian phone number. If you're preparing your resume for Australia before you start travelling and you don't have a phone number yet, please add it after you arrived in Australia.
In addition, you can enter an address, which will show your potential employer where you are in Australia. It is sufficient to name the city. You do not need to give an exact address. It is mainly about your employer seeing that you are already in Australia.
Job Position: Job Objective
Since you usually (for most jobs unless specifically asked) do not write a separate cover letter, you should highlight the position for which you are applying. You can work through this point together with your pitch right after your personal data.
Work Experience
Here you list your practical work experience in your resume, which you call Work Experience.
You list each of your past jobs individually, starting with the last job you had. Then you continue with the second last job and so on. At the end is your last job in the list, the first job you had in life.
For each of your jobs you should ideally provide the following information:
Job title: The position you held, for example "Barista
Responsibilities: Here you briefly describe what you did in your job.
Company name and location
Period of your employment, at least to the month (better still to the day)
School education
Under the item Education you can briefly mention your school education. Limit yourself to your highest school or university degree and when you obtained it.
You should have certificates translated into English (if they are not already in English). This is easy to do online nowadays.
Skills und Qualifications
Here you can mention special skills. These include, for example, advanced language or technical skills (e.g. computer skills). Under "Qualifications" you can list courses, further education and other certificates you have acquired (e.g. barista training).
References
As a conclusion you can now name some short references. If you don't have any, this is not a bad thing. After a job in Australia, always try to get permission to name your employer as a reference. Then you will have it easier with your next job.
What you don't have to mention on your Australian resume
It is unusual in Australia to have a photo in your resume. So you can easily send your resume without it. Your age is also not necessary in the resume and can be skipped.
Your school education is also rather unimportant, so you can limit yourself here to your highest qualification. In this context, mention the school or university where you received your degree. School education is not relevant for most backpacker jobs anyway.
If you have school certificates or additional qualifications, you can mention them in your resume. If you are invited to a job interview, you can bring these certificates with you. You don't need to include a copy of them directly with your resume.
Differences between the English and the Australian resume
If you compare the English resume with your Australian, the first thing you notice is that everything here is upside down. Because in Australia it is common in the resume that you mention your last job first and then go backwards in time. Instead of listing in chronological order, you list everything in reverse order for Australia.
Then you list your previous jobs, which means that your first job will be the last one on the list.
How to write your own resume for Australia
With all this information you can easily write your own resume for Australia. You need a computer or a tablet with a writing program and some time. Using our description and the photo above, you'll find everything you need to write your resume in Australia.
If you want to save yourself some work and use a template, we have something for you.
▷ Use our template package for your perfect resume in Australia.
You are currently in Australia? What is your experience with jobs and job search in Australia? We look forward to your comments under our articles.
Other interesting articles for you:
Disclaimer
:
Please note that some of the links marked with a * are affiliate links, and, at no additional cost to you, I may earn a commission if you make a purchase. I use all the companies listed and recommend them because they rock and have made my travels better. If you are ready to book your trip and would like to support Working Holiday Blog, using these links is one way to do that. If you have any questions about the companies, e-mail me.
Ciao Julian 🙂
Follow Me on YouTube, Facebook, and Instagram.
If you find this helpful: Share It with your friends!