Toronto is the largest city in Canada. It is located on Lake Ontario and attracts millions of tourists to the city every year. "Toronto the City of Dreams" as it is called by JR Alli one of my absolute favorite YouTubers. Today I'm going to show you my top 10 sights that you shouldn't miss when visiting Toronto.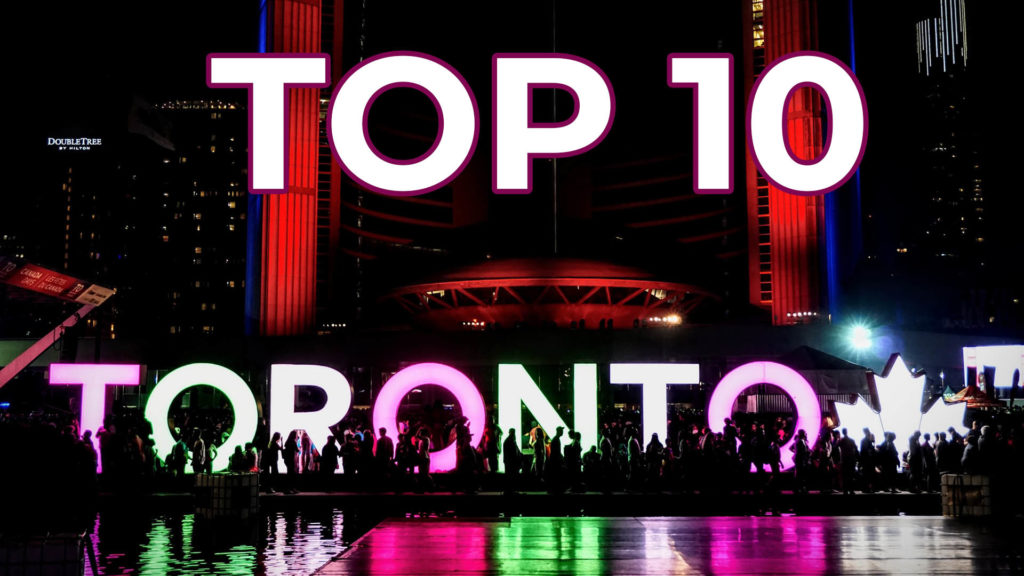 Toronto The City of Dreams
A slightly different style of travel video, but why am I not even showing you a video that has influenced my own YouTube career. I've seen and analyzed this video 100 times. Jr Ali is from Toronto and is an incredibly talented film maker.
Toronto: The most important facts and figures at a glance
| City | Toronto |
| --- | --- |
| Country | Canada |
| Population | approx. 2,616,000 |
| Size | 630.18 km² |
| Language | English |
| Currency | Canadian dollars |
| Time zone | Eastern Standard Time (UTC -5) |
| Average temperature in summer | 16,7°C (62,1°F) |
| Average temperature in winter | – 0,1°C (31,8°F) |
Map: city map of Toronto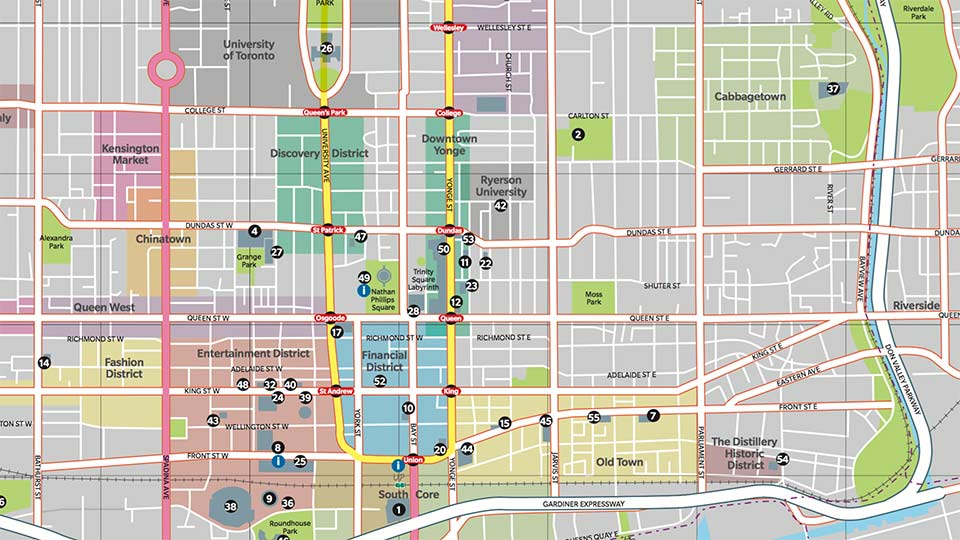 Map Toronto Downtown with sights: Map Downtown Toronto (PDF) from www.seetoronto.com
Greater Toronto Map: Greater Toronto Area Map (PDF) from www.seetoronto.com
Toronto also has a completely underground pedestrian walkway. It connects the shops. Especially in winter, when it is too cold outside, you can still go shopping.
Toronto Path Map: City of Toronto PATH MAP (PDF)
1. Relax on the Toronto Islands
There is nothing better than escaping the busy city life on the Toronto islands. You can get there by ferry. But don't worry, the 3 big islands: Center, Ward's and Algonquin are all connected. So you don't need another boat to explore them all.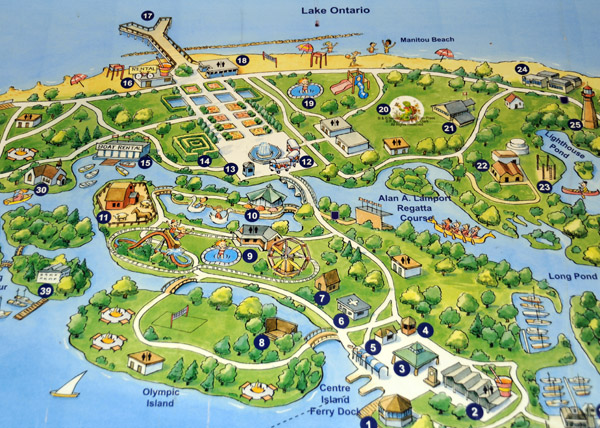 2. Enjoy good food at the St. Lawrence Market
The market impresses with its great diversity. Foodies rate the market as one of the best in the world. The market is divided into 3 buildings: the South Market, the North Market and St. Lawrence Hall.
3. Visit the largest waterfalls in North America (Niagara Falls)
The famous Niagara Falls are about 90 minutes from Toronto. Technically, this is not in Toronto but if you have never been to Niagara Falls this is a must do! The Niagara Falls are the largest and most impressive waterfalls in all of North America.
4. Distillery Historic District
In the heart of Toronto, the Distillery Historic District is home to building history, entertainment, fun, and plenty of shops and boutiques.
5. Hockey, Hockey & Hockey (Air Canada Center)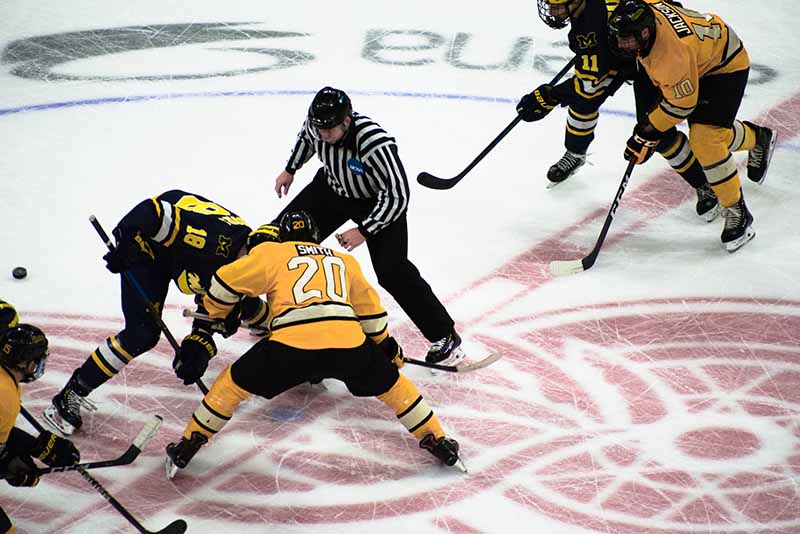 Hockey is more than a sport in Canada. It is the national drug and Toronto is no exception. So either visit the Hockey Hall of Fame Museum or watch a game. The Hall of Fame is located in the Air Canada Center. The Air Canada Center is also used for all kinds of events. It is worthwhile to see which event comes next.
6. Every city needs a castle
Designed by architect EJ Lennox for Sir Henry Pellat, Casa Loma was completed in 1914. This masterpiece even includes marble floors in the stables.
7. Walk through the Toronto Zoo
With over 16.000 animals the Toronto Zoo is considered one of the largest zoos in the world. Here you can visit over 500 different species.
8. CN Tower
Enjoy an amazing view from the city of Toronto on top of the 553-meter television tower. Toronto's CN Tower (Canadian National Tower). According to the American Society for Civil Engineers it is considered as one of the seven wonders of the modern architecture.
9. Royal Ontario Museum
Even if you're not a fan of museums. The building of the Royal Ontario Museum (ROM) will blow your mind. The ROM is one of the largest museums in North America. You will find information and collections on cultures from all 7 continents. Next to the Royal Ontario Museum you will also find Queen's Park and the University of Toronto.
10. Chinatown + Kensington Market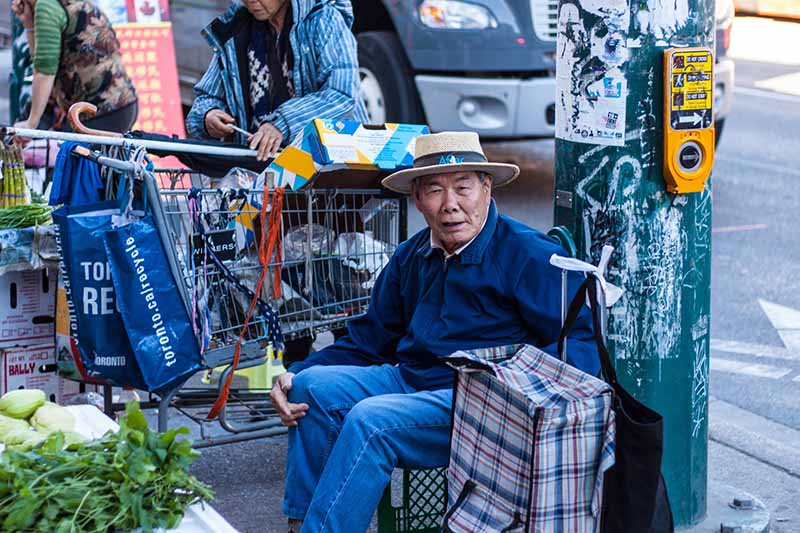 If you come to Toronto and you love food, don't miss the diversity you can find in Chinatown Toronto. There are all sorts of different specialties from across Asia. The Kensington Market is located on Baldwin St. and it is known for its exotic products. If you are visiting Chinatown be sure to visit Kensington Market aswell.
Bonus: Ripley's Aquarium
Visit the largest indoor aquarium in Canada. The Ripley's Aquarium carries a variety of different species from the underwater world. Immerse yourself into another world! Perfect to escape the hectic city life from Toronto. What shouldn't be missing from the list? What were your coolest Toronto experiences?
These were my Top 10 Things to do in Toronto in 2020. What is missing on the list? Write me a comment.
For daily travel inspiration, follow my Instagram: @WorkingHoliday.Blog
Also Read
Disclaimer
:
Please note that some of the links marked with a * are affiliate links, and, at no additional cost to you, I may earn a commission if you make a purchase. I use all the companies listed and recommend them because they rock and have made my travels better. If you are ready to book your trip and would like to support Working Holiday Blog, using these links is one way to do that. If you have any questions about the companies, e-mail me.
Ciao Daniel 🙂
Follow Me on YouTube, Facebook, and Instagram.
If you find this helpful: Share It with your friends!