First of all, there are much more than just 5 reasons to choose Working Holiday in Ireland. Especially for EU citizens, Working Holiday in Ireland is easy to implement and can be done without much effort. The journey from other European countries is comparatively easy and short. You can find more information about the different ways to get there in the article "Ireland: How to get to the green Island". Furthermore, as an EU citizen you do not need a special visa for Work & Travel, usually a passport or even just your identity card is sufficient for entry!
Important to know: With a temporary job you can stay in the country for up to 6 months, after that you need a permanent job (part-time or full-time – it doesn't matter). As an au-pair you can stay in the country for up to one year.
In order not to get too excited, I have limited myself to five more than convincing arguments for Working Holiday in Ireland. I am sure you all have your reasons why you love travelling so much. Ireland will not only confirm them, but show you all the fantastic sides of travelling.
1. The Irish way of life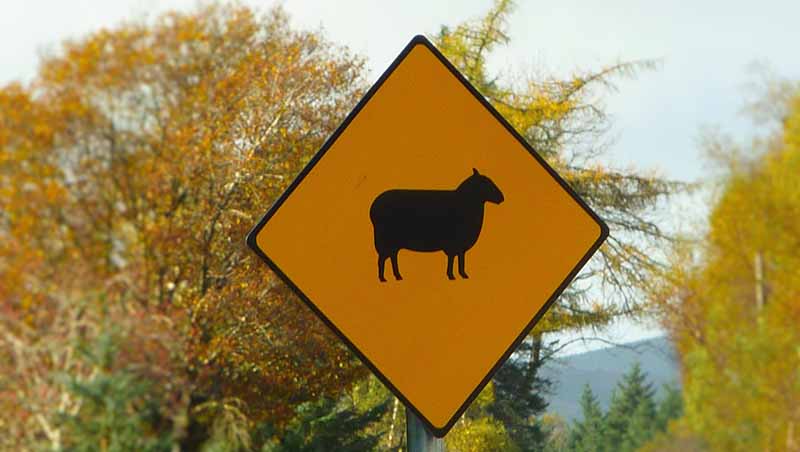 Reason number 1 are the Irish themselves! No matter where I have been in the world, the friendliest, most travel-loving and open-minded people are the Irish. After work, the neighbours invite you for an afternoon tea with their families, on weekends you go on hiking tours and in the evenings in the pub you have no chance to brood alone in a quiet corner; you have company immediately or are invited to a Jameson at the bar. It is the people who make you feel at home in Ireland immediately.
Especially in winter there are hardly any tourists and actually only locals in the country. In the cosy season it is especially easy to sink into the pub with the Irish while listening to good music and enjoying a "Hot Whisky", a whisky infused with lemon and hot water. Besides pubs, local festivals and events such as sporting events, markets or horse races are a great way to get in touch with the locals. Most of the time you will immediately stand out like a colourful dog and get involved in a nice conversation.
"Meet up" is a good platform to meet new people, especially in the cities. Here you have the opportunity to register for events of different groups. There is, for example, the morning jogger group you can join, a book club, art lovers who go to the museum together or party people who meet for a pubcrawl together. Via "Meet up" you can join different groups and thus find direct connection. "Girl Crew" is a similar online community that works similarly to "Meet up" but is mainly used by women. There is also a mixed forum, so that men and couples can find suitable groups and events.
,,For 2022 we recommend Travel Credit Card from Revolut.
No Annual Fee, withdrawling cash abroad is free"
Find out more in the article:
Best Travel Credit Card for Working Holiday!
2. Sing along all year long!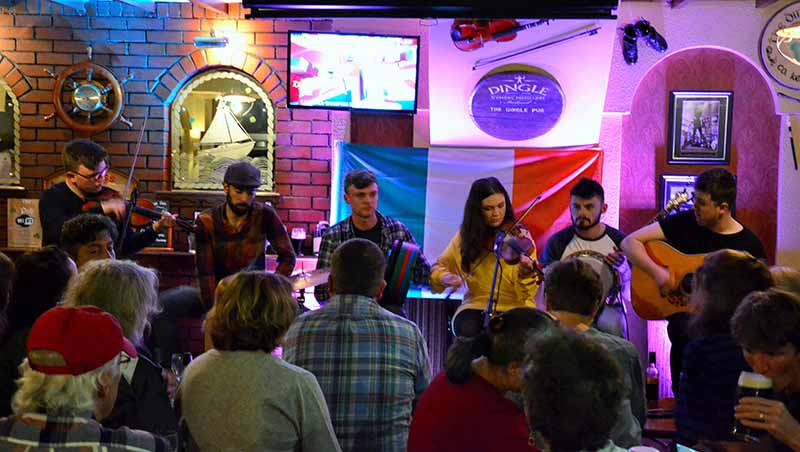 Nietzsche once said: "Without music, life would be a mistake. The Irish live by that principle. Music, pubs and food go hand in hand and are reason number two for the Emerald Isle. There's nothing better than having a large piece of shepherd's pie, a hearty potato and minced meat casserole, on your plate after a long day at the farm and meeting the neighbours in the pub in the evening. After a bit of gossip, the first one starts singing, the next one takes out her guitar and another one the violin. If you ask them yourself, the Irish are supposedly all unable to sing, which is simply not true at all. I can only recommend you to go there and experience it yourself.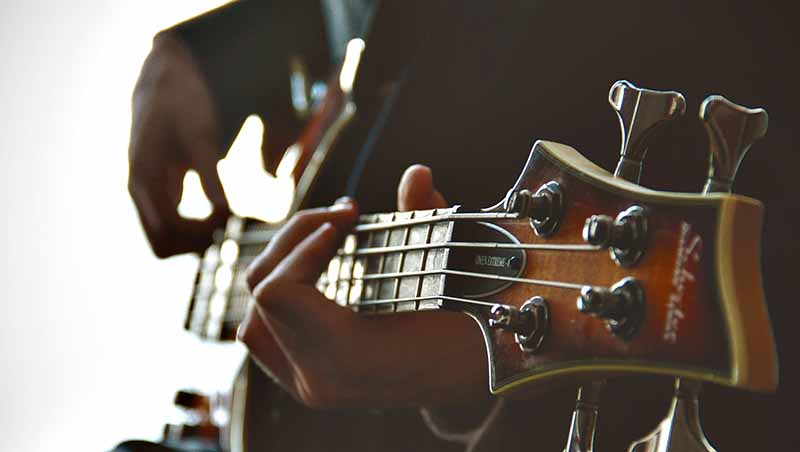 My best memories of Ireland are long evenings in the pub with spontaneous music, a pint of Guinness and wonderfully funny, sometimes serious classics, which everyone sings along at the latest towards early evening. And you don't even have to be on the road in cities for that. The more than 800 Irish pubs are spread all over the country and even in the smaller towns you don't have to search long to find that perfect Irish spot.
Good to know: In Dublin a pint of Guinness costs up to €7. You can get away much cheaper in the country, here it costs around 5,- €.
3. Meet other travellers
When travelling, I always feel the people you meet are a very important point. The 3rd reason why you should choose Working Holiday in Ireland is complementary to the first reason. Mostly it is the people you meet who decide how comfortable you feel in a foreign place. I have already told you that you can only feel comfortable with the locals. In Ireland, however, you will meet many other travellers, especially in the summer months and the Traveller Hubs like Dublin, Galway and Cork!
There are some cool hostels in Dublin where you can meet travel buddies and great people. Abbey Court may not be the most convivial hostel, but it's unbeatably centrally located, close to the Temple Bar pub district and right on the Liffey, and is really affordable.
The Generator Hostel in Dublin is part of a large chain of hostels, but for this very reason it is often very popular with international travellers. The hostels are generally very clean and modern and the Generator in Dublin is also located in the hip Smithfield district.
Kinlay Hostel Galway is also a great place to stay, right in the middle of Galway's small city centre, from where you can explore the city. A big plus: the hostel was only renovated in January 2020!
If you are looking for other destinations in Ireland: Tripadvisor presents you a small overview of the best hostels in Ireland. It is worth to have a look here!
4. The Irish Landscapes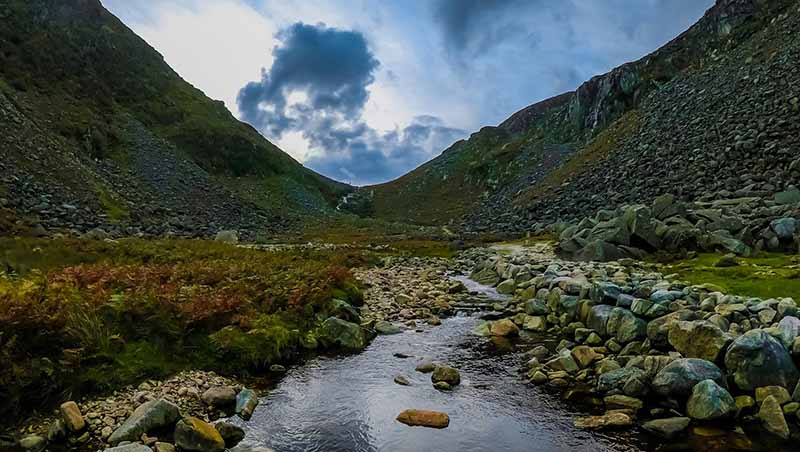 Reason number 4: Ireland is surprisingly diverse for its small size. There are mystical upland moors like the "Blackwater Bog", rugged landscapes for example in the "Connemara National Park", picturesque island landscapes like "Dingle Island", the "Wicklow Mountains" south of Dublin full of stories and hiking trails and lively cities, besides Dublin the wonderful Galway, the industrial Limerick or the port cities Waterford, Cork and Sligo.
Sometimes you feel like you're at the end of the world, like among the ruins of Inishmurray, then again you're in Galway's pretty downtown Quay Street, full of people, pubs and live music. Whether you are looking for country living, work experience, meeting cool people, adventure, living on the coast or wandering the streets of lively cities, Ireland is your country for it!
The easiest way to travel around the country is by car. Especially in the countryside, the options for using public transport are disappearing. If you travel from Dublin to Galway or Limerick to Cork, for example, the cheapest option is by bus. You can find them at Buseireann.ie you will find current plans and information about tickets. The bus trips were great to enjoy the view and most of the time you pass wonderful corners you might want to visit again later.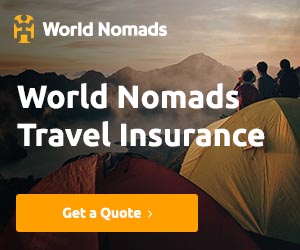 5. Food & Drinks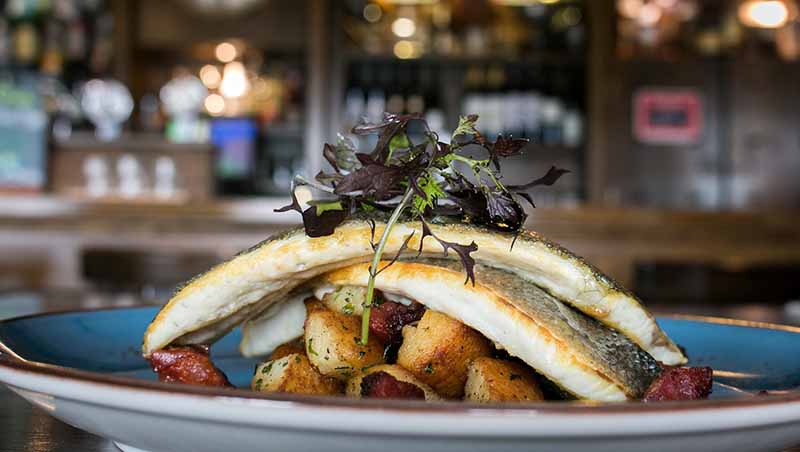 The Irish love good home cooking, sweet desserts and a cool beer. Dingle, the small island on the picturesque west coast is famous for its great ice cream! "Apple Pie" is also a traditional dessert that you can find almost everywhere and at any time of the year in Ireland. In Cork City there is "The English Market", a large market with mainly regional products, which is located in the market hall of the Cork City Council. If you like fish and seafood, you will always find a good restaurant in the coastal towns, usually the seafood is available in pie, soup or fried.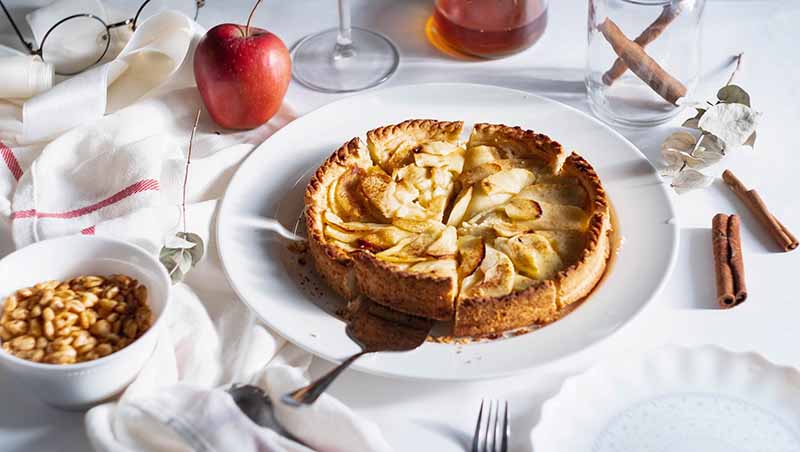 Good to know: Eating out in Ireland can be quite expensive. However, it is worth trying the classic Irish dishes. A portion of shepherd's pie in the pub for the lunch special costs around €9, a plate of Irish stew (stew with lamb, potatoes and onion) costs around €12 and a bowl of colcannon (mashed potatoes with coleslaw) costs around €10. It always depends on whether you are travelling in the big cities or in the country!
In Killarney there is the fabulous pub "J M Reidy's", perfect for good afternoon coffee and in the evening the doors open to the pub, the adjoining cocktail bar and the cosy courtyard. Definitely worth a visit! There are also breweries in Ireland, "Craft Beer" is on the rise. If you are a beer lover, then have a look at the Dungarven Brewing Company in Dungarven. Here you can find beer of various flavours, always home-made and based on the season.
Ireland – much more than just the green island
Ireland really has an incredible amount to offer and I am sure that after a year you will want to discover and experience more of the country and its people. You can never get enough of Ireland!
Accommodation in Ireland
You have many options when it comes to accommodation in Ireland. Hotels from low budget to luxury, bed and breakfast, hostels and Airbnb*. For the start I would recommend a hostel, because you can immediately make contact with other backpackers / travellers. If you get together with 1-2, you can also use AirBnB.
What is Airbnb? If you don't know Airbnb* yet: In principle, you can now rent out everything possible above it. So you can find rooms and whole flats from private persons. Compared to hotels, you can save a lot of money here. Especially if you share the costs with others.
Get your registration bonus: If you are NEW to AirBnB, you can use this Link* to receive a bonus for your first booking!
Which travel guide should I carry with me?
▷ You can find more guides and useful equipment in Work & Travel Shop.
What else might interest you:
Disclaimer
:
Please note that some of the links marked with a * are affiliate links, and, at no additional cost to you, I may earn a commission if you make a purchase. I use all the companies listed and recommend them because they rock and have made my travels better. If you are ready to book your trip and would like to support Working Holiday Blog, using these links is one way to do that. If you have any questions about the companies, e-mail me.
Ciao Lena 🙂
Folge mir auf YouTube, Facebook, and Instagram.
Wenn du den Artikel hilfreich findest, dann teile ihn mit deinen Freunden!