This week is a super exciting week, because we just launched our own Working Holiday Shop! But let's get back to the reason of this article. We decided we want to shine the light more on the behind the scenes here at Working Holiday Blog.
So Today I have for you 4 Topics:
Video: What is WorkingHoliday.Blog ??? (Corona, Shop, Future and more…)
Why we decided to have a second YouTube Channel
Since last week we split the content based on the language. In the past all videos where published on the same channel. But over time this is actually hurting the videos. English Audience get German Videos suggested and German Audience rather watches the German video and jumps out of English video. So it just made sense to split the language to two different channels. But the decision was not easy. To have to channels means also you have to maintain 2 channel, pay twice the license and overall more work. Also it took me 3 years to get to 3.000 Subscribers on my first Channel. We will see how this decision will turn out.
The Vison of Working Holiday Blog
Let's come to the main topic from today. Since 1. June 2020 we are publishing at least one article per week on Working Holiday Blog. I partnered with Julian who is a German Travel-Blogger an we met while both on a Working Holiday in New Zealand in 2017. He runs a New Zealand Blog and we both bring around 5 years blogging experience to the table.
In the beginning of 2020 we shared an AirBnb on Tenerife. Our visions where quite similar. We both want to write about Australia. He is currently in New Zealand waiting to enter Australia for his Working Holiday. I came back from my Working Holiday in Australia last year.
Because of the massive impact that the COVID-19 had on our Blogs we had to think different and are currently in a test-partnership. 6 Months until the End of November. To learn and see if we can build this Company together.
So what is Working Holiday Blog?
Did you know, that there are currently 61 Countries who offer a Working Holiday Visa? With Working Holiday Blog we want to bring more awareness to these Countries. The most people only know about the 3 big ones. Australia, New Zealand and Canada.
Also we want to help to give planning, travel and tips to make the travel experience as unique as possible.
Since we started in June we got already 1.957 Reader to our new Blog.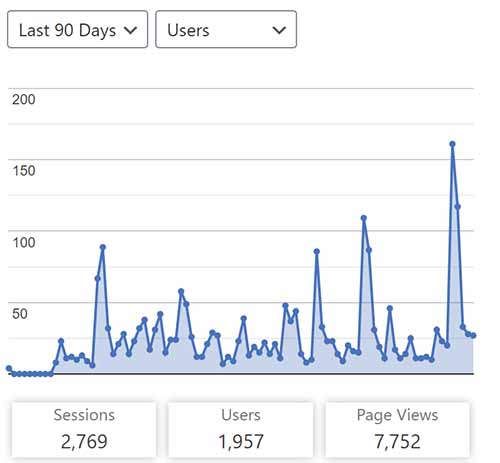 The launch of our Shop
Short and simple! This week we also launched our own Shop where you can find Travel related Equipment, Travel-Guides and things that will make your Working Holiday easier.
Check out our new shop @ https://workingholiday.shop/
How Corona is effecting us.
Both of our Blog's had a roughly drop of 70% traffic. That is a huge gap. Our income is nearly to zero which creates for us a very tough time. We still believe in our vision and work as hard as we can. We want to come out of this crisis even stronger than before. But it is not easy. I sometimes work more than 50 hours a week and than see 0 income. I want to be honest with you. This creates a lot of doubt. This is why I want to frame this moment in time. To show, every road can be very hard.
Also in the future we want to be more transparent with all the things that happen behind the scene here at Working Holiday Blog.
I wish you a nice day.
Ciao Daniel 🙂
Follow Me on YouTube, Facebook, and Instagram.
If you find this helpful: Share It with your friends!