Today we explain everything you need to know to write your resume for Australia. You will find all the important information you need to mention in your resume for Australia.
In addition we give you a template to fill out yourself. This way you can complete your resume and find your next job in no time. Have fun in Australia, enjoy it!
What is the difference between a resume and CV (Curriculum Vitae) in Australia
Although the terms are different, they mean almost the same thing. In Australian, the resume is called both resume and CV (Curriculum Vitae). To make it easier for you, we will only talk about the resume in this article. In our experience, this is the more common term for it. If you are unsure, you are never wrong with the word resume in Australia.
What is the written difference between resume and CV (Curriculum Vitae)
Even though the resume is always the right choice in Australia, there is a small difference between the two forms of the resume and the CV for Australia.
The resume emphasises in a short and crisp form your skills and degrees, as well as existing work experience. This way you can present yourself perfectly on one page and highlight skills that are appropriate for the job. Saves your employer an enormous amount of time and writing.
The CV (Curriculum Vitae), on the other hand, is a complete presentation of all degrees, previous jobs and skills. A CV can quickly be several pages long and quite extensive. In rare cases, an employer in Australia will specifically ask for a CV, in which case you are allowed to make it a little more detailed. However, we have never needed more than one page of resume in Australia and can therefore recommend that you create a resume.
How to create a resume for Australia
Ein Lebenslauf in Australien unterscheidet sich leicht von der Deutschen Version, denn du brauchst viel weniger persönliche Daten. So brauchst du kein Foto und gibst nur deinen Namen sowie deine Kontaktdaten an. Zusätzlich listest du bisherige Arbeitserfahrung, sowie deine Fähigkeiten (Skills) auf. Schulische Abschlüsse sind nur interessant wenn sie für den Job wichtig sind, ansonsten würde ich nur die letzte Schule nennen und es nur auf Anfrage ausführlicher behandeln.
For a good overview of a classic resume, take a look at the photo further down in the article to get a quick impression of how you can design your resume.
Example of an Australian resume as a backpacker
Resumes for Australia are available in different designs and lengths. Here we give you a free resume that fits well on one page. That's enough for all simple backpacker jobs in Australia. It's mainly about your potential employer seeing at a glance what experience you already have and what skills you have.
Important rules and tips for your resume in Australia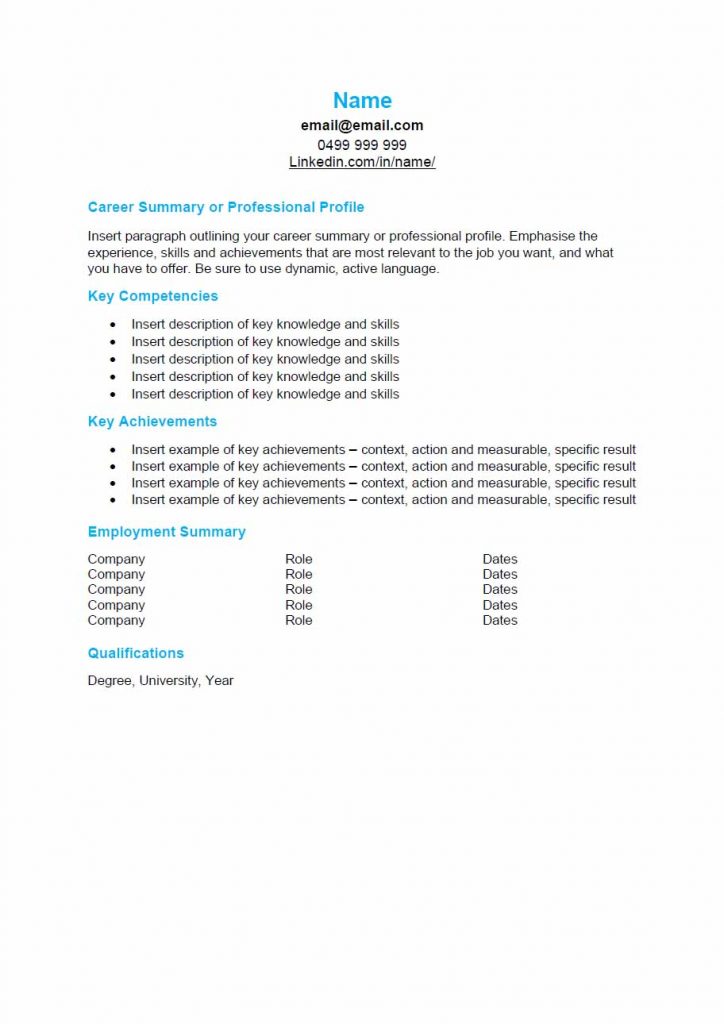 Length of the resume
For simple backpacker jobs a one-page resume is perfectly sufficient.
For experienced professionals a three or four page resume is expected in Australia. If you have recently graduated or are new to the world of work, one or two pages are sufficient. But as soon as your career is robust enough for three or four pages, you should expand your resume accordingly.
Use Australian English
When writing your resume, make sure you use correct Australian English. Don't forget the additional "u's" like "colour" and "labour" (as opposed to the American spellings "color" and "labor"). If you're unsure, check the correct English spelling for example with DeepL and choose "English GB" as your target language (free translation with DeepL). American English likes to skip a letter with some words.
Photo in your Australian resume
As a rule of thumb, it's best not to include a photo on your Australian resume. If you're planning to submit your resume online, or if you're applying in a creative industry where visuals are highly valued, a photo can be an advantage.
Find out beforehand whether the company you are applying to will expect a photo.
If you are unsure, send your resume without a photo. Because as soon as you attach a photo, your appearance and all prejudices will be taken into account in a decision for or against you.
What personal information must be included in the Australian Resume
The only personal information required for your Australian resume is your contact details. This includes your name, address, telephone or mobile number and email address. Your email should (not necessarily but reasonably) be a variation of your name. Keep it professional with firstname.surname@example.com or a similar spelling. Avoid email addresses that have funny nicknames or other curious forms. Having a separate e-mail address for your applications will also make it easier to keep track of your application.
Any other personal information such as age, marital status and number of children is not relevant to your experience or job performance and should not be provided.
Australia Resume Career Goal
It is recommended, although not mandatory, that you indicate a career objective at the beginning of your resume. This can also be referred to as a career profile or summary. The objective serves as a brief introduction to your resume and should give the hiring manager a reason to read on.
In order to be able to write something here even for a simple job, we recommend writing down the desired length of the work there, for example. Or to openly declare that you want to work as much as possible to earn money for your further journey.
In a simple backpacker job the explicit execution of your career goal is not important, but in a longer term higher qualified job it is very helpful to convince your employer of you.
Description of your work experience
Show your work experience in reverse chronological order. With your most recent position at the top. Each entry should include the start and end dates of your job and any gaps. Give details of your work experience, including your responsibilities and performance in each position.
School education in the Australian resume
For a simple and short-term job, it is sufficient to indicate your highest degree and your last school/university. List your relevant degrees and diplomas in reverse chronological order, including dates. List the name of the institution, your main, secondary and specialisation degrees and any major awards you have received.
Certificates and other school documents
Certificates and other school certificates, you only need for long-term and higher-qualified professions. For farm work or in the catering trade, for example, your certificates are not important, so leave them out if in doubt.
If, for example, you would like to work in childcare and you have already taken a course or other further training in childcare, then it is worth having a letter translated and attached.
▷ With our partner Lingoking you can get your certificates and documents translated without hassle.*
Mention special skills
It is common to include a simple list of skills in your resume, which is shown separately from your work history. This will give the recruiter a quick overview of what you are particularly good at, without going too much into your experience.
Volunteering
Your volunteering experience should be noted in your resume. We recommend that you include volunteer work in the section of your work history. Then just mention that this was volunteering.
Additional language skills
If you have a good knowledge of more than one language, you should definitely include this in your skills list.
References
A simple note "References available on request" is sufficient here. It is not necessary to provide references until an employer or recruiter requests this or explicitly asks for them in the application process.
Signature
You do not need to sign your Australian Resume. Unlike in the UK a signature under the resume is not mandatory and we were never asked for it.
Use resume template or create a resume yourself
There are no limits in creativity for a good resume in Australia. Even as a backpacker you can stand out from the crowd through creativity and ingenuity. If your resume catches the eye immediately, chances are you'll get a job in the end. So you can either create your resume completely by yourself or use an existing template and adapt it to your needs.
Use a resume template
The advantage of a template is clearly the time saving. So you get a finished design, fill it in with your data and skills and professional experience and you are done. If you adjust the template a little bit, change the colour or add a small symbol to match the potential job, then it won't fall back on the fact that you used a template. In our experience a resume template is a good choice if you are not applying for a super creative job. But even then, you can still change the template and create something completely individual.
Create your own resume
You are creative and have time? Then it is also a good opportunity to create your own resume. So you can be sure that nobody else will use an identical resume. If you are fit with Word and have time, then you can create a completely individual resume for yourself within a few hours. This is a good decision, especially when applying for creative jobs, because they often check if your resume is a template from the internet. For a farm job or in a cafe, however, no one will usually appreciate the amount of time it takes.
The decision what you think is right is now up to you. How do you decide? We are looking forward to your comment under the article how you applied. Individual and self-designed, or prefabricated and quickly adapted?
▷ Click here for our Resume package for Australia.
Be sure to have your resume checked for spelling and grammar
No matter who checks your resume in Australia at the end. But remember that you must let someone else look at it, because it is well known that 4 eyes see more than 2, and as an employer would you invite or hire a spelling mistake applicant?
Therefore it is worthwhile to work properly in the preparation. If you want feedback and a check from us, you can also ask us to do so.
What experience did you have with your resume in Australia
We are always looking for feedback from other backpacker. We look forward to your comments, in which you can tell us about your experience on the Australian job market. What kind of resume did you use in Australia? Did you find it difficult to find a job? Thank you for your feedback and thank you for being part of our community.
Other things you could be interested in:
Ciao Julian 🙂
Follow Me on YouTube, Facebook, and Instagram.
If you find this helpful: Share It with your friends!
Disclaimer
:
Please note that some of the links marked with a * are affiliate links, and, at no additional cost to you, I may earn a commission if you make a purchase. I use all the companies listed and recommend them because they rock and have made my travels better. If you are ready to book your trip and would like to support Working Holiday Blog, using these links is one way to do that. If you have any questions about the companies, e-mail me.