Working Holiday is often mentioned in the same breath as the typical "Working Holiday" countries: Australia, New Zealand, Canada. But let's have a look at Europe! One of the advantages of living, travelling and working in a small country like Ireland is that you can get to know different regions or countries quickly and easily. So many different landscapes, wonderful people and special places, all packed into this small country. That's why today I show you the journey to Ireland and how and how you can come to the Emerald Isle.
Ireland: The most important facts and figures at a glance
Ireland is almost as large as Scotland with about 27027 miles², but with 4.7 million inhabitants it hosts 700.000 people more then scotland. There are almost 25 cities in Ireland (which in this case I count everything over 10,000 inhabitants), but estimated over 800 pubs and almost 8 million sheep! The capital of Ireland is Dublin on the much sung about river Liffey, a coastal city with Guinness brewery and long river promenade. The coastline of the Emerald Isle is almost 1500 km, which is as far as a stretch from the northern tip of Denmark through Germany to the southernmost end of Switzerland.
Éireann – as Ireland is called in the Irish-Gaelic language – is a small island worth a long stay! But what is the best way to get there?
Option 1: Travel to Ireland by plane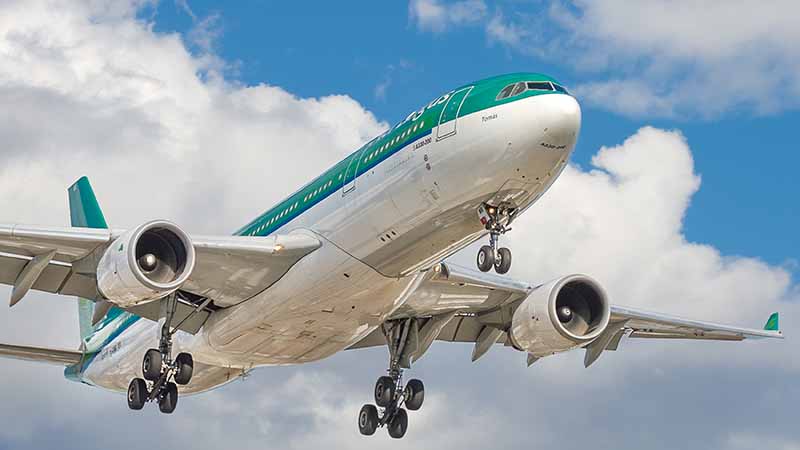 In the country itself there are six international airports: Dublin, Cork, Shannon, Knock, Donegal and Kerry. In addition, there is another airport in Belfast, Northern Ireland, even if it is not politically part of Ireland. In the UK , British Airways plus AerLingus and Ryanair, both Irish airlines, fly to Ireland at reasonable prices. Direct flights from the UK actually always go to Dublin (DUB) or Belfast (BFS), costs, sometimes even at low rates of just a few British pound sterling. With a little luck and flexible travel dates I have found flights from the UK starting at 8 GBP plus luggage.
Lufthansa and United Airlines even offer direct flights from the American continent. Usually these flights cost between 750, – and 800, – €, possible departure airports are New York (EWR) or New York (JFK) and Boston (BOS). If a change is possible for you, you can even get flights from New York, Miami (FLL), Orlando (MCO) or Atlanta (ALB) for just under 270 GBP! The plane is the most uneventful, but guaranteed the fastest way to get to Ireland.
Tip: I prefer to use Skyscanner and Kayak as flight search engines. Here you get a good overview of all available options and you can even enter flexible departure airports and travel dates.
Option 2: Arrival by car / ferry to Ireland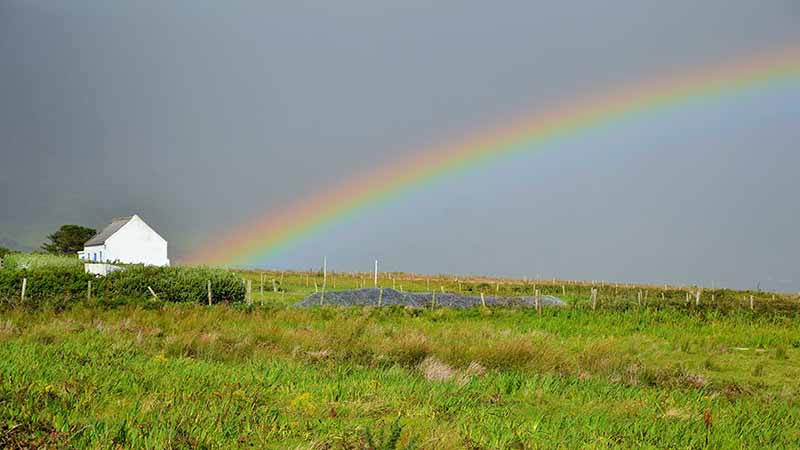 For those who have and dare to drive on the left side, I recommend to travel by car. Especially in the countryside it is rather difficult to find public transport. If you travel with your own car, you have to consider two things: You are sitting on the "wrong" side while driving and the following point, namely the ferry journey, is interesting for you. If you buy or rent a car, you are on the right side, but you should plan for a lot more starting capital.
Depending on your personal way of traveling, you may also consider to explore the island by van. However, there is not the northern European "Allemansrätten" here. The farmers here are meticulous about their land and you are not allowed to park in parking lots, which are not available in large quantities, or at roadsides. Besides, I can think of one more thing that could make a longer stay uncomfortable: It is a green island! You can probably guess the reason for that. It rains in all kinds of ways and strengths at all times. Why this is not bad at all, I will write about that in more detail, but the two reasons are partly responsible for the fact that Ireland is not a main destination for campers, unlike countries like Canada or Norway.
,,For 2022 we recommend Travel Credit Card from Revolut.
No Annual Fee, withdrawling cash abroad is free"
Find out more in the article:
Best Travel Credit Card for Working Holiday!
How much does petrol cost in Ireland?
The gasoline prices are similar to those in the UK and vary between 1.07 GBP and 1.17 GBP (status 08/2020).
For everyone who doesn't get seasick: The ferry to Ireland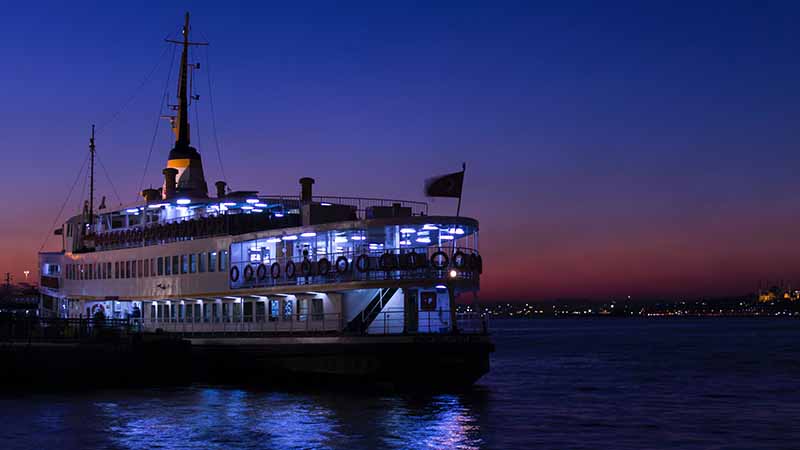 For travelers from the UK, a ferry crossing is also a good option, the most popular way to travel after the plane. From Scotland, England and Wales, car and passenger ferries depart regularly to the island. Not only Dublin as the capital has a port, the ferries also go south to Rosslare and Cork. But don't underestimate the currents, there can sometimes be a lot of swell!
If you are planning a ferry crossing from France, I recommend visiting the Channel Islands of Jersey and Guernsey. There is no direct ferry to Ireland, but you can easily get to Ireland from Jersey via Cherbourg in France. The crossing takes a little over 30 hours, but if you're going abroad for a year, it's time! On the website Direct Ferries you will find a good overview of possible ferry connections in the UK, Ferry Savers is very practical for good last minute deals from the United Kingdom.
How much does the ferry to Ireland cost?
A return ferry crossing from France to Ireland is available from GBP 179 depending on the travel time and your choice of cabin. Irish Ferries, StenaLine or Brittany Ferries are the most common ferry companies serving these routes, between England and Ireland also the ferries of P&O operate. Be sure to check out several ferry ports, because sometimes the prices vary from port to port
Even from America you can go by freighter or cruise ship. The shipping companies Silversea, Regent and Cunard offer routes with a stopover on the Emerald Isle, mostly in Cork or Dublin. Among other things Freighter Cruises you will find trips between the continents on a cargo ship, but you have to keep in mind that both variants are quite expensive. The average price per day is about 120 USD and the crossing takes at least 10 days, for freighters it can vary a lot depending on the cargo and the port of destination.
Option 3: Travel to Ireland by train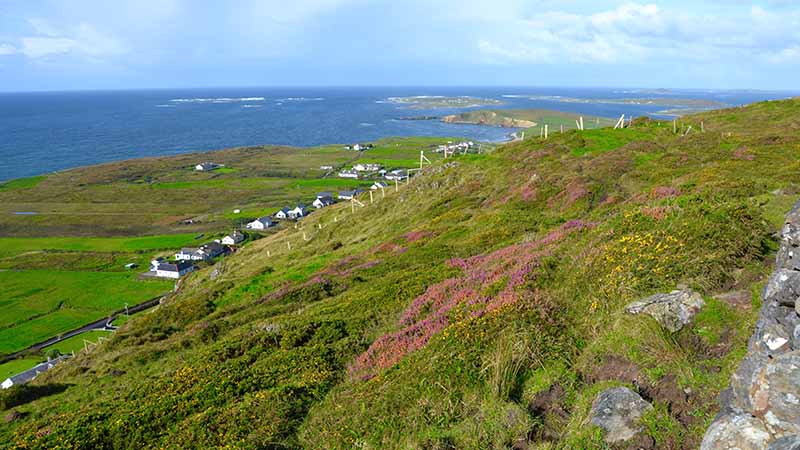 With departure station in the UK it is even possible to enter Ireland by train. This is a variant that I personally could not use yet, but definitely want to do one day. Rail.cc offers different routes, one example is from Berlin via Great Britain and France to Ireland. The Global Pass from Interrail is also a good option! The nice thing about the Interrail Pass is that you can also use trains in the country. You can find more about this under Interrail.eu.
Travelling to Ireland by train is probably not only the most time-consuming but also very expensive. But depending on how many other places in Europe you can visit along the way and how much time you want to invest in your journey, there are great offers and the train journey is a truly unique experience. And another bonus of train travel: You will meet many other travel enthusiasts with a relaxed attitude and great desire to travel!
The journey to Ireland, is also always a matter of taste. Maybe you even have other ideas and possibilities that come to your mind or that you have already tried out yourself. When I was traveling into a new adventure, I always noticed that the sentence "The way is the goal" was definitely true!
Fáilte go Éireann – Welcome to Ireland!
Accommodation in Ireland
You have many options when it comes to accommodation in Ireland. Hotels from low budget to luxury, bed and breakfast, hostels and Airbnb*. For the start I would recommend a hostel, because you can immediately meet other backpackers / travellers. If you have a group with 1-2 (or more), you can also use AirBnB.
What is AirBnB? If you Airbnb* do not know yet: In principle, you can now rent everything possible above it. So you can find rooms and whole apartments from private persons. Compared to hotels, you can save a lot of money here. Especially if you share the costs with others.
Get a FREE starting bonus: If you are NEW to AirBnB, you can use this Link* Get your bonus for your first accommodation!
Which guidebook should I take to Ireland with me?
▷ You can find more guides and equipment in our Working Holiday Shop.
Other things that might interest you:
Disclaimer
:
Please note that some of the links marked with a * are affiliate links, and, at no additional cost to you, I may earn a commission if you make a purchase. I use all the companies listed and recommend them because they rock and have made my travels better. If you are ready to book your trip and would like to support Working Holiday Blog, using these links is one way to do that. If you have any questions about the companies, e-mail me.
Ciao Lena 🙂
Folge mir auf YouTube, Facebook, and Instagram.
Wenn du den Artikel hilfreich findest, dann teile ihn mit deinen Freunden!