At Working Holiday in Australia, you can earn your trip directly on the spot. You work and immerse yourself in life in Australia. To make sure you earn enough money, there is a minimum wage in Australia.
▷ What is the minimum wage in Australia? You can find out here.
The more money you earn, the more you can save. In other words, the more time you have in Australia, where you don't have to work and can travel longer.
The most important factors to save money for your trip
If you want to save a lot of money in Australia, then in my experience there are four parts that influence how much money you earn per week and how much you can save. You can earn money with the right jobs in Australia and reduce your weekly expenses.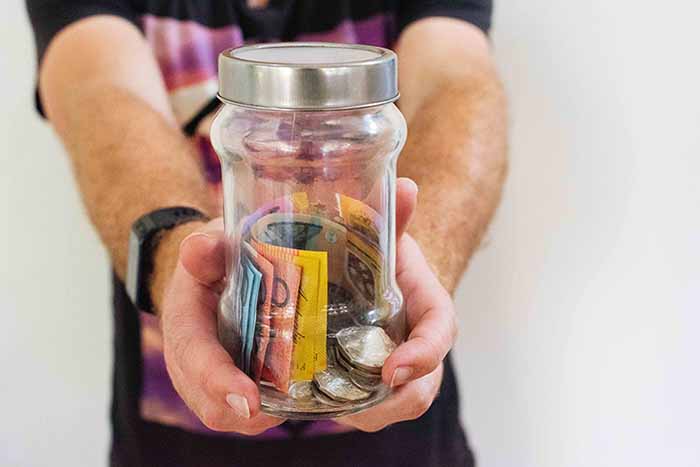 Hourly wage: The more you earn per hour, the more money you get for your time. But your hourly wage is only one component of your weekly salary. The higher your hourly wage, the better.
But be sure to check out the other building blocks that can save you a lot of money. The best paid job in Australia is not necessarily just the job with the highest hourly wage. Because you can either earn a lot of money or have few expenses, both options help you save money for your trip to Australia.

Number of hours: Another important component of your salary is the number of hours you work per week. Keep this in mind when you apply for a job. Often only part-time jobs are offered, but these result in a relatively low salary due to the lower number of hours. The situation is different if you can combine several part-time jobs. A normal full-time job in Australia is usually around 40 hours a week.
▷ 10 Tips for Backpacker Jobs in Australia
Accommodation costs: While you are working, you will normally want to live somewhere. You can rent a bed in a hostel or a room in a flat share. One aspect that can save you a lot of money is to see if there is already included (or cheap) accommodation at your place of work. If you prefer to live in a hostel, ask for a long term rate. Many hostels offer a big discount on the daily payment if you pay weekly. If you rent a room in a shared flat, make sure that all costs are already included in the rent. Otherwise, depending on the use of the room and the people living in it, you may be charged a large amount of money in the form of electricity bills or similar. Living on a campsite is also very cheap. If you have a van, you can be accommodated as a permanent camper for very little money, depending on the region. Just ask for the weekly rate at the local campsite.
Food: A further component is catering. If you work in the catering trade, it is not unusual for you to get free meals during your shifts. This saves you a lot of money that you would otherwise have spent on food. When you sign a contract, make sure you make arrangements for meals, as this is not automatically the case everywhere.
Summary: If you consider the four cost blocks mentioned above when looking for a job in Australia, you can save even more money. If you combine this with your salary, you can make a nice saving (which is equivalent to a higher salary). I know some backpackers who have been able to save more than 1000 AUD per week in clever combinations. 1000 AUD a week does not come by itself. But if you combine (at least some of) the above, you can do it. Now it's up to you, good luck with the right jobs.
,,For 2022 we recommend Travel Credit Card from Revolut.
No Annual Fee, withdrawling cash abroad is free"
Find out more in the article:
Best Travel Credit Card for Working Holiday!
How much money can I earn working in Australia
The easiest way to find a job in Australia is outside the big cities. Because outside the big cities there is usually less competition for jobs. Many employers offer help with accommodation and food in addition to the job. Perfect if you want to combine all the above to save as much as possible. All you need for the following jobs is the desire and motivation to get involved. In our experience, in the more remote areas there is often a better pay or extras like food and accommodation. Many backpackers have a great time away from the big cities. So don't just look at job offers in the big cities of Australia. You'll also get a deeper insight into Australian habbits in the outback.
What can I earn in hospitality and kitchen in Australia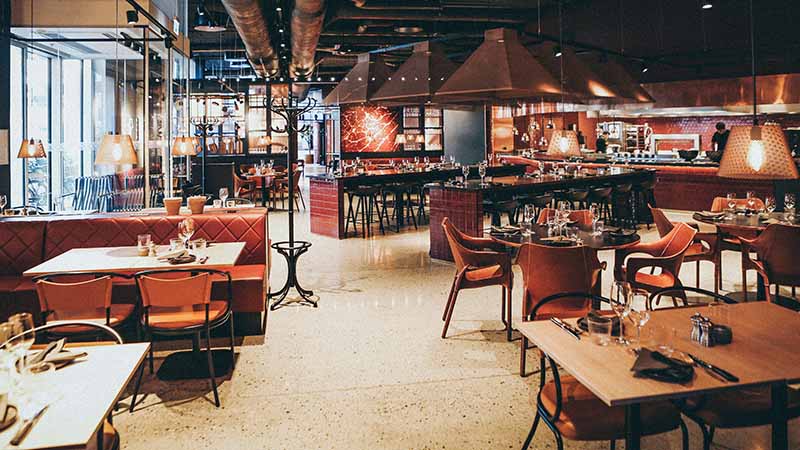 A job that is available everywhere and almost always in Australia is working in the restaurant and kitchen. Most of the time you will be a kitchen hand, dishwasher or sometimes even in service. Depending on the region, your earnings range from the minimum wage to AUD 28 if you have some experience. The salary in the restaurant and catering industry is also based on how well you can sell yourself (and any previous experience).
If you are not sure, you can show what you can do in a trial day and increase your hourly wage if necessary. Also make sure you make arrangements for free food and drink while you work, as well as free accommodation.
Especially in roadhouses outside the big cities you often get a good salary and often accommodation and food for free. Perfect to save money for your further journey through Australia.
A true story: A friend lived for several months in a roadhouse about 3 hours above Perth. There she got a full-time job (40 hours per week) and a fair salary of 25AUD/hour. On weekends and public holidays there was a small extra payment. In addition there was food and accommodation in the roadhouse. So she was able to save about 10000 AUD within 12 weeks. With some time and patience you can find such a good job. Good luck!
In many restaurants you can work more hours if you are willing to work more than 5 days a week. Usually you can earn more at the weekend, but make sure that your contract includes a clause to the effect that you will be paid more at the weekend. So the catering industry offers good jobs and opportunities to save money because of the high number of hours you can work, if you find the right employer in Australia.
Salary per week in the restaurant and kitchen: Realistic earnings range from AUD 1000 to AUD 1200 including tips. If you work a lot on weekends or more than 40 hours, you can earn more.
What can I earn as a waiter or barkeeper in Australia
Good waiters and bartenders are always welcome in Australia. If you have a good charisma, speak good English and enjoy working with people, this job is perfect for you.
If you are stress-resistant and friendly, even though it is loud and busy around you, then this is a big plus. Unlike in Europe, tipping is not common in Australia. Tips are not very important for you as a waiter or bartender (there are always tips but less than in Europe).
However, you can still get a decent wage, as you can get paid between AUD 25 and 30 per hour. In addition, you have the chance of higher weekly hours (more than 40 hours a week if you work full-time and feel like it) and extra pay for weekends and holidays. If you want to earn a lot of money quickly and are not afraid of 6 to 7 days of work a week, then the catering trade, kitchen, waiter or bartender is a good place to start. Usually you can earn more at the weekend, make sure that your contract includes a corresponding clause.
Salary per week as a waiter or bartender: Realistic earnings range from AUD 1000 to AUD 1400. If you work a lot on weekends or more than 40 hours, you can earn more.
What can I earn as a cleaner or as a housekeeper in Australia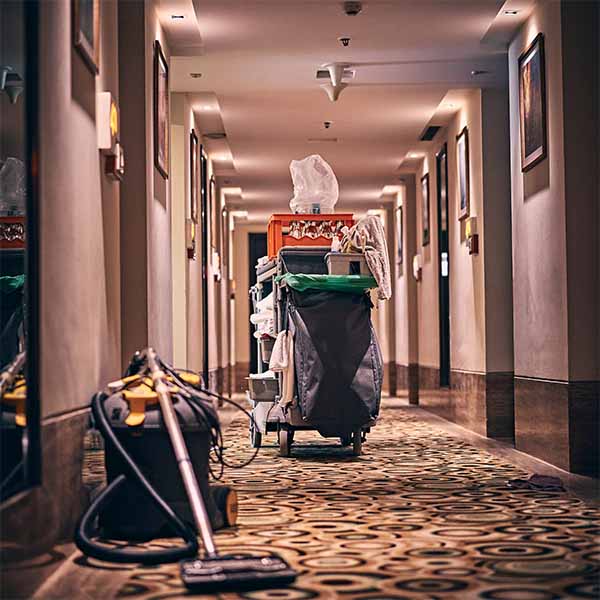 Have you always dreamed of earning your money as a cleaner or in the housekeeping of an accommodation? Have you not? Okay, let's face it, we never thought about it before. But joking aside. Accommodation can be found all over Australia and there is always a demand for cleaning staff. Making beds, cleaning rooms and welcoming new guests. The working hours are usually relatively easy to plan and therefore this job can be combined with exploring the surroundings. Here you will usually not work endless hours, but depending on your accommodation or hotel you can work additional hours as a waiter or in the kitchen.
This way you can either collect many hours, or take a few hours and explore the surroundings. You can also earn between AUD 22 and 27 AUD as a cleaner, depending on the location. In more remote places, you will often be given accommodation. Note how many hours you are offered, full-time jobs (40 hours) are rare. On weekends you can get a supplement per hour, make sure that this is included in your contract.
Salary per week as a cleaner or in housekeeping: Realistic earnings range from AUD 800 to AUD 1200. If you work a lot on weekends or more than 40 hours, you can earn more.
What can I earn as a receptionist or at the front desk in Australia
Every larger accommodation also has a reception or reception desk. This is your chance to get in touch with many different people. Whether in a hostel, a hotel or a camping site. All need a place where guests can report on arrival, problems and before they leave. This is where you come into play. If you are friendly and have a good command of English, you can have an exciting time here. But even away from the usual accommodation, there are still cool possibilities.
You might also find a job as a hostess on a private yacht or a touring sailboat. Especially in the larger harbours with many tourist offers, there is always a need for new people who will give the guests a good time on the boat. Depending on the position you can find everything from part-time to 7 days a week. Usual hourly wages are between 23 – 30 AUD. For weekends and holidays there is more. You can also often get free or cheap accommodation here.
You can find out more about working as a hostess on a yacht in the Netflix series "Below Deck". Might contain parts of reality, but keep in mind it's a tv series!!!


Salary per week as a receptionist or at the reception desk: realistic earnings are from AUD 650 to AUD 2000. If you work a lot on weekends or more than 40 hours, you can earn more. Why is the salary range so high here? Smaller accommodations only hire someone for a few hours a day. If you work on a boat for example, you can easily reach 70 hours per week. So there is a lot of room for manoeuvre here in terms of salary and the range from to is correspondingly wide.
What can I earn as a delivery driver (e.g. UberEats, Lieferando, Deliveroo) in Australia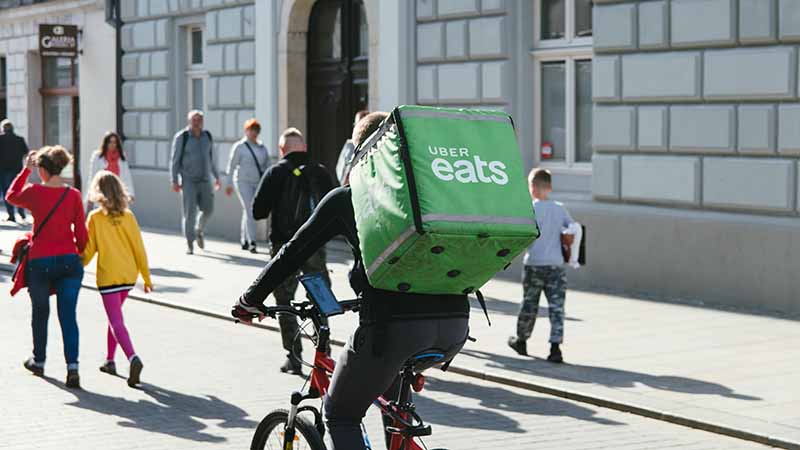 Delivery drivers for UberEats or other delivery services (e.g. Deliveroo or Lieferando) are a relatively new trend in Australia. Depending on the region and the number of deliveries you make, your hourly wage can vary considerably here. Especially in the evening hours it makes sense in some regions to spend your free time with deliveries. The big advantage is that you can organise your time yourself and only accept deliveries when you feel like it. However, here you are self-employed and therefore responsible for the correct declaration and payment of taxes etc.
UberEats will pay you an individual amount for each trip, which is calculated based on the approximate time needed, the distance from the restaurant to the end customer and the service fee due. If the customer pays a tip, it will be passed on to you in full (at least with UberEats, other delivery services explain this when you sign up). Before each journey you will see the distance and the approximate amount you will receive after deducting the service fee. More information about UberEats and the individual cities in Australia you can find here. Other delivery services have similar payments and fees, so be sure to check beforehand if it is worthwhile for you and your needs. Depending on the region, you can also deliver by bike or e-scooter, but in this case you should be careful not to end up paying for it. The best paid job in Australia is certainly not UberEats, but he is flexible and available whenever you want.
Earnings as a delivery driver for UberEats and similar services: We have heard of some drivers who earn an average of AUD 14 + AUD 1 per hour (after deducting their own costs for vehicle etc.) for each delivery. This can vary greatly depending on the city. However, you should not expect to earn huge sums of money for such work. At the same time the big advantage is that you can divide yourself quickly and spontaneously. If there are enough trips and you feel like it, UberEats is an easy way to earn some money.
What can I earn as a tractor driver or farm vehicle mechanic in Australia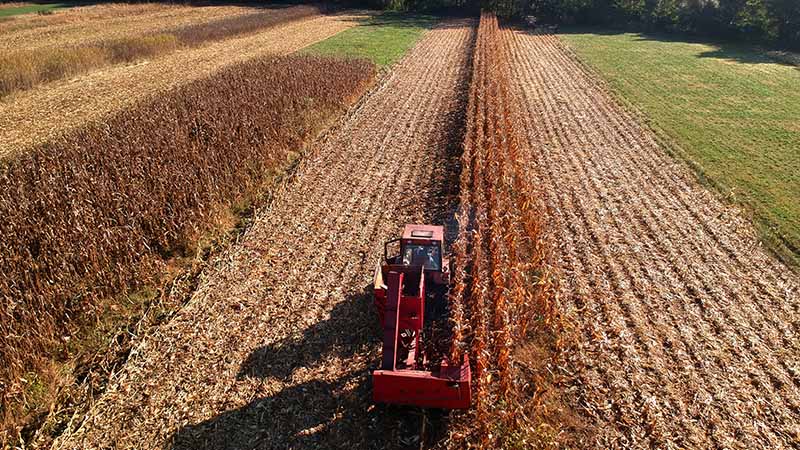 Farming is probably the best known and easiest to find work in Australia. Despite many black sheep who want to employ you far below minimum wage, you can earn good money and work many hours. But you should listen to your gut feeling and read your contract carefully. Apart from picking and other simple jobs, the big money in farming is somewhere else.
You can earn a lot of money if you are able (or at least want to learn) to drive a tractor. Especially around the so-called Wheat Belt in the southwest of Western Australia, there are great opportunities to earn money. The Wheat Belt region is located in the south-west corner of Western Australia. The region includes 55 local government districts and the regional towns of Albany, Merredin, Moora and Northam.
Tractor drivers are often sought after here for the most diverse areas, but mechanics for farm vehicles are also always sought after. If you feel like getting involved and working in the more remote areas of WA, then you can usually work long days here and drive great vehicles at the same time.
We know of some who were able to save more than 1000 AUD a week here and sat on the tractor 5 to 7 days a week. Perfect to save money for your further trip through Australia. These jobs are often highly sought after, so don't just try writing an email, but call or drive by in person to introduce yourself.
On weekends and public holidays you can get a supplement here, including a supplement we know some who have earned almost 50 AUD per hour on weekends and public holidays. Why don't you try becoming the best paid tractor driver on a farm in Australia, what do you think?
Earning money as a tractor driver or mechanic in the farm sector: We know some backpackers who drove a tractor in the farm sector for several months. Especially in sowing I know some who have worked 50-70 hours a week on a regular basis, with hourly wages of 30 AUD and more as well as free accommodation and sometimes even free food. So you can quickly earn more than 1500 AUD a week and after a month you can save 4000 AUD or more.
What can I earn in the construction industry in Australia
You can also earn good money quickly in the construction industry in Australia. If you have previous experience in the trade, you can quickly earn extra money here. As an unskilled worker, you can earn between AUD 26 and 30. If you already have experience, you can earn between 30 and 40 AUD. On many construction sites, there are more than the obligatory 40 hours per week, so some companies will give you more than 50 to 70 hours per week and you can earn a lot of money accordingly. If you happen to have a truck driving licence, this is a great extra qualification that you will find in your salary. The construction industry in general also offers you high-paying jobs in Australia due to the high number of hours.
Salary per week in the construction industry: The biggest lever for your salary in the construction industry are the hours per week. You can also make a lot of money with bonuses for weekend work or holidays. Depending on the company, you can quickly earn more than 50 hours a week. With a salary of AUD 25-30, this is AUD 1250 or more you can earn. Be sure to mention any previous experience you may have and to justify a higher hourly wage.
What can I earn as a fundraiser or salesperson in Australia
Fundraising as well as shops are always looking for good sellers. As a fundraiser you will approach people in public places and try to convince them for something good. Alternatively, you can go from house to house and try to reach your conclusion directly there. Most of the time you will have a week of training at the beginning, where somebody will show you tricks and tricks to help you get to the conclusion faster.
Local shops are also always looking for sellers. So you can fill up shelves in the supermarket or stand at the checkout during the night shift. Current wages here range around AUD 24-28 with supplements for night shifts, weekends and holidays. Work is usually easy and supermarkets and fundraisers are used to changing staff every few weeks. In these jobs you will definitely learn for life, as in almost every other job you will benefit from existing sales experience. Finding the best paid fundraiser job in Australia is not easy, but a good salary can be achieved quickly as a fundraiser.
Salary per week as a fundraiser or salesperson: Here you don't get rich because of the many hours you work, but mostly because of extra pay or because you are a sales talent and achieve good sales. Especially in fundraising there is often a mixture of fixed salary and success commission. In shops it is usually only a fixed salary. Make sure you read the contract of employment so that you are not disappointed in the end. You can expect to earn AUD 1000 per week, but you can earn more if you perform well and work on weekends and holidays.
What can I earn as an Au-Pair or in childcare in Australia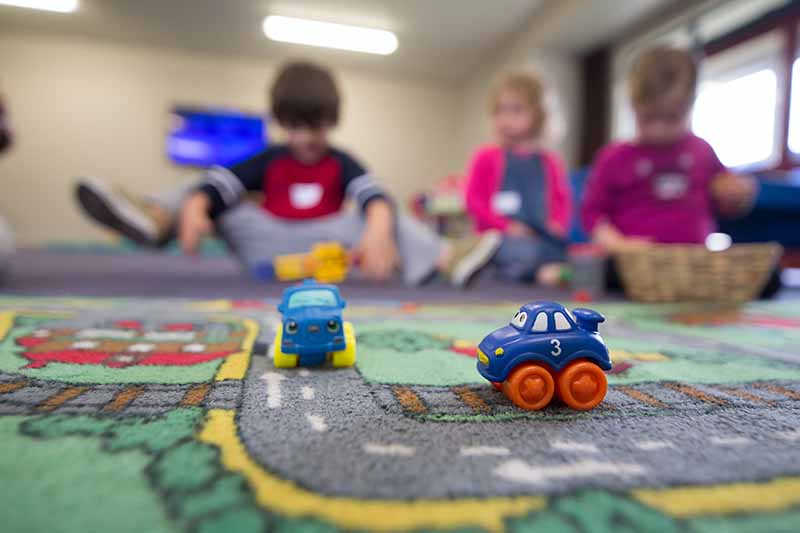 Working as an au pair is in most cases not a fully paid job. Most of the time the work as an au-pair means that you get some kind of better pocket money and additionally accommodation, food and sometimes a car for the time being. Therefore, you should rather look for a job in the classic childcare for a better payment. Especially kindergartens (Australian Kindergarten) are always looking for staff. In kindergartens, you will usually get AUD 25 to 30 an hour, but they are usually looking for long-term employees. The best paid kindergarten teacher job is definitely easy to find in Australia.
Salary per week as an Au-Pair or in childcare: As an Au-Pair you will usually get a better pocket money of between AUD 250 and 500 depending on the amount of hours you work. In addition, you will usually get accommodation, food and possibly a car. In return, you usually work around 30 hours a week.
In childcare you get a better salary and you can also work 30 to 40 hours a week. As a realistic income, you can earn about 1000 to 1200 AUD for 40 hours a week. If you find a job where you work mainly on weekends and holidays, it can quickly be more.
Inspiration for exotic jobs and great job stories from Australia
Apart from the classic backpacker jobs that you can do without any previous knowledge or training or studies, there are also numerous possibilities that are not so obvious. Many of us already have experience from their hobby or from their time in England. What could be more obvious than to look for a job where these previous experiences can help. To give you some inspiration, we have compiled a non-exhaustive list of various exotic jobs here. If you have any additions to this list, we look forward to your comments here under our articles. Do you have the most exotic job story from Australia for us?
Feel free to tell us about the job that paid you the most and how you made the most money in Australia.
Skydiver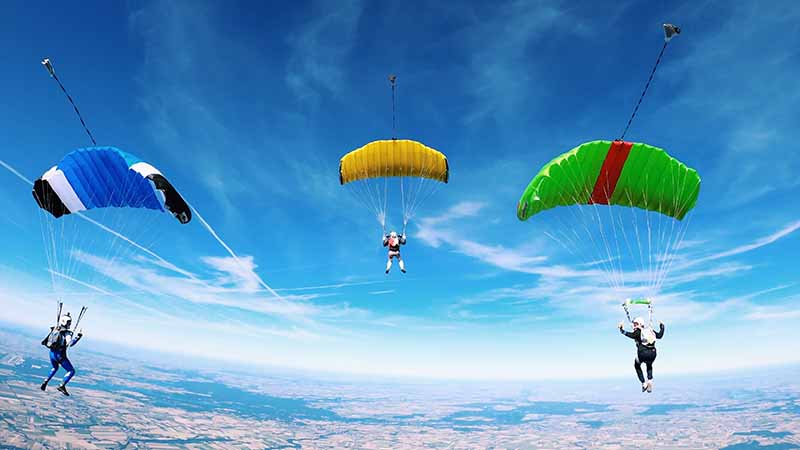 One of the most exciting stories I heard from another backpacker. This one has already gained experience in parachuting in England and got his parachute licence. When he arrived in Australia, he simply approached skydiving companies in the more touristic areas and got a job as a skydiver. So he made almost 75000 AUD within 3 months during the high season in summer. In fact you need a licence and experience for this, but you can also work behind the reception desk and earn good money (probably a little less than the skydiver). You see, some expensive hobbies can pay off.
Diving Instructor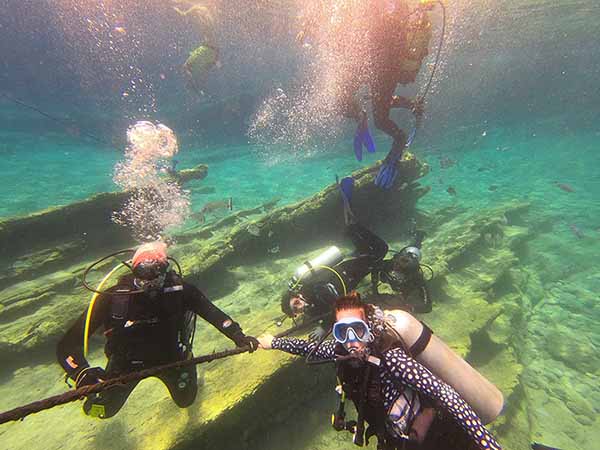 You have been on holiday or have made your diving licence at home? With the appropriate diving licence you can work perfectly in Australia. Especially around the reefs, there are often opportunities to join guided diving tours as an instructor and earn good money. Hourly wages of 40 to 70 AUD are not uncommon here. This way you can quickly save up a nice sum of money and continue your trip after a few weeks.
Surf Instructor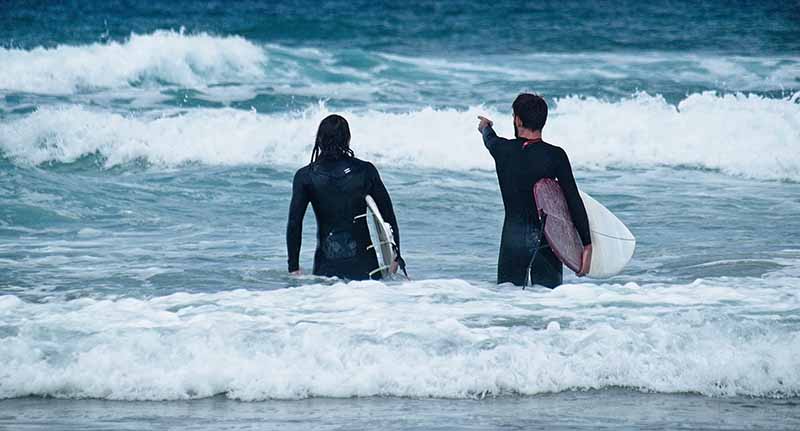 Even though the United Kingdom is not specifically the surfing country, there are still some possibilities to learn how to surf. Do you already have surfing experience and want to share it with others? Why not work as a surf instructor on a beautiful beach in Australia and spend a lot of time on the water and beach. Many surf schools have a permanent staff of instructors and expand this during the high season. This way you can earn money quickly and meet lots of people. Payment often starts at 35 AUD and the hours vary depending on the weather and the capacity of the surf school. In your free time you can also go surfing yourself and combine your hobby and job perfectly.
Tour guide
In many cities there is the possibility to work as a tour guide. Have you ever taken part in a so-called Free Walking Tour? This is only one of the most common ways to work as a guide. Of course there are also local companies looking for guides. However, this is a job where you usually stay longer in one place. Learning and keeping a tour requires time and patience to really internalize all the beautiful anecdotes before you can hold your first tour yourself. Nevertheless, being a tour guide is a great job and you earn your money by tipping. Satisfied customers usually give a small contribution to the guide who has given them a good time. The number of hours per week is rather low, mostly 2 to 4 hours per day, but you can work 7 days a week. Ideal if you also want to explore the surroundings on your own.
Mascot on touristic places
This story comes from our good friend Eugene, who himself has spent some time in Australia (and other countries). In Australia's big cities there are real tourist masses, depending on the season. With an appropriate permit from the city you can position yourself as a life-size animal in front of the tourist highlights of the city. Photos for a tip, so as a koala in front of the Sydney Opera House, you will probably quickly earn a nice sum of money.
You do this on your own, so taxes and other charges are your duty. But according to experience reports you can earn 500 to 1000 AUD before taxes on good days. Of course you have to take care of costumes etc. yourself, but just the feeling of giving so many people a good time and the possibility to earn a lot of money is just awesome. Note that without a permit from the city, you should only do this on private property and even then you need the permission of the property owner.
Reforestation after forest fires
As Australia has been repeatedly affected by major forest fires in recent years, there is real potential in the reforestation of these areas with luck. Corresponding companies plant tens of thousands of trees and pay either per hour or by speed, depending on the location. Especially with the right contract that pays you by speed, you can make a lot of money. 2000 AUD and more we have heard from some other backpackers. On the other hand you live far away from everything and have no one around you except your colleagues.
Solarfarm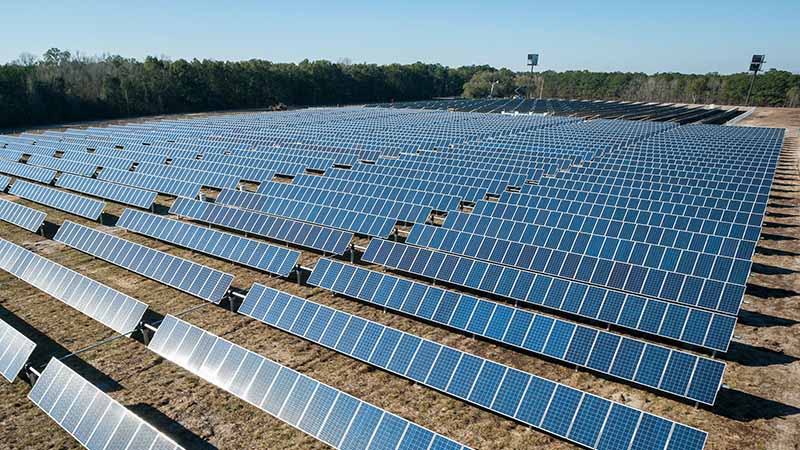 Since solar panels have become cheaper and Australia has perfect weather conditions for them, the solar industry has been booming. That is why there is often a local search for helping hands for the solar farms and the development of the solar industry. So you can earn good money on a solar farm even without any qualification. The hourly wages are usually at a good level due to the remoteness and you can usually work more than 40 hours a week if you are motivated. 1200 AUD or more is no problem. If you are lucky you can even get board and lodging.
Outback cook
The most inspiring story from Australia for myself. A young lady worked as a cook, but no, not somewhere in a restaurant or hotel. Alone in the outback, she cooked for 10 to 15 cowboys with a field kitchen. The work itself was rather demanding, because besides 3 meals a day, she was responsible for the shopping by helicopter.
Because of the pure distance to the next town, shopping was only on the agenda once a month. Everything for the month had to be procured by helicopter on this one tour. On site there was also the possibility to hunt and thus extend the menu. Totally crazy but with free food and accommodation and a higher number of hours per week a real money rain. So with 3 months of work afterwards she could spend the rest of her time in Australia completely relaxed.
For me that would be outback and I don't hunt anything personally, but what about you? Would that be a job for you?
What you should do now if you are looking for a job
Are you looking for a job right now? Then look for employers that you are interested in and create a suitable, individually tailored resume. You can either read our blog post about the resume in Australia or take the shortcut.
Tell us about your craziest Australia job experience
Do you have a great story yourself, that can inspire our readers? Then we look forward to your comment here under the articles.
What else might interest you:
Disclaimer
:
Please note that some of the links marked with a * are affiliate links, and, at no additional cost to you, I may earn a commission if you make a purchase. I use all the companies listed and recommend them because they rock and have made my travels better. If you are ready to book your trip and would like to support Working Holiday Blog, using these links is one way to do that. If you have any questions about the companies, e-mail me.
Ciao Julian 🙂
Follow Me on YouTube, Facebook, and Instagram.
If you find this helpful: Share It with your friends!