Here in our article you will find the most useful apps for your journey to Australia. No matter if it's a working holiday in Australia, or a holiday trip. With these travel apps you will reach your destination in Australia easier and faster. We provide you with a good overview of useful apps for your journey.
Camping in Australia can be easy if you know the right travel apps. Even outdoor navigation on hikes, mountain biking or with your own vehicle is simply more fun with the right apps. Do you like saving money like we do? Perfect, because there are several apps that can help you find the cheapest fuel price in your area or offer other discounts.
In order to avoid forgetting the most important apps for your trip through Australia, you can easily download our apps list directly as PDF.
-> Free Download "Useful Apps for your Australia trip" <<<
.
1. Useful apps for camping in Australia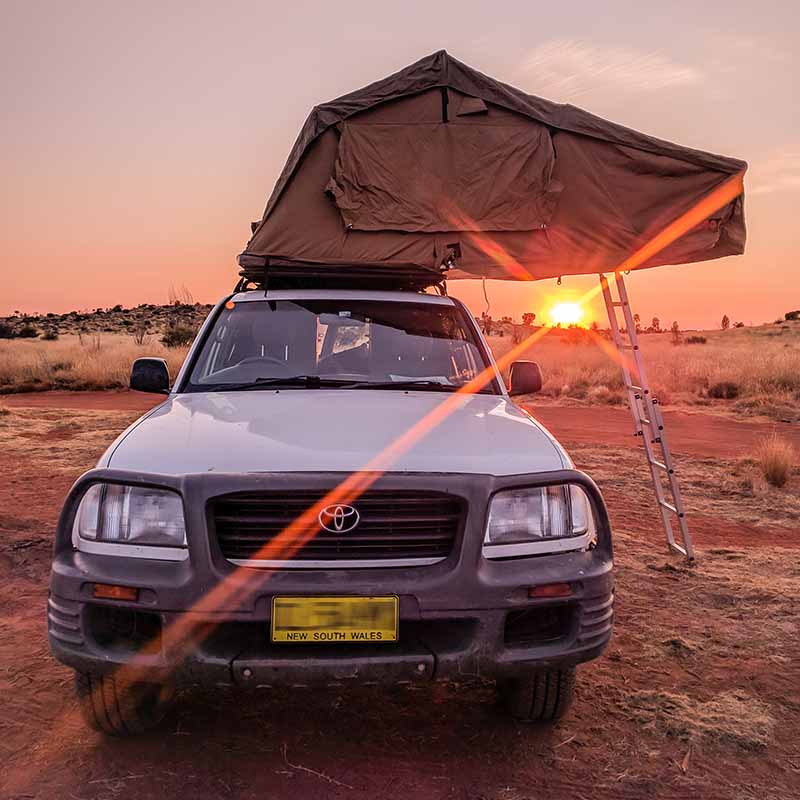 Australia is perfect for a camping trip. Whether you travel across the country in a camper van, or are happy and independent with your 4×4 vehicle and a roof tent, Australia offers thousands of camping opportunities. There is a huge range of free and paid campsites. To make it a little easier for you we've put together a few useful guides to help you find the right spot. These apps list all the places in your area and you can see what you have to pay. Apart from campsites, there's a lot more useful information in the Camping Apps for your journey through Australia. For example, you can find the nearest supermarket, public toilet, or points of interest. With the offline option you are still able to use the maps when you don't have any mobile phone reception. This is helpful especially when visiting the outback.
Campermate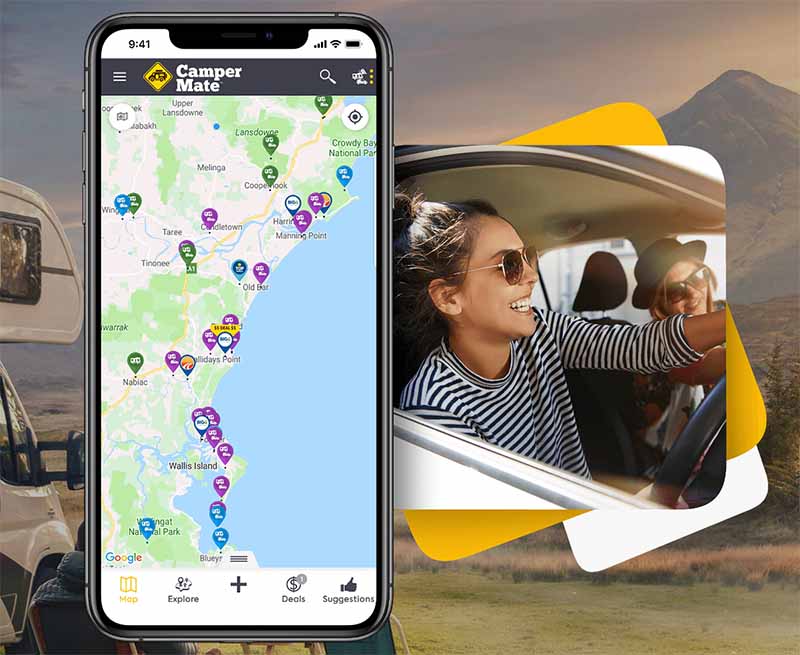 Campermate is the perfect guide through the Australian camping scenery. Campsites are shown in different colours depending on their price range. You will also find supermarkets, petrol stations, LPG filling stations and fresh water points. In total Campermate currently supports 25 different categories of locations. Aditionally you can find various offers from local companies in Campermate. These offers are usually quite short and give you discounts with suppliers in your current area.
We have often been offered paid campsites for cheaper, but sometimes we have also found tour operators with special tour rates. The offers vary greatly depending on the region and season. Besides Australia, Campermate also offers maps and points for New Zealand. If you travel both countries, you will have everything you need in your pocket with just one app.
All campsites in Campermate have been checked, so there are no problems with illegal camping and forbidden camping. However, you should always have a look at the comments for each point. If there are problems, you will be able to find them in the comments. For example, we often had picked sites where locals were partying on the weekend. To avoid such disappointments, it is better to read before, than to regret the decision for a spot afterwards.
Campermate offers you the following categories for places:
Campgrounds for Self-Contained Vehicles
Campgrounds for Non-Self-Containted Vehicles
Accommodation
Things to do
Public Toilets
Road Warnings
Food, Drink & Dining
Campervan Day Parking
EV Charging Stations
Dump Stations
ATMs
Petrol Stations
Groceries
Wifi
Information Centres
Hospitals
Police Stations
Rubbish Bins / Receycling
Public Showers
Playgrounds
Laundromats
Water
LPG Bottle Swap / Fill
Thanks to this wide range of categories, you will always find what you need with Campermate. And if you find a place that hasn't been added yet, you can easily submit it yourself for a review.
Campermate is available for Android and IOS. Campermate is free.
,,For 2022 we recommend Travel Credit Card from Revolut.
No Annual Fee, withdrawling cash abroad is free"
Find out more in the article:
Best Travel Credit Card for Working Holiday!
Wikicamps Australia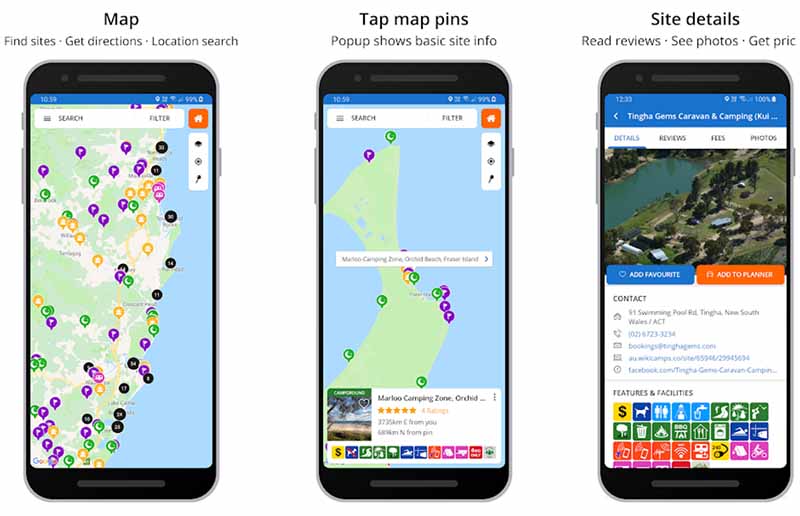 Wikicamps Australia is a useful app for Australia. It is basically similar to the above mentioned Campermate, but differs in details. Wikicamps offers a wider choice of campsites, because every user can add new places with a few clicks. Also the filter function in Wikicamps Australia is much more powerful. For example, you can search for free camp sites only or set other filter combinations. Wikicamps offers a total of 8 different types of places in addition to the focus on camping. We found the specific search for free simple camping facilities extremely useful. You will also find nice points (in the form of Points of Interests or Day Use Areas) much faster. So you won't miss a beautiful waterfall or lovely beach on your trip.
You can use the maps online or save the offline maps including all points on your smartphone.
Wikicamps offers you the following 8 types of locations:
Campgrounds
Caravan Parks
Backpacker Hostels
Day Use Areas
Points of Interest
Information Centres
Public Dump Points
Water Facilities
In addition to these 8 types of main sites, Wikicamps also offers you countless filter options. So you can quickly reduce the large selection of points to get only the relevant information you want.
Wikicamps Australia is available for Android and IOS. After a 14 day trial period, Wikicamps costs a one-time fee of 7.99AUD.
Summary of the Camping Apps for Australia
We used both apps on our trip, because in the end you get a pretty good picture by adding both of them up. Wikicamps for free and fast camping spots and the points of interests. Campermate for finding the next gas station or supermarket. So we saved a lot of time thanks to those two travel apps.
2. Useful apps for driving around Australia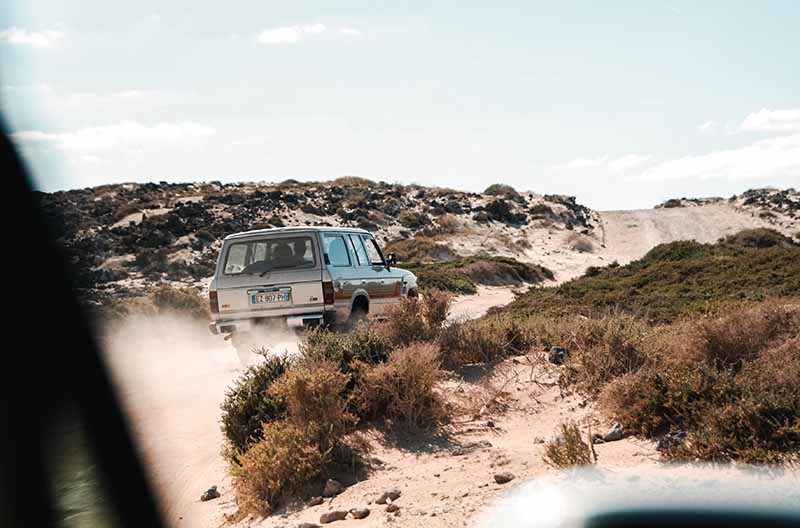 Exploring Australia with your own (or rented) vehicle? Yes that's exactly what we did and loved in Australia. A dream that can become reality for you as well. But if you own a smartphone, in our experience, you don't need to buy or rent a navigation device these days anymore. Save that money and navigate for free with the most convenient navigation apps. But be careful, not every road in Australia is driveable by every car. So don't forget to pay attention to the road signs. 4×4 vehicle roads, for example, are sometimes not clearly visible in the navigation apps.
Google Maps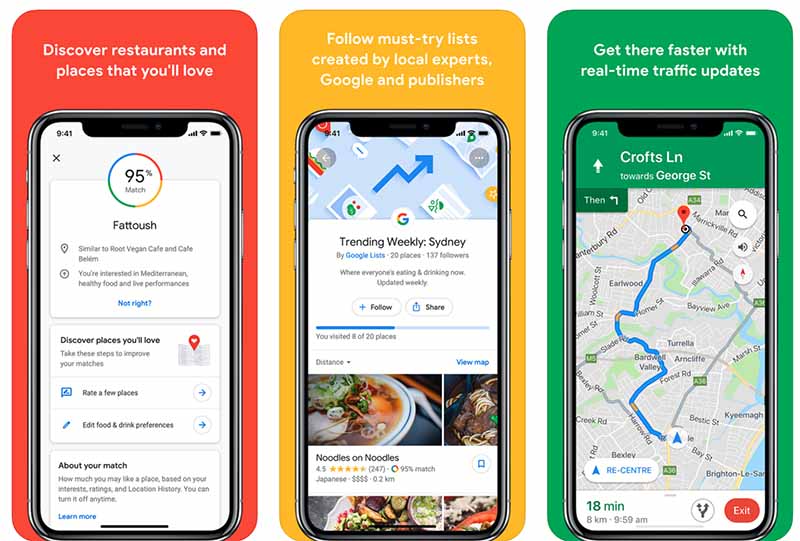 The most common navigation app is probably Google Maps. The app is free of charge and without any advertising. In addition to street navigation, you can easily search for other places, such as supermarkets, petrol stations, restaurants and many more. We use Google Maps most often, because the possibility to rate places directly in the app helps to decide where to stop (and where not). We have also been able to find some delicious restaurants.
Google Maps also offers the possibility to save maps offline on your phone, so you can use the maps even without mobile phone reception. However, some functions are omitted in offline mode, for example access to ratings or saved locations.
Google Maps provides good map coverage of all major roads in Australia. However, you should always have a look where Google leads you. We once stood on a road that was the closest to our destination, but the destination was still almost 2 kilometers away and there was no way to get from Google's final destination to our real destination. But this happened only once in 3 months, so we still recommend the app without restrictions.
In addition to the vehicle navigation, Google Maps also offers navigation for pedestrians. This only works when you are online, but is useful for getting from A to B on foot. Navigating through the cities we didn't find any problems, but for walking or biking off road we recommend one of the other outdoor apps further below.
To save locations for yourself, you can create markers and save them on your google maps account. These markers will synchronize via your Google Account through all devices linked to your account. For example, you can mark locations from your computer, tablet or smartphone and then access them on each device.
Google tracks most of its map material itself, so very small streets or footpaths are sometimes not included. However, the accuracy of the maps in total is very good and in most parts of the world it is perfectly adequate for easy navigation from A to B.
Google Maps is available for Android and IOS. Google Maps is free.
Maps.me
Maps.me is also available for free (including ads). The focus of Maps.me is offline navigation for cars, cyclists and pedestrians. Including public transport (bus & train in many cities). You can discover new cities or countries by using the purchasable guides. Maps.me offers a selection of travel guides that you can use directly in the app. There is also the possibility to buy additional features in the app or remove the advertising (Details below).
After the first download, a suitable travel guide will be suggested for you, based on your current location.
When using Maps.Me, make sure that the address is entered correctly. Google Maps is sometimes a bit smarter at suggesting addresses if you have made a mistake typing.
The maps of Maps.me are based on the Open Street Maps (OSM). Before you can use them you have to download the maps for the areas you want to use for navigation with your smartphone, because Maps.Me offers mainly offline navigation. Therefore the coverage of the map material is very good in most parts of the world. Also very small ways are usually included in the maps.
Maps.me is available for Android and IOS.
Prices of the Maps.me app & travel guides:
Maps.me is free with advertising.
To use the app without advertising there are different price models:

1,19€ per week or
1,79€ per month or
6,99€ per year.

Travel guides:

Single purchase from 0,79€
Monthly subscription 9,99€
Annual subscription 31,99€
Google Maps does a good job and is free of advertising. But everything off the cities and streets is not as individually usable as with Maps.Me.
Maps.me offers a slightly better map coverage, but the advertising has annoyed us here (can be removed with payment). Also the automatic completion of entered addresses works better with Google Maps algorhytm. However, there is no clear winner for us here. The functionalities are simply different in their focus.
Depending on your personal preferences, you will definitely be happy with one of those two travel apps.
Australia offers beautiful and challenging roads. As an outdoor fan you will enjoy Australia. No matter if you like hiking, mountain biking, surfing or even more exotic activities, you can try out many things here. Have you ever tried skiing in Australia?
To get from A to B while hiking or mountain biking, there are special apps that have more exact maps. With these outdoor apps you can also navigate along hiking trails or other tracks. Depending on the app, some even offer voice navigation.
Most of the apps presented here work with topographic maps. These maps offer a more detailed view than the classic road maps.
Explanation: What are topographic maps
Why do I need topographic maps

In short, topographic maps are more accurate in scale and detail than classic road maps. At the same time, topographic maps also provide elevation and surface representations. This makes them ideal for all outdoor activities.
Avenza Maps
Avenza Maps is a versatile map app, that you can use for many activities. For example, Avenza Maps offers maps for hiking and biking as well as for boats or planes. Many maps can be used for free. The higher resolution maps as well as the more specific maps cost money and range from 1.09€ to 5.49€. The ratio of free maps to paid maps is estimated to be 50/50, but the map prices are fair in our opinion. So if you want to use your mobile phone for outdoor navigation, Avenza Maps is a good addition to your smartphone.
The main focus of Avenza is to provide useful maps. In many cities you can also find free maps of the tourist board for the region. These recreational maps often consist of a PDF that can also be integrated into Avenza. The download of the available maps can be done quickly via the store built into the app.
In the free version there are a few restrictions. For example, you can have a maximum of three maps imported and active at the same time.
Avenza Maps is available for Android and IOS. You can buy additional maps following this link.*
Prices for maps & plus membership:
Avenza Maps App:

Avenza Maps is free in the reduced version.
With Avenza Maps Plus you get the map limitations lifted for 29.99USD per year.

Prices for maps (depending on category):

Free
From 1,09€
Up to 5,49€

Special maps (for example, aviation maps) have different prices. But we have never needed such maps.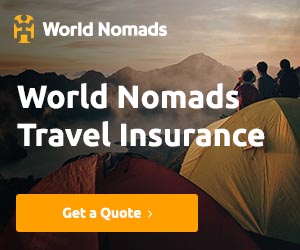 Komoot
We have been using Komoot ourselves for some years already. The maps are topographical in nature and created from the map material of Open Street Maps (OSM). Thanks to elevation data, however, these maps are much more useful, because Komoot shows you the altitude and in many regions even the predominant surface covering along your planned route. When you download the app you get one region for free, other regions can be purchased then. We used the "Welcome Offer" from Komoot, where you can unlock the worldwide map package for little money within a few days after registration (we paid 20€ for the worldwide map package). We used this option, because we now have only one app for the whole world.
What we especially appreciate about Komoot is the possibility to import GPX tracks online and then hike them with your smartphone. So you save yourself the tedious planning on a small smartphone monitor. Komoot offers a website that is perfectly linked to their own app. So you can also plan trips on your computer. You can also download already planned routes on other websites and import them into Komoot.
For easier orientation in Komoot, there is a section on planned and completed tours. So you can easily keep track of your activities and which you have already finished.
As a little bonus Komoot offers a nice overview of highlights along your route. And if you like you can share your tours with friends or mark them if they have a Komoot profile.
The selection of maps is good and offline maps can also be downloaded to your smartphone. For route planning which includes voice navigation you need an internet connection. Although you can also navigate yourself offline and just use the map without voice navigation, which is something we haven't missed
Komoot is available for Android and IOS.
Prices for Komoot:
Single region (Prices payable once):

The first single region after registration is free of charge.
Each additional individual region 3,99€.

Region Package (prices payable once):

Package consisting of several single regions. 8,99€

World Package (prices payable once):

Access to all regions worldwide for 29,99€

Premium (annual payment):

59,99€/Year
Access to all functions of the previous packages. Additional discounts with Komoot partners. Tour specific weather forecasts for your activities. Premium protection by Komoot and sports specific maps.
The range of maps provided by Avenza Maps is huge and there is the right map for everyone. In some regions of the world there are even aviation maps. Avenza Maps is the right app for you if you want to navigate by yourself and have a large selection of different maps for different activities.
We ended up using Komoot, because here we have the possibility to use and download maps of all areas of the world for a one off price. Furthermore, Komoot offers a useful navigation including voice prompts (if desired). It is also very practical for us that we can plan tours on our computer and then transfer them to our smartphone without any effort. For us the spending was definitely worth it and we have done more than 50 hikes with Komoot by now.
4. Compare fuel prices in Australia with our useful apps
Are you travelling through Australia and looking for the nearest petrol station? With the distances in Australia it can sometimes be a real adventure to find the next gas station. Even crazier the price differences per liter of fuel can be. Therefore we have found two useful apps which help you to find the cheapest petrol station in your area.
Gaspy
Gaspy offers you an easy way to find the surrounding gas stations based on your location and sort them by price. In the settings you can choose in which radius you would like to see petrol stations, and you can also set which type of fuel you need.
Within the app, anyone can submit a new fuel price to the petrol station or confirm the price already submitted. So you can see in the app how up-to-date the mentioned price is.
We have often found cheaper petrol stations with the app and were surprised how big the differences in price can be. For example, once we were able to save an incredible 35 cents per liter by taking a 2 kilometer detour. This is worth the drive if you have to refill quite a bit.
If you have a discount card for a particular chain of petrol stations, you can also register it. This way the app will also take into account discounts for individual chains. For even more motivation there is a point system with which you can reach different ranks if you regularly submit or confirm prices in gaspy.
In our experience, the selection and the range of available prices varies greatly from region to region. So it is possible that with FuelMaps Australia you may find significantly more fuel prices in some parts of Australia.
Small bonus, you can use the app in Australia and New Zealand.
Gaspy is available for Android and IOS. The app is free.
FuelMap Australia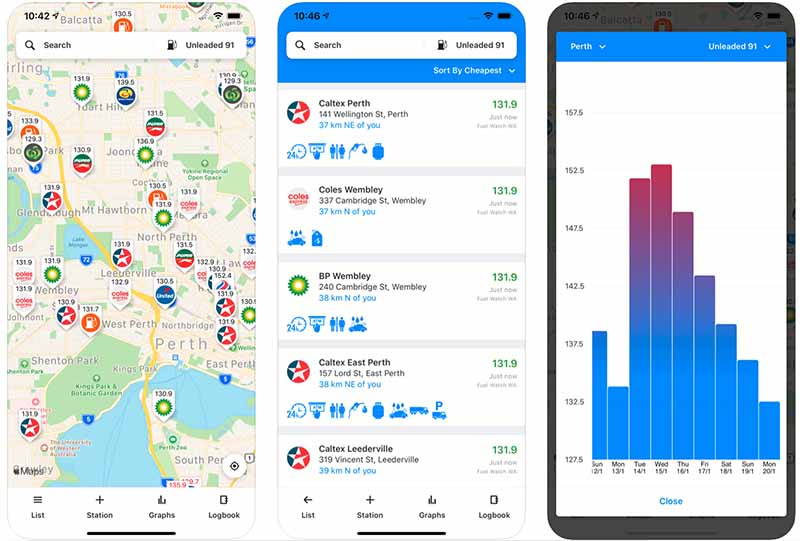 FuelMap Australia is an app from the developers of Wikicamps. Here you can see fuel stations and submit prices.
The map is great, because you can already see the surrounding petrol stations with their prices on the map. This makes it easier to find out if the petrol station is in the right direction than with Gaspy.
As a bonus FuelMap Australia has a so-called Fuel Log, which means you can track how often you have filled up for which price. And of course you can also calculate how much fuel you have used. All in all a very useful app for travelling through Australia.
In some states of Australia there is the requirement to transmit prices directly, if this is given, the prices will be imported from there directly into the FuelMap. In all other places, each user can transmit and confirm prices himself.
FuelMap Australia is available for Android and IOS. The app is free.
5. Additional useful apps for your journey through Australia
Besides the already mentioned apps, there are many other useful helpers we found during our travels. Here we show you some other handy little helpers for your journey through Australia or other parts of the world.
Transferwise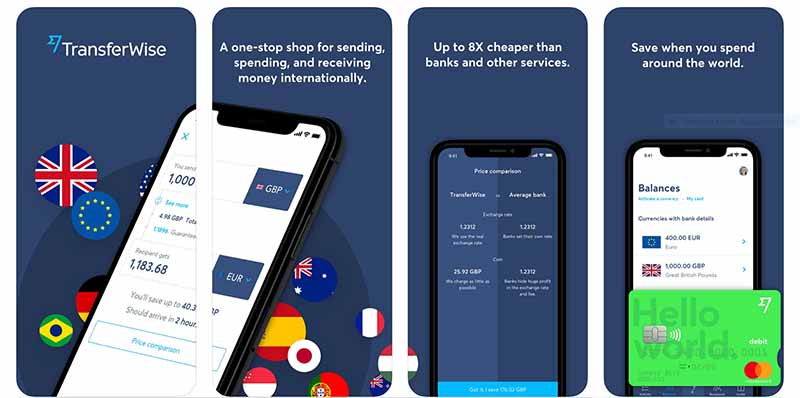 Transferwise* is a service that helps you to make transfers from Australia to the United Kingdom (and many other countries), as well as from the UK to Australia, at very low cost. Normal banks always have their exchange rate, possibly with an additional fee and then you can only see how much money actually arrives after the transfer.
With Transferwise* it's different, here you can see how much money you will get in the end before the transfer. The fees for a transfer from Australia to the United Kingdom (or from the UK to Australia) are about 0.5%. This is usually even cheaper than using a credit card to get some money at an ATM. We use this service for all our transfers around the world. And you can also get a credit card from Transferwise if you like.
We recommend this service from our own experience. The registration is free of charge and can be done quickly via our partner link. Register now for free with Transferwise and save from your next bank transfer*.
▷ You can find more about Transferwise in the following article "Transferring money from Australia at low cost? – That's how it works!"
First Aid by Australian Red Cross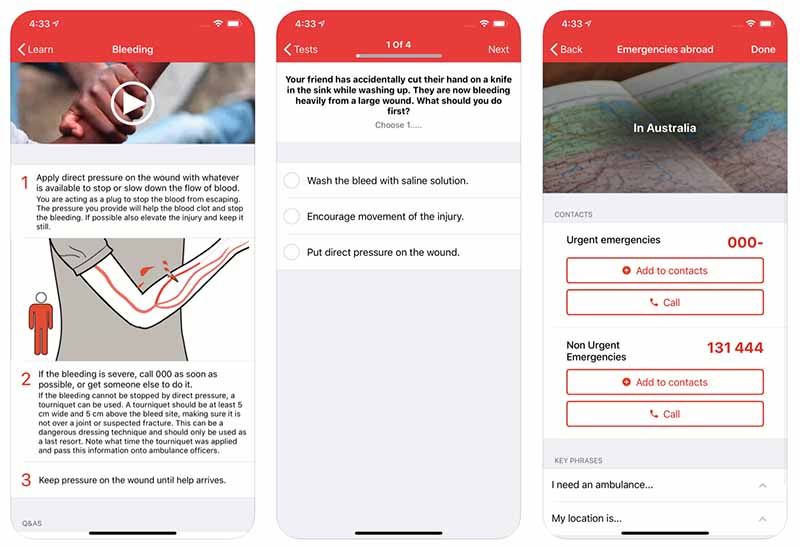 A first aid manual for your pocket. No matter when you will need it (or hopefully won't need it) you have a useful helper with you here. The Red Cross from Australia has created a useful helper for everyday life. After downloading, open the app once so that all content can be downloaded. So you have everything at hand in case of emergency and are not dependent on the mobile network. First aid when you need it. Can even save lives.
First Aid by Australian Red Cross is available for Android and IOS. The app is free.
SunSmart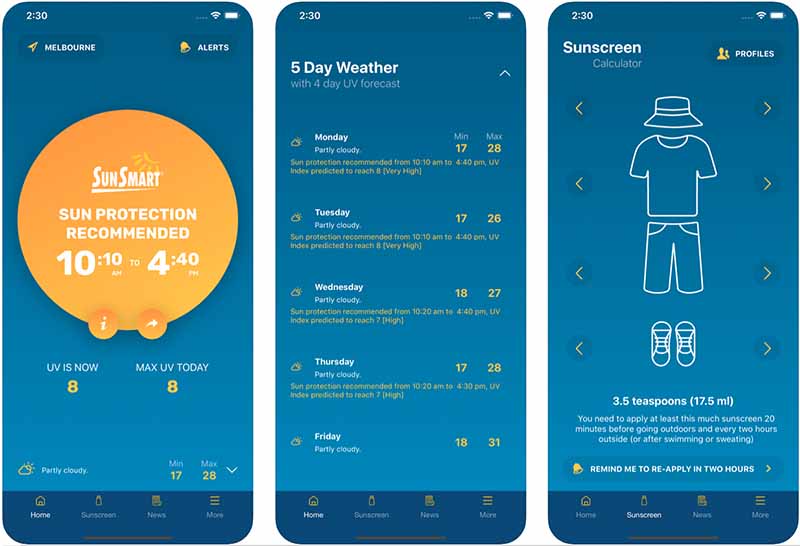 The SunSmart app was developed for Australia to give you an easy way to find out about UV intensity at your location. In addition to a weather preview, you can also activate notifications that warn you when a certain UV intensity is reached. Did you know that UV intensity increases the risk of skin cancer, it is not the temperature that is dangerous for your skin. So in our experience this app is a useful and helpful companion during your stay in Australia.
SunSmart is available for Android and IOS. The app is free.
Tricount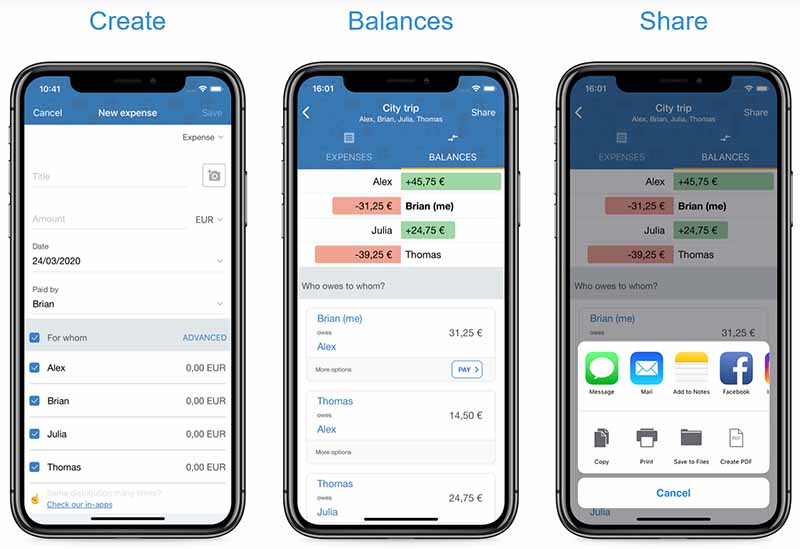 You go on a road trip with your friends, or do the shopping together for your shared flat? It's a lot of work to distribute everything directly, so we have learned to value the app Tricount.
In Tricount you can invite all members of your group and everyone can enter their expenses for the group there. No matter how many members the group has, the app automatically calculates how much money is owed to each member.
You can always get an overview of the current status. Easily choose for whom the expenses were for. Select or deselect each person individually that was involved in that spending. So it's easy to pay the right amount to each person involved.
We used the app ourselves quite often, no matter if on a road trip in Australia or in a shared flat on Tenerife. Therefore we can definitely recommend this app to you.
There are three different usage levels for the app. In the free version, you can create a maximum of 3 lists at the same time without registering with your email address, but this is no problem because you can simply delete finished lists. Without registration your self created lists will not be saved. If you lose your smartphone and don't have a link to your list anymore, the list will be lost.
If you register with your email address you can create more lists and the lists will be automatically synchronized with the Tricount servers. This way you will not have any problems even if your device is lost and you can use all lists again after logging in with your email address.
With Tricount Premium you can add extra features to a single list for 1.89€. The additional functions include the export of the list as PDF or CSV. You can then edit a CSV file in Excel, for example.
With Premium you can also change the weighting of individual issues. For example, one person has a 40% share in the issue and the second person carries the remaining 60%.
The advertising in this tricount will be switched off. You have 24 hours support. The functions are active for all members of the list.
You can have a maximum of 50 members in one list, we think that should be enough for most needs. This makes it easy for you to split all your money up in a fair and easy way.
Our personal summary, we have already been able to calculate all necessary expenses in the basic function. For longer lists it is worthwhile to spend for the premium functions to get even more individual possibilities.
Tricount is available for Android and IOS.
Prices:
Basic functions are free.
Premium available from 1,89€ per Tricount.
Backpario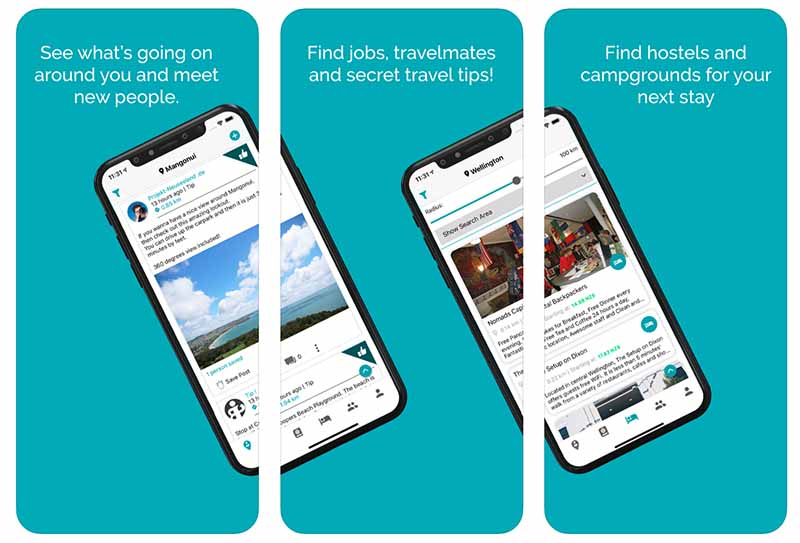 Do you want to connect with other travellers during your Australia trip? Here is a great opportunity to a great newcomer. Make your journey easier with Backpario.
Backpario was invented by backpackers for backpackers. Besides the possibility to meet other travellers, there are some other practical possibilities. Thanks to Backpario you can easily find tips in your area. Search for or offer a ride, and you can also enter the planned route which you will take. Look for or offer jobs. If you have something to sell (or are looking for something to buy) this is also possible. And if you have a question in the region where you are, you can also ask it in Backpario. Connecting with others in your region was never easier.
Backpario itself is like a Facebook group, but location based. That means you only see the relevant information about your location. Backpario is currently available in Australia and New Zealand.
Backpario is available for Android and IOS. The app is free.
-> Free Download "Useful Apps for your Australia trip" <<<
.
Our travel experience
In our experience, these apps for your journey through Australia are very helpful and save you a lot of money and time. If you know any other useful apps for your trip through Australia, we look forward to your comment here under the articles.
We wish you a lot of fun on your Australia trip and a great time.
Also Read
Disclaimer
:
Please note that some of the links marked with a * are affiliate links, and, at no additional cost to you, I may earn a commission if you make a purchase. I use all the companies listed and recommend them because they rock and have made my travels better. If you are ready to book your trip and would like to support Working Holiday Blog, using these links is one way to do that. If you have any questions about the companies, e-mail me.
Ciao Julian 🙂
Follow Me on YouTube, Facebook, and Instagram.
If you find this helpful: Share It with your friends!