When it comes to choose the right accommodation you can pick from so many different options like Hotel / Motels, Air BnB, Couchsurfing, Farm stays, Housekeeping and Hostels.
Since over 4 years I'm traveling around the world. 4 Years of experience of all kinds of accommodations. If you know me than you probably know my personal favorite is Van Life. But besides that the very best option that combines all sort of good things for backpackers are hostels. You can socialize and meet other open minded Travellers. Especially when you feel lonely after you started you working holiday experience.
So today I will give you my 10 Tips on how to pick a good hostel.
.
1. Know your purpose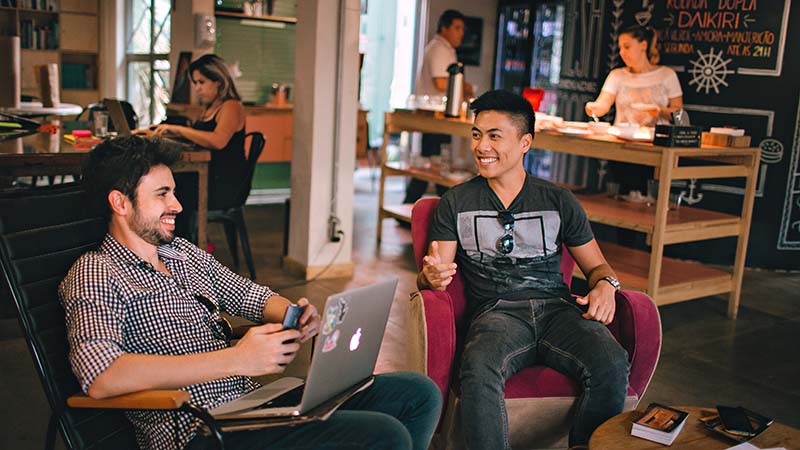 First things first choosing the right hostel is way easier when you know what you want! Do you want to live close to the City center or a Tram / Train stop? Do you need a more quiet stay because your flight is the next morning? Than the crazy party hostel on the most busiest street in town is probably not the right fit for you. It's good to know not every hostel with great location comes with the cheap price, or if so they probably lack some of the other features. In my last stay in Auckland I choose one of the hostel more on the border to the city center and in return I got a cleaner and quiet one with more space.
Hostels offer all sorts of dorm room sizes from private to 4, 6, 8 and even 12 to 20 bed rooms. Obviously as more beds in a room as cheaper the price will be. I personally go with 6-8 bad dorm rooms. I got the experience everything above 10 and 12 is just too many different people.
Some hostel to differentiate only girls or only boys dorms.
2. Online Booking
You can crosscheck prices on the most popular websites like Hostelworld.com and Hostelbookers.com. Google maps shows prices as well. Some are accurate some outdated. Usually google will redirect you to the booking site or the hostel homepage.
The prices may vary from time to time and are based on season. My current hostel is 20% cheaper in May than in January of this year.
In my experience you can get the best prices online. But it does not mean that to ask for the price at the reception could not be cheaper. I had some hostels, where I got cheaper price for extending my stay.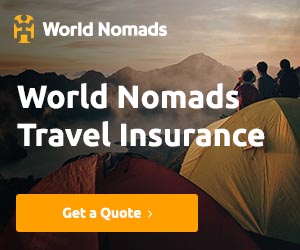 3. Book in advance + Can I stay longer?
I don't recommend that you book all your hostels for your whole trip in advance. If I learned one thing about traveling it is that plans change! You want to be open for those changes. Sometimes your best times will be the result of unplanned circumstances. Maybe you meet your new best friend for your future love.
But when is it okay to book in advance? Usually I book my hostels 2-4 days in advance. I want to be sure to get a bed. In the most hostels it is also fine to extend your stay. It depends on the season.
I stayed in a Backpackers for a couple of weeks. Always extending for the next week at my last day. So eventually I had to leave the hostel for a couple of days, because it was already booked out. Since that I book a little bit earlier.
When you just arrive for your working holiday I recommend you book your first 3-5 nights in advanced. I made the mistake arriving in Vancouver without booking anything. Later I found out I paid 30% more than online. Do your research.
Tip: Some Hostels take a deposit for the Key. Don't forget to get the deposit back when checking out. Check out times are usually around 10:00 am.
4. Location, Review & Recommendation
Many times the cheapest hostels have a bad location. It's not always the case. Some hostels even offer a shuttle bus into the city. You should check the location before booking. All the booking pages show a map, so use it.
Tip: Since Canada I use the free App maps.me which is literally like google maps but you can download every country and use it offline. Also you can place Stars (Markers) in all kinds of colors onto the map. This is a very cool feature where you can see where you have been. I mark all sorts of things like hostels, cafés and supermarkets. 3 Phones later, I still have all my markers from 4 years ago in the app. Thx to the iOS back up system.
Read the reviews to get a feeling about a hostel. But keep in mind, not every bad review means the hostel is bad. There are many people out there who complain about stuff that is not reflecting the situation. You get what you pay for. But it does not mean that a cheap hostel has to be dirty.
Many times I get a good overview just reading a couple of reviews. If I have a bad feeling I don't take it.
If you find someone who can give you some feedback or recommendation about a stay they had in the past, this is very helpful. So you get someone you can trust.
,,For 2022 we recommend Travel Credit Card from Revolut.
No Annual Fee, withdrawling cash abroad is free"
Find out more in the article:
Best Travel Credit Card for Working Holiday!
5. Check In Time & Luggage Room
Be aware of the check in times. Usually when you book online the website will also ask you what time you want to arrive. In many hostels the check in times are after 12pm to 2 pm. This is simple because the housecleaning service as time to finish up a bad or room. In my experience, if you come early in the morning you can shoot the hostel an email with your arrival time. In off season they have a free bed anyway. But I had hostels where I could not check in before 2pm. In that case it is good if the hostel has a luggage room. So you can keep your big backpack there and start exploring or get some breakfast before you check in. Until know I never had a hostel, which had no luggage room. If you found one, let me know which hostel in the comments.
6. Breakfast & WIFI
Talking about breakfast. I'm hungry! Some hostels come with breakfast others don't. It really depends on location, price and hostel. Some hostels offer "continental breakfast" which is basically the most standard and cheapest breakfast you can provide. Some cereals with milk, toast and jam. The better ones offer buns and fruits. But hey, everything better than nothing.
In general you can check before what the hostel offers. Like WIFI, which should nowadays already be standard you still find many hostels with shit WIFI or you have to pay. This bugs me a lot (YouTuber syndrome) especially since some supermarket in Canada, New Zealand & Australia offer better WIFI than hostels. WTF? 😀
7. Bring Your Own Towel
A Hostel is no Hotel where you always get a sheet and a towel. While to be fair, if you do your research you will not end up in a hostel which does not even has sheets. You don't need to carry a sheet whit you. Coming to the towel, this more likely that you should bring your own. I travel with a Travel Towel. They are super tiny but they to the job and take less space. You know, backpacking is all about: "Don't pack to much". The biggest mistake every new backpacker does. Except me, I was born with all backpacker skills : P.
8. Locker + Lock
Not every Hostel provides a Locker. For me travelling with so much camera stuff I always need a locker. Even if Canada, Australia & New Zealand are safer country it does not mean that stuff will not be stolen. So don't leave your valuables visible in the room. If there is a locker use it. Many times those locker come not with a Lock. So I always carry my own Lock. This can be handy in many situations.
If you don't have one, some hostel sell or rent locks at the reception. But consider buying your own. 2-3 different padlock sizes should be covering all sorts of lockers.
9. Flash Light + Head Light
Carry a light with you. There are many situations where you will need a light. Today my phone is my light but to have a head light can be an advantage as well. For example, while I repaired my Camper Van the head light was the best tool I could possibly have. Free hands baby! Back to the hostel, use your light when you come back late at night. Be respectful along others. Don't be the asshole who wakes up everyone else in the middle of the night!
10. Kitchen & Laundry
It sounds so obvious but there are hostels who don't have a shared kitchen or a laundry. While the Laundry is not the biggest deal because you can always find coin laundry or laundry services. But it safes you time when the hostel has his own laundry. Some are even free but most common is the coin laundry style. While the reception even sells the washing powder. If you have the space consider buying your own washing powder.
If you want to travel cheap, a kitchen is necessary. So check if there is one before you book. And clean your stuff. Same rule here, don't be the asshole traveler who leaves everything dirty!
Bonus: Ear Plugs & Power Strip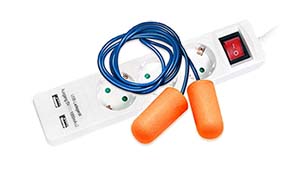 You want to sleep? Here are two options:
Start living in a Camper Van for 2 years always sleeping next to a traffic street and you will adopt to noise. We had one morning a helicopter starting next to us. 😀 (Vancouver Island)
Use Ear Plugs, they just make your nights in Hostels so much more comfortable. Especially if there is someone who is snoring all the time. Since I have noise canceling headphones I sometimes use them as well.
Another good tip is to bring your own power strip. So you only need one adapter if you travel to country's with different current plug.
.
Also Read
Disclaimer
:
Please note that some of the links marked with a * are affiliate links, and, at no additional cost to you, I may earn a commission if you make a purchase. I use all the companies listed and recommend them because they rock and have made my travels better. If you are ready to book your trip and would like to support Working Holiday Blog, using these links is one way to do that. If you have any questions about the companies, e-mail me.
Ciao Daniel 🙂
Follow Me on YouTube, Facebook, and Instagram.
If you find this helpful: Share It with your friends!