[Guest article by Julian from Backpacker-Dude] – You have decided to be a backpacker in Australia and don't know yet how to prepare for your adventure? Whether it's work & travel, backpacking or just a semester abroad, here you'll find out everything you need to know for your trip to Australia.
To get a rough overview of the red continent, it is advisable to read travel blogs or travel guides about Australia.
Recommended travel guides and books for Australia:
Your Australia travel preparation in just 8 steps:
6 months before the start
You have already got a small overview of Australia and know the approximate costs you will have to pay? Then it's time to start planning your trip. The first step is to apply for a credit card so you can apply for your visa. You will need the card very often during your trip, as you will also need to access your money from Germany in Australia.
,,For 2022 we recommend Travel Credit Card from Revolut.
No Annual Fee, withdrawling cash abroad is free"
Find out more in the article:
Best Travel Credit Card for Working Holiday!
5 months before the start
Once your credit card has arrived, you can apply for your visa to Australia. You can find instructions on how to apply for a visa here: Working Holiday Visa Australia: Your ultimate guide. Once you have gone through all the pages and filled in all the fields, all you have to do is click on "Apply Now" and pay the cost of the visa and the application is out. From now on you have to wait. Normally, your application should arrive after one month at the latest. (Mostly even within 48 hours).
4 months before the start
Your visa is here! Then it's time to buy the right backpack and travel accessories. Some people think that it's too early, but the sooner you have a plan of exactly what you need, the better you can wish for travel accessories from family or relatives as a farewell gift 😉 You'll be able to buy your own backpack and travel accessories.
Backpack or suitcase? You can find more information in the article: "Ultimate Working Holiday Packing List – What to take?"
Tip: Buy wisely, many outdoor shops sell you much more than you really need for backpacking! For example, travel soap is extremely expensive and nonsensical, unless you are an extreme backpacker travelling only in the outback without a car.
3 months before the start
From my own experience and that of other backpackers, I know that three months before departure is the best time to book a cheap flight. But before you book your flight, you should be clear about which city you want to start in. Temperatures vary greatly depending on the month and location. If you arrive in Melbourne in August, for example, it is quite cool there. Cairns, on the other hand, has ideal summer weather at this time. Once you have found a city from which you want to start, you can start looking for flights and compare prices.
More info in the article: "15 simple tips on how to ALWAYS find cheap flights"
Tip: Make sure you know how to get to the airport well in advance, so that your friends and family can take the day off and take you to the airport if necessary.
2 months before the start
Now it's time to book a long-term travel insurance. This costs about one euro per day and covers you against all risks on your trip. It is very important that you book a long-term travel insurance and not a standard international health insurance for a maximum of 56 days. Many backpackers, like me, book the international health insurance online with World Nomads. I have always travelled with them and never had any problems. If you need travel cancellation insurance, you can also do that there. Personally, I am not a fan of cancellation insurance, so I never book it.
Tip: More information in the article "What is the best Working Holiday health insurance for Australia?"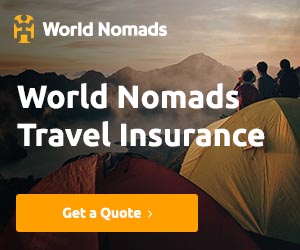 1 month before the start
Your backpacker adventure starts soon. You should slowly start a travel blog. I like My-Map-Blog best, because friends and family can always see where you are and you can upload pictures as well as travelogues. Alternatively, you can create a free blog at Worpress.com, but it's a bit harder to use than MyMapBlog and doesn't offer the nice map function. In addition to your travel blog, you should also start planning your Australia farewell party now. That way you can say goodbye to everyone in time and don't have to meet X number of people who absolutely have to see you again just before the flight.
1 week before the start
OK, now it's getting serious. You have almost completed your travel preparations and now you need to find a bed for the first few nights. You can either book a backpacker hostel per Hostelworld, Booking.com or try Couchsurfing and stay with locals. Once you have booked your first night, you can start arranging your clothes and items for your backpack. At this point at the latest, you will realise whether you have really thought of everything. In no case should you forget your travel adaptor, otherwise charging your mobile phone will be difficult.
The last day before your backpacking adventure to Australia begins
Go to bed early and try to get at least some sleep so you can relax on your way to the airport and not miss your Australian flight.
This was a guest article by Julian from Backpacker-Dude. If you're interested in backpacking worldwide, feel free to check out his blog.
Bonus: Create your own CV for Australia easily & quickly with our template!
If you want to save yourself some work, use our Australian resume template:
▷ Use our easy template package for your resume in Australia.
How much can you earn in Australia?
Then continue in our article: "What's the minimum wage in Australia"
Other things that might interest you:
Disclaimer
:
Please note that some of the links marked with a * are affiliate links, and, at no additional cost to you, I may earn a commission if you make a purchase. I use all the companies listed and recommend them because they rock and have made my travels better. If you are ready to book your trip and would like to support Working Holiday Blog, using these links is one way to do that. If you have any questions about the companies, e-mail me.
Ciao Daniel 🙂
Follow Me on YouTube, Facebook, and Instagram.
If you find this helpful: Share It with your friends!