What should I pack in my backpack and what can i leave at home and not put on my packing list? This is a question almost all Travelers ask themselves before they start their Working Holiday. A lesson I learned during my past travels: "Less is Better!" Because everything you rarely use is unnecessary weight and can be bought locally, often cheaper or for the same price. I created the ultimate Backpackers Packing List for you. Print it! Use it! Start your journey with no stress!
-> Download Ultimate Backpackers Packing List: >>> Free Packing List here [PDF] <<<
.
In this article I give you an overview of the most important things you should take with you! I give you recommendations & useful equipment that made my own backpacker travel easier. I tell you what you don't need. Have fun reading!
Advertising disclaimer
In this article you will find links marked with a *. These links lead to our partners. If you book a service or buy a product using on of these links, we get a little commission. For you nothing else changes. Using these links supports Working Holiday and keeps our website alive. Thanks a lot!
Traveling with backpack or suitcase?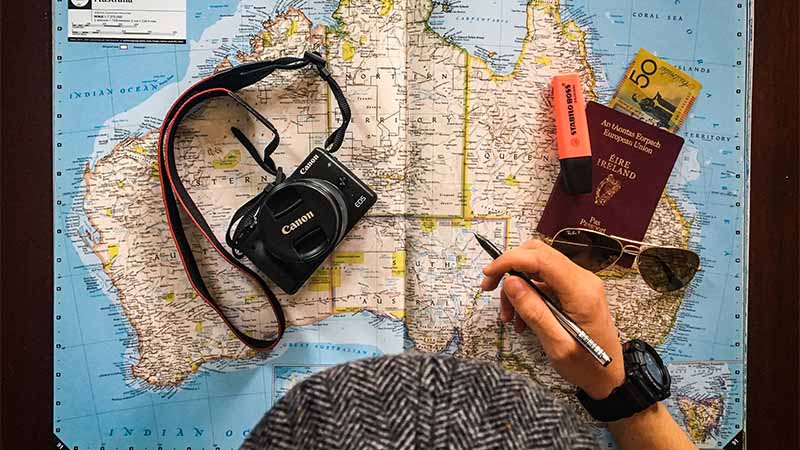 I travelled with both and made my experiences. Both have their advantages and disadvantages.
You can go anywhere with a backpack. Uneven roads, hiking trails – all no problem. No doubt, the backpack is the first choice for most travelers. However, you have to carry it on your back and that can lead to backpain. Also you don't always find your stuff straight away.
A suitcase with wheels (make sure to get one with 4 wheels instead 2) is more comfortable for transport as long as the terrain is not uneven. Besides, a suitcase will get you your stuff faster! But with cheap suitcases the wheels can break fast. Then all the advantages is gone and you end up carring a massiv suitcase! Guess who had this experiance! 😀
Therefore my personal favourite is the backpack. If you buy a good trekking backpack, you normally have it for the rest of your life! I've been using my Deuter Trekking Backpack 55+10L (max. capacity of 65L) since 2008. The size is perfect! I can reach my stuff from the top and the bottom.
Tip: For your Working Holiday buy a backpack between 60L – 75L. Don't buy a bigger backpack, because you will end up carrying more. The more space you have you will fill it. It's just human, so limit yourself!
Trekking Backpack recommendations:
Don't buy the cheapest backpack! You are not just travelling for 2 weeks. When choosing a backpack, quality is important! I have two recommendations for you. My absolut favourite and a cheaper one but still good quality:
My absolute favourite is the "Deuter Aircontact 55 + 10L Trekking Backpack*" – This backpack may cost a bit, but it is the best backpack you can buy for a lifetime!
Cheaper alternative (still good quality) I recommend "Outdoorer Backpack for Working Holiday 65+10L*":
Travel hacks: Things that make your journey easier!
1. Packing cubes and compression bags
If you don't use packing cubes*, yet. What are yu doning! 😀 This is the one thing that will make your travel so much easier! You roll your clothes and pack them into the packing cubes. You save space and you get the stuff you need quickly! I would never go without them anymore!
Example from Packing Cubes on Amazon*:
Not quite as elegant but a similar effect you can get with compression bags*. These have the advantage of vacuum sealing. Means your laundry will smell fresh longer. Unfortunately the Zip Locks break very easy, so the vacuum advantage disappears. Nevertheless I would always have some compression bags with me to quickly pack something airtight + waterproof.
Example Compression Bags on Amazon*:
2. Power adapter with USB charging & power cord
If you travel to countries such as Australia, New Zealand, Canada or even some countries inside of Europe, you will need a power adapter. In my past I have bought 1-2 of these adapters for almost all countries. Waste of money! Buy a "universal power adapter cube*" that covers all countries in one adapter. Some years ago you had to pay more than 50€ for one. Nowdays you can get them on Amazon cheaper than I paid for single adapters in the past.
Example universal power adapter cube on Amazon*:
Problem: If you have several devices to charge (smartphone, tablet, laptop, camera, shaver…) you need more adapters or you have to wait until the adapter becomes free. Solution:
The absolute Travel Hack: Take a 3-pin extension cord with you. You only need one adapter and you can charge all your devices as usual! You can get extension cords with space-saving cubes + UBS charger* all in one:
Example Compact Cube Extension with USB on Amazon*:
3. Not only good for flights but hostels
In hostels your sleep is constantly disturbed. The cheaper you will sleep in more bed dorms. Some people snore. Some come back late at night from a party. Solution: Earplugs and sleeping mask! This should not be missing on your ultimat Backpacker Packing List:
Example "Neck pillow + earplugs + sleep mask" bundle on Amazon*:
Overview – Ultimate Backpacker Packing list: This is was you need!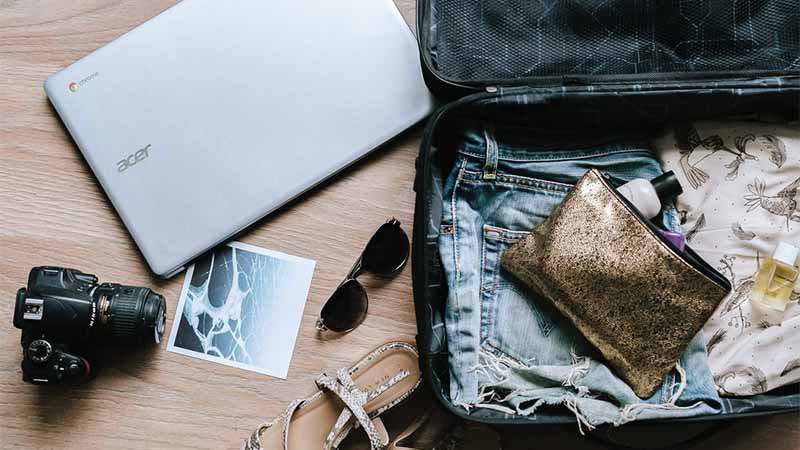 1. Travel-Equipment
☐ Trekking backpack* (60-75 L)
☐ Daypack* (15-25 L)
☐ Backpack rain cover*
☐ Rain poncho*
☐ Transport bag for the Backpack
☐ Laundry bag (dirty laundry)
☐ Backpack combination lock*
☐ 1-2 Padlocks* (for hostel)
☐ Sarong*
☐ Neck Wallet* or money belt*
2. Clothes
☐ Packing cubes* (the best for backpackers!)
☐ Socks (7x)
☐ Underwear (10x)
☐ Bras (2x)
☐ Leggings*
☐ long trousers
☐ Shorts
☐ belt
☐ Scarf
☐ Tops / Shirts (3-4x)
☐ Shirt or blouse (for job interviews)
☐ Light jacket + ☐ Sweater or jacket
☐ Bikini / swimming trunks (swim wear)
☐ Microfiber travel towel (dries quickly)
☐ Quick-drying functional clothing
☐ Old clothes for farm jobs
☐ Flip Flops* + ☐ Sport / Hiking shoes
☐ Everyday shoes*
☐ Cap* (Sun protection)
For the Winter:
☐ Winter jacket
☐ Scarf and gloves
☐ thick sweater
☐ Winter shoes
Important: The most of the time you end up not using your winter clothes. Leave them at home and if you need the winter clothes, buy them locally (e.g. cheap in a thrift shop / oprtunity shop / second hand shop). -> Space is king!
,,For 2022 we recommend Travel Credit Card from Revolut.
No Annual Fee, withdrawling cash abroad is free"
Find out more in the article:
Best Travel Credit Card for Working Holiday!
3. Washing Stuff
Bring shampoo, shower gel (or a both in one bottle) and deodorant in travel size! buy more locally.
☐ Toiletry bag* (for hanging)
☐ Toothbrush*
☐ Toothpaste*
☐ Shampoo*
☐ Shower gel*
☐ Deodorant*
☐ Hairbrush*
☐ Hair tie / Barrette
☐ Razor
☐ Cotton Buds*
☐ Nail care set*
☐ Tweezers
☐ Lip balm*
☐ Sunscreen* (for AU & NZ at least 50+)
☐ Contact lenses + ☐ Liquid and tools
☐ Cleansing wipes* + ☐ Tampons* / Sanitary pads*
4. Travel Pharmacy
I'm not a fan of drugs, so my travel kit is small. However, I always carry a few things for emergencies. You can buy a FIRST AID TRAVL KIT*.
☐ Individually needed medication
☐ Disinfectant spray*
☐ Band Aid / First aid kit*
☐ Ibuprofen
☐ Fenistil*
☐ Nasal spray*
☐ Diarrhea tablets*
☐ Pills for the entire stay
☐ Condoms*
Tip for womens: You can get the birth control pill from your doctor for a whole year.
5. Electronik Gear
For me, they take away a lot of space and weight. That's why you have to decide for yourself what you really need. I definitely recommend you to take a tablet or a small laptop to write resume/cv on the go.
☐ Power adapter* (world travel adapter)
☐ Extension cord incl. USB charger*
☐ Laptop* + ☐ Charging cable + ☐ Laptop bag
☐ External hard drive*
☐ USB Stick*
☐ Camera* + ☐ Charging cable + ☐ Bag*
☐ SD memory card* (for camera)
☐ Acton-Cam* (GoPro)
☐ Smartphone* + ☐ Charging cable
☐ E-book Reader* (Kindle – Weight saving)
☐ Headphone* + ☐ Headphone adapter for 2*
☐ Power bank*
6. Documents
Your documents are the most important thing! To start your Working Holiday with no stress make copies of all your documents! Save additional copies to your cloud! (e.g. DropBox* – standard version free of charge) Or send an email to yourself!
☐ Create copies of all important documents (print them out and save them in a cloud -> e.g. DropBox* or via email)
☐ Confirmation for your visa
☐ Passport + ☐ Passport case*
☐ Insurance documents
☐ Fly tickets
☐ Credit cards and Debits cards
☐ TAN Generator/Box/Device for Online Banking
☐ Driver's license + ☐ International driver's license
☐ Vaccination certificate
☐ Proof of financial funds
☐ Address from your first stay
☐ Booking confirmations
☐ Emergency contact numbers (credit card, health insurance…)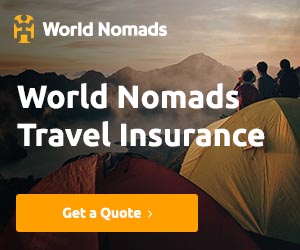 7. Others
☐ Head flashlight*
☐ Sunglasses* + ☐ Case*
☐ earplugs*
☐ Sleep masks*
☐ Neck pillow*
☐ Sealable bags* (zipper bags)
☐ pocket tool/knife*
☐ Travel cutlery*
☐ Lighter
☐ Duct tape* + ☐ Cable tie* (to repair everything)
☐ Clothes line* + ☐ Bungee Cord* (attach things to the backpack)
☐ Water bottle* (foldable)
☐ Notebook* and pens
☐ Travel Guides (also available as E-Books*)
☐ Stainless steel straw* (good for the environment)
☐ Compression bags*
☐ Dry Bag* (To protect gear against water)
☐ Optional: card game* (try Wizard* the card game)
I've never needed these things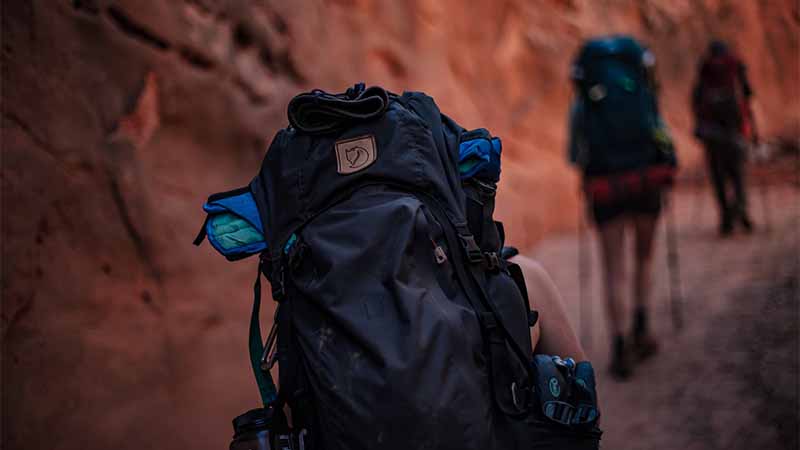 On my trip around the world I had things with me that I could have left at home afterwards:
Travel hair dryer: Many countries have a different voltage network than your home Country and your hair dryer does not always work properly. It is better to buy a new one locally.
Travel guides [Books]: They are heavy and take lot of space. You can find interesting places in the internet or by talking to locals & backpackers. Tip: Buy a Kindle eBook Reader*!
Books: If you like to read as much as I do, you have the same problem like with travel guides: too heavy. Since I got an eBook Reader*, I use it for all my reading. Perfect for backpackers!
Shampoo and shower gel: you can buy large quantities everywhere. So save weight in your backpack. + Anyway, they leak very easy in your Backpack!
I arrived in summer but I carried an expensiv winter jacket. Total waste of space! It was too expensive to send it back. Rule: Don't take expensive things with you!
Conclusion – Ultimate Backpackers Packing List
This was my Ultimate Backpackers Packing List for Working Holiday everywhere! If you think there is something missing on the list, please write me a comment and let everybody know! I will add it to the post.
I created the ultimate Backpackers Packing List for you. Print it! Use it! Start your journey with no stress!
-> Download Ultimate Backpackers Packing List: >>> Free Packing List here [PDF] <<<
.
My recommendation for the Best Working Holiday Backpack is the " "Deuter Aircontact 55 + 10L Trekking Backpack*":
Also Read
Disclaimer
:
Please note that some of the links marked with a * are affiliate links, and, at no additional cost to you, I may earn a commission if you make a purchase. I use all the companies listed and recommend them because they rock and have made my travels better. If you are ready to book your trip and would like to support Working Holiday Blog, using these links is one way to do that. If you have any questions about the companies, e-mail me.
Ciao Daniel 🙂
Follow Me on YouTube, Facebook, and Instagram.
If you find this helpful: Share It with your friends!