Ireland is a rather small country, but if you are there for a while, you will find that there are some rather strange, special and funny curiosities in the country. Working Holiday in Ireland – prepare yourself for curious encounters in a mystical environment!
1. Loughareema – a sight that is not always there
In the Antrim region of beautiful Northern Ireland, there is a natural phenomenon that is there now and then – but also gone from time to time. It also has no legs and others of its kind are either there or gone – but not both!
It is about a lake: more precisely, the Loughareema lake. The name is Irish and translated means "Vanishing Lake". And the name is programme! Due to a natural runoff, the water actually runs off almost completely. However, when it rains heavily, this outflow is blocked and the lake runs full. So thanks to the Irish weather for this little highlight!
With a bit of luck you can find unique tours with a local guide in Northern Ireland on the GetYourGuide website. Besides Giant's Causeway and the Red-Rope-Bridge, Loughareema is also included.
P.S.: Don't be so curious! There is no picture. It hadn't rained for a week and the lake was gone! 😉
2. Ireland's "Top Toilet" in Gougane Barra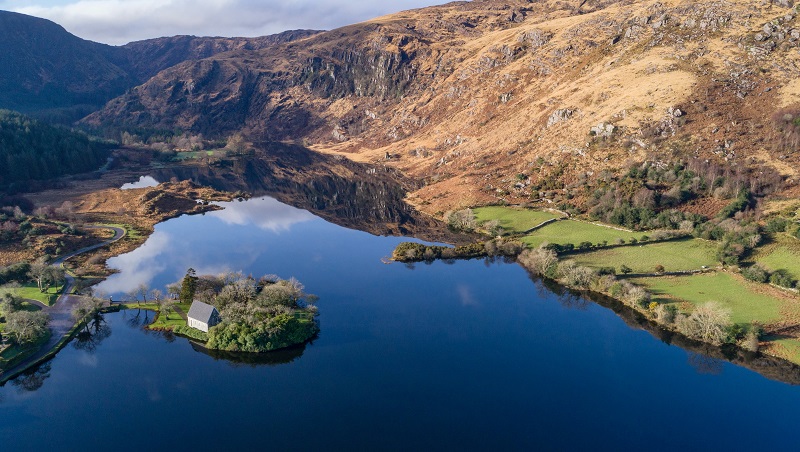 If you're passing through County Cork on a trip to see a public toilet, don't miss this wonderful corner of Ireland!
No, it's not a pun. It's about a toilet! Gougane Barra is a fantastic area, a mirror-like lake embedded in a beautiful hilly landscape. And in the middle of it all, a public toilet that won the "Top Toilet in Ireland – Award" in the 2000s.
Whether the story is true, and how much of it is the imagination of the storytellers, is still unclear today. Legend has it that due to the increasing number of visitors in the region, there was a cry for more public toilets. So County Cork launched a job advertisement to have toilets built. Once the plans and architect had been decided, Cork County Council had received a rather expensive bill. It is said that they sent a colleague there and he was quite astonished to see an extravagant small building, a mixture of traditional cottage building and modern approaches.
To this day it is not clear how the whole story really happened. But two things are certain: the toilet won the "Top Toilet in Ireland – Award" and the region around Gougane Barra is worth a detour even without a visit to the toilet.
Very entertainingly told, you will find the whole story here.
Tip: In the Gougane Barra Forrest Park there are 6 walks from easy to moderate. More information can be found here.
3. Banshees and Leprechauns – Irish mythology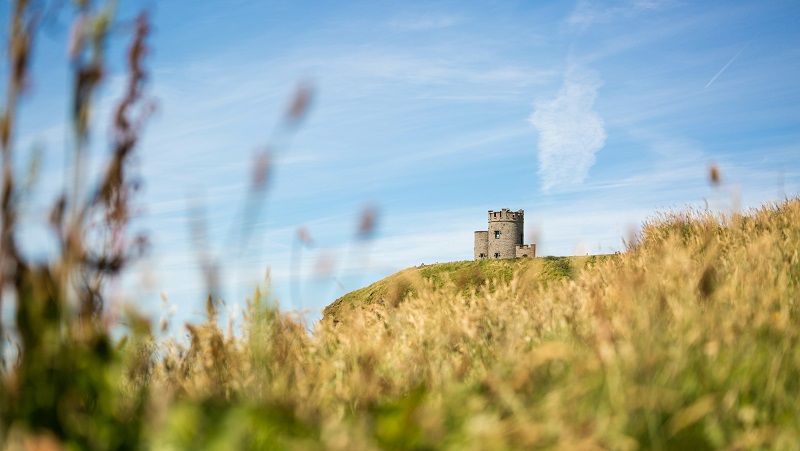 Ireland's capital, Dublin, is home to the only goblin museum in the world devoted exclusively to this small mythical creature. The "Leprechaun" is a very important part of Irish and Gaelic mythology and is therefore downright revered. The same is true for banshees and other fairy creatures. Throughout the country you can find special fairy castles, as in Dooneva in County Clare.
Tip: Curious what a goblin looks like? You can get some impressions here.
The fact that these fairy castles are mostly the remains of old buildings from times long past is usually only mentioned in passing. How else can the curious things that happen at these places be explained?
The so called Fairy Forts can be found all over Ireland. More impressions can be found on Instagram here.
At the highest point of the Cliffs of Moher in the west of Ireland is O'Briens Castle. This place is also surrounded by myths and legends. Once you are in Galway, not only the Cliffs of Moher, but also the small castle that towers above the cliffs are worth a visit.
Book recommendation: Celtic Tales* & Best loved Irish Legends*
Tip: Killarney is situated between Galway and Gougane Barra and offers a relaxed small town atmosphere as well as cool accommodation. Check out the "Black Sheep Hostel".
Accommodation in Ireland
You have many options when it comes to accommodation in Ireland. Hotels from low budget to luxury, bed and breakfast, hostels and Airbnb*. For the start I would recommend a hostel, because you can immediately make contact with other backpackers / travellers. If you get together with 1-2, you can also use AirBnB.
What is Airbnb? If you don't know Airbnb* yet: In principle, you can now rent out everything possible above it. So you can find rooms and whole flats from private persons. Compared to hotels, you can save a lot of money here. Especially if you share the costs with others.
Get your registration bonus: If you are NEW to AirBnB, you can use this Link* to receive a bonus for your first booking!
Which travel guide should I carry with me?
▷ You can find more guides and useful equipment in Work & Travel Shop.
What else might interest you:
Disclaimer
:
Please note that some of the links marked with a * are affiliate links, and, at no additional cost to you, I may earn a commission if you make a purchase. I use all the companies listed and recommend them because they rock and have made my travels better. If you are ready to book your trip and would like to support Working Holiday Blog, using these links is one way to do that. If you have any questions about the companies, e-mail me.
Ciao Lena 🙂
Folge mir auf YouTube, Facebook, and Instagram.
Wenn du den Artikel hilfreich findest, dann teile ihn mit deinen Freunden!