For most trips, the flight is the most expensive part of the trip. Although the price of transatlantic flights has dropped in recent years, it can still make up a significant portion of the cost. No matter if you do work and travel in Canada, or are looking for a cheap flight for your next vacation, every 100 euros you can save you can reinvest in your trip.
Airlines have thousands of great deals every day – from falsely published fares to promotions to price cuts to compete with another airline. There are cheap tariffs and you can make your dream trip a reality! You just have to know where to look! Today I'll help you master the art of finding cheap flights. These are exactly the steps that I've been using for years when looking for my own flights. Today I'm going to show you my secrets on cheap flight searches. No matter where you want to fly! Have fun while reading:
1. Ignore the cheap flight myths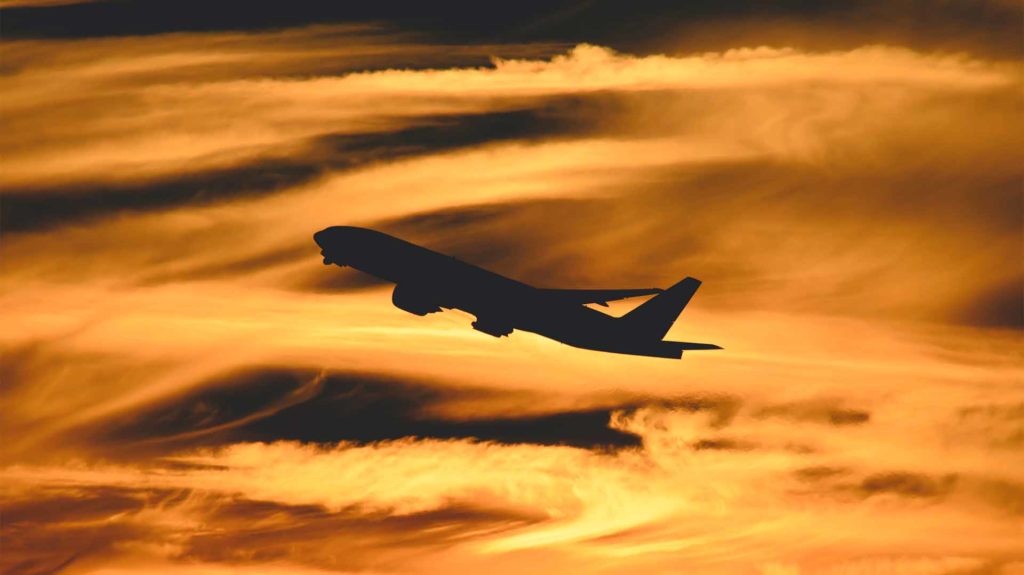 The first thing you need to know about finding a cheap flight is that there is no magic ball or secret ninja trick. There are many myths online about how to find cheap flights. You have probably already found some when searching for the best flight offer! They are lies and they will mislead you. Many websites use popular and outdated myths and recycle them. Here is a list of the most common ones that are 100% wrong:
It is NOT cheaper to buy airfares on a Tuesday (or other specific day).
There is NO evidence that the incognito search leads to cheaper offers. (Although it doesn't hurt to try).
There is NO exact date or time period when you should book your flight.
You cannot predict airline prices, and websites that do so only suspect.
Airlines used advanced computer algorithms to determine prices based on sales, season, demand, weather, events, time of day, competitor prices, fuel prices, and more. These so-called "tricks" no longer work. The system is now smarter. So don't waste your time. Don't listen to the claims if someone tells you otherwise. Anyone who tells you about it doesn't know what he's talking about!
2. Be flexible with the departure date
The prices of airline tickets vary greatly depending on the day of the week, the season and upcoming holidays such as Christmas, New Year's Eve, Easter and Pentecost. In winter you want a lot in a warm place. August is the largest travel time within Europe and many use the holiday season to travel. In short, if you fly when everyone flies, it's more expensive!
Try to be flexible with your date. If you want to fly to Canada, fly in the off-season (spring or fall) when fewer people fly to Canada and the airfare is cheaper. The more flexible you are with your plans, the more likely you are to find a cheap flight. Also, it is almost always cheaper to fly in the middle of the week than on a weekend, as most people travel on weekends and the airlines then raise their prices. The prices are cheaper before and after the holiday period. Early morning and late evening. Because fewer people travel then. Who wants to get up early ?!
In short, a single day can save you € 100. Airlines are not stupid. They adjust their prices accordingly when it comes to festivals, public holidays, major sporting events or vacations. So be flexible with your date and departure time. So you can save a lot of money.
,,For 2022 we recommend Travel Credit Card from Revolut.
No Annual Fee, withdrawling cash abroad is free"
Find out more in the article:
Best Travel Credit Card for Working Holiday!
3. Be flexible with the destination & the place of departure
If you are not flexible with the departure date when flying, you should at least be flexible with the destination and the departure location. It is best, of course, to be flexible with the time and place, but if you really want to save the most money and find a cheap flight for your trip to Canada, then you should at least be flexible with one of the two, date and location.
Flight search engines have made it easy to search the whole world. You no longer have to search manually to find the cheapest ticket: city by city, day by day. Websites like Skyscanner*, Momondo*, and Google Flights* offer exploration tools that let you see all flights to the world from any airport on a world map. In this way, you can easily compare multiple goals without having to work out every possible option. You will probably find some interesting destinations that you haven't even thought of! If you are flexible with your destination, this way you can find out which is the cheapest flight.
Step 1: Go to Google Flights and click on the world map: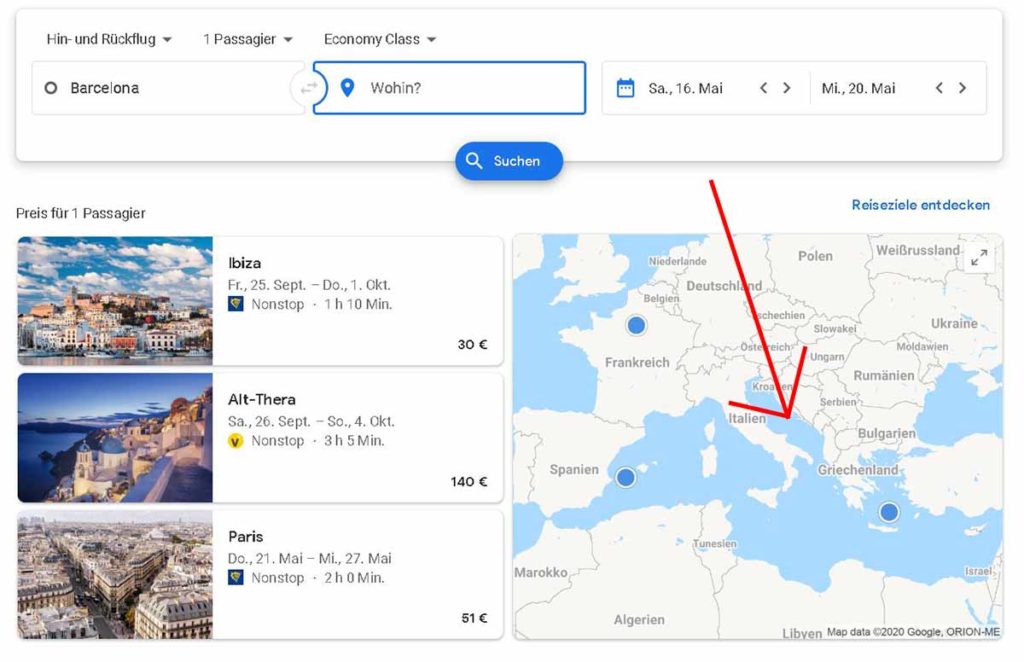 Step 2: Enter your departure airport plus date. Now Google Flights shows you a variety of options on the map. Tip. You can even enter "Canada" as the destination: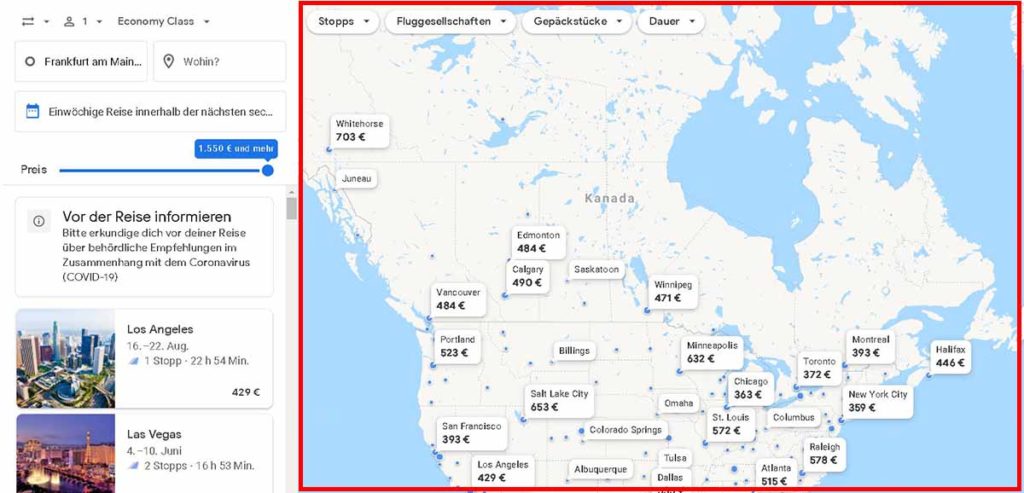 The truth about airfare is there is always some cheap deal! The destination may not be your first choice, but if you are flexible about the destination and departure location, you can save a lot of money. But if you are tied to a fixed goal, then you get stuck on the price that is shown to you. You can't change that. But if you are flexible, the whole world suddenly opens up and you can find amazingly cheap airfares!
4. Fly with cheap airlines
If you wanted to take flights between continents years ago, you usually only had the traditional, expensive airlines to choose from. That is no longer the case today. Low-cost airlines now offer many long-haul flights. Nowadays you can reach almost the whole world with a low cost airline. Yep, they may not be as convenient, and you may have to pay more for premium upgrades such as checked baggage and meals, but the price can still be unbeatable. Here is a list of the largest low-cost airlines that also fly to Canada:
Pro tip: If you are unsure which low cost airlines fly, visit your departure airport website. There you will find a list of all airlines that fly there. Low cost airlines are a good alternative to flying with traditional airlines. You get less benefits, but you can save a lot of money.
Attention: Pay attention to the fees. This is how the low cost airlines earn their money! There are often additional fees for checked baggage, hand baggage, printing your boarding pass or using a credit card. Be sure to add all the cost of the ticket AND the fees to make sure the price is really lower than that of a larger provider.
5. Use flight search engines

Flight search engines compare airlines, travel agencies and vacation portals and search for the cheapest flights. They are a good start to get current offers. You also have more freedom in the setting options there.
For example, you can compare different airports. You can have the prices displayed for a complete period of time and even have prices all over the world shown on a map as described in point 4. The most popular flight search engines include Skyscanner*, Momondo*, Google Flights* and Kayak. I personally prefer to use Momondo.
Tip: clear your browser cache! If you search for the same flights more often, the price may increase. Why is that? When you are on the Internet, your behavior is stored in so-called cookies. These are small files that your browser saves on your computer. These cookies enable the websites to recognize how often you visit them. For some flight search engines, this means: If you return often, you are an interested customer. Accordingly, they increase their offer for the period searched. You can counteract this by clearing your browser cache before visiting the website.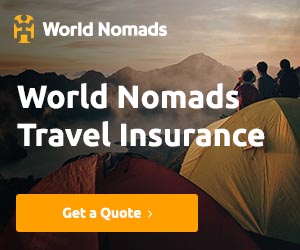 6. Compare different flight search engines
To find the best deal, you need to compare multiple websites. Many of the flight search engines do not list low cost airlines or unknown foreign airlines because these airlines do not pay commission. Some do not list pages that are not in English or German. Others only show the prices that come directly from airlines.
In short, not all websites are the same for flight searches! Everyone has their advantages and disadvantages. Since there is no perfect search engine, you should not limit your search to just one. Even the best flight search engines have their quirks. Nevertheless, I have a few favorites with which I always start my flight search. Because these flight search engines tend to always give the best results. My favorites to find the cheapest flight are:
Momondo* – This is my favorite website. Momondo searches most airlines and websites around the world and shows you the cheapest flights in 92% of cases.
Google Flights* – Great flight search engine from google that lets you see prices for multiple destinations.
Skyscanner* – This is the second best flight search engine that searches as many pages as Momondo. It is also easy to use and there is even an app for your smartphone.
I usually start my search with Momondo or Skyscanner. Or both ;-). Because all major airlines and low cost airlines and websites are searched in other languages. In addition, these two search engines are also used by most of the travel experts I know.
7. Error Fares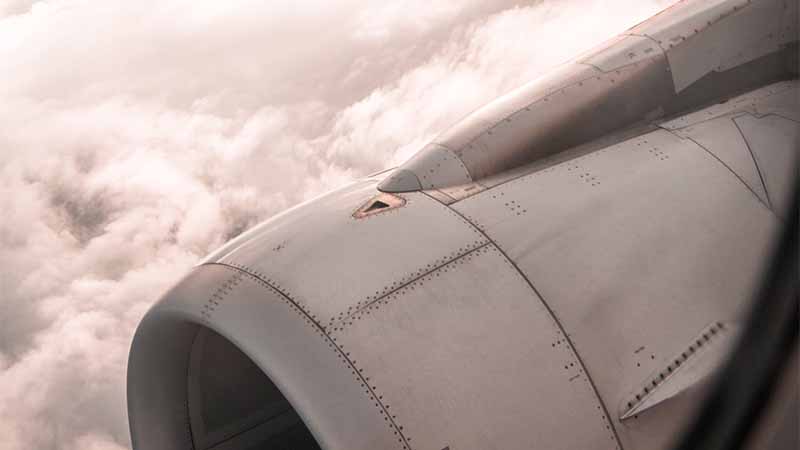 To find really cheap flights, you can also look for the so-called Error Fares. An error fare is, for example, a flight that only costs a fraction of the normal price. You can often find these cheap error fare offers in hotels or package tours that are suddenly extremely cheap.
An error fare is a price error. This arises if, for example, an error occurs when setting the flight price. This allows you to find really cheap flights. Unfortunately, Error Fares are difficult to find and only available for a short time. There are pages dealing with this topic, among others Tripdoo.de, HolidayPirates.com* and Urlaubsguru.de But not every offer is automatically an error fare.
It's still worth a look. In general, if you have found one, do not call the airline. This will tell them the mistake and you may lose the offer. With further bookings (e.g. hostel) you should wait until your flight has been confirmed.
-> More information about Error Fares can be found here.
Short and sweet. Many offers on the Internet often only last a few days. So it is almost impossible to find all of these offers. One way of getting such offers directly to your home is via the newsletter of the individual airlines and / or the flight portals. These regularly send e-mails with cheap offers. If you have the right offer, just hit it. In addition to the airlines, you can also find cheap offers on the following websites:
9. Direct flight or stopover?
You can save money if you are flexible with your route in addition to the location and date. For example, it is sometimes cheaper to fly to London and take a low-cost airline to Toronto. (e.g. Air Transat). That's exactly how I've flown a few times.
This costs you more flight time than a direct flight, but you can save a lot of money. Only the last time I flew to Sweden via Dublin for a total of EUR 46. To use this method, you need to find out how much it will cost to get straight to your destination.
Open Google Flights and enter your destination continent. Compare the prices displayed at the nearby airports and if the difference is more than EUR 150, see how much it will cost to get from the second airport to your main destination. (Either with a cheap flight or train)
Warning: If you book separate flights / trains, make sure that there are at least three hours between the connections. This gives you more leeway for delays. Because your second train / flight will not be waiting for you if you are late. With 3 hours of buffer, you are also insured for insurance claims. Because most insurance companies require a delay of at least three hours before you make your claim. This method is more work because you have to compare many different routes. But it can be worth it in the end because of the lower price.
10. Book individually and not as a group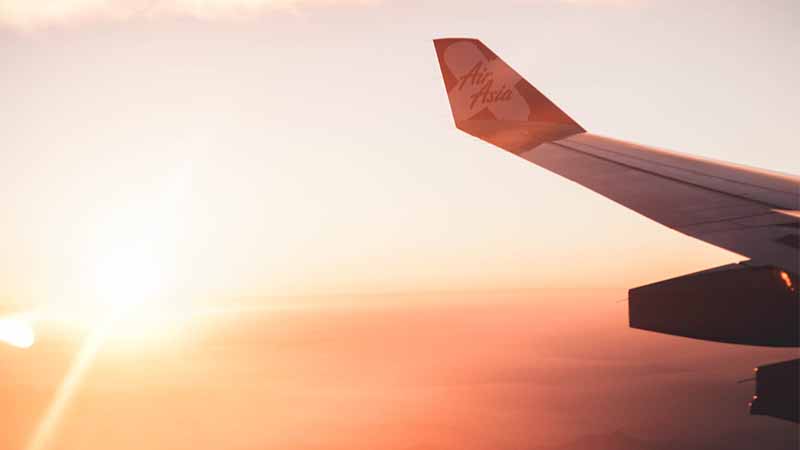 If you want to travel with friends or family, do not search or buy all tickets at once. Airlines always show the highest ticket price for a group of tickets. That means you end up paying more money.
For example, if you search for four seats with a family of four, the airline finds four seats together and displays the fare based on the highest ticket price. If seat A is EUR 200, seat B and C is EUR 300 and seat D is EUR 400, these tickets are valued at EUR 400 each, instead of adding up the individual ticket prices. The more members in the group, the bigger the price difference can be.
Therefore, always search for tickets as an individual. You can then choose your seats at check-out. So that you and your family can still sit together. Even if you are not sitting next to each other, it can still save you a few hundred euros.
11. Take advantage of the student discount
If you are still a student (or under 26), there are many discounts available. You will usually find prices 20-30% cheaper than the standard tariff. Travel agencies like "STA Travel" or "Flight Center" can help you find a cheap ticket. Most student discounts are also transferred to airline partners.
For example, Delta offers a student discount, which means you can use this discount for partner airlines like KLM and Air France. This way you can fly much further and save a lot of money at the same time. If you don't know which airlines offer student discounts, visit their website or call. It's worth doing a little research to save 20% (or more)!
12. Combine different airlines
If you book directly with an airline, you can only fly with that airline and all of its partner airlines. This means that your options are limited. So when it comes to saving the perfect itinerary or saving the most money, book the tickets individually with different airlines. For example, if you fly from Frankfurt to Vancouver, you can make a stopover in Reykjavík (Iceland).
It is of course easier to book both routes in one ticket. So you probably won't save any money. If you instead book your flight from Frankfurt to Reykjavík as a single ticket and then book the ticket from Reykjavík to Vancouver with another airline, you can find the best bargain.
Of course, it is more work to find the cheaper offers, but the savings (and flexibility) can be worthwhile. Incidentally, that's what most third-party booking websites like Kiwi.com* do. They put together trips with fork flights to make sure you get the cheapest price. If you're looking for the lowest price and you're not satisfied with what you find on the airline's website, then book the flights individually. So you may stumble across a great offer.
Pro tip: If you make a stopover in Reykjavík anyway, just stay in Iceland a few days longer before flying on to Vancouver. Since you book the flights individually, you also have absolute flexibility about them. You can do it on the outward flight to Canada or you can do it on the way back.
13. Check flights in other currencies
This tip strongly depends on the current exchange rates and how the currencies differ from one another. However, it is possible that you can find the exact same flight, the same airline and the same booking class for a completely different price if you search in a different currency.
Especially when the euro is strong, it is worth displaying flights in weaker currencies. So I once found a flight in euros for € 900. When I switched the currency to New Zealand Dollars (NZD), the same flight only cost me around € 750.
Attention: the flights are not always cheaper, you also have to calculate the currency differences between the banks when paying. Because they don't always change your money exactly as the current market value is. In addition, many banks charge additional fees for paying in another currency.
Tip: It is worth paying with a credit card that covers free worldwide payment and does not require any additional fees. The free credit card "Visa Card der DKB*" is ideal for this.
14. Use flight miles and bonus programs
As soon as you know that you want to travel, you should register for the airlines' bonus programs. These travel award programs are a great way to get free flights, travel benefits and free hotel stays. Get flight upgrades, welcome bonuses, carpool credits like Uber or Lyft, free events, airport lounges, and more.
No matter how often you fly, you should sign up for a rewards program. You don't have any additional expenses. Through these miles programs you can get free flights and business class upgrades. One speaks in the travel scene of so-called "travel hacking".
So if you're smart and earn points and miles, you can travel the world for very little (and often free). Here are some travel hacking articles to help you get started:
15. Book early (but not too early)
The airfares rise the closer you get to the day of departure. However, there is a "sweet spot" when airlines begin to lower or increase prices as needed. Don't wait until the last second, and don't book too far in advance.
The best time to book your flight is around 6 to 8 weeks before your scheduled departure. Or about three months in advance if your flight is in high season. Of course, this is not bound in stone and should be checked individually in each case. Use that as a guide.
In the end, it is not worth doing too much research if you only save a few euros more in the end. As with everything, the 80/20 rule applies here. Once you've found a reasonable price, just book it. It may not be the cheapest flight, but it's better than paying more in the end because you've waited too long and prices are rising again.
Conclusion
Finding the cheapest flight is about being flexible and creative. It may take some effort, but the offers do exist. You just have to be ready to check it out! Follow the tips above and you will find a cheap flight. But don't waste hours and hours trying to find the cheapest flights. Get an overview with the strategies and if you have found a good offer, then strike.
Find the cheapest flight today
I start my search with Skyscanner* and Momondo* because both flight search engines include all major airlines and low-cost airlines, as well as non-English websites, English websites and everything in between. Even if you are not sure about your exact plans, it can still be worth taking a look at the flight search. In the end, those who wait too long before booking are the ones who pay the most.
.
Also Read
Disclaimer
:
Please note that some of the links marked with a * are affiliate links, and, at no additional cost to you, I may earn a commission if you make a purchase. I use all the companies listed and recommend them because they rock and have made my travels better. If you are ready to book your trip and would like to support Working Holiday Blog, using these links is one way to do that. If you have any questions about the companies, e-mail me.
Ciao Daniel 🙂
Follow Me on YouTube, Facebook, and Instagram.
If you find this helpful: Share It with your friends!