Last updated: 18.05.2020 – The spread of the respiratory disease COVID-19 (CORONA VIRUS) is also leading to increased entry controls, health checks with temperature measurements and entry bans in Canada. In this article you will learn how the current situation of the Corona Virus affects your Canada trip.
(Update 13.05.2020 from CIC Canada Website):
Do International Experience Canada participants fall under the temporary foreign workers exemption? – Yes, the exemption includes International Experience Canada participants.
Effective May 8, 2020, applicants in the Working Holiday, Young Professional or International Co-op categories can come to Canada only if they:
● have a valid job offer, and
● a port of entry letter of introduction
This measure will be in effect until further notice. Continue to check our website for updates.
(Update 28.04.2020 from CIC Canada Website):
CIC CANADA WRITES (28.4.2020) : "Temporary foreign workers, some international students and approved permanent residents who haven't yet landed are now able to enter Canada.
The travel restriction exemptions that were announced are now in place. If you're exempt, you can now travel to Canada. If you're travelling by air, you need to pass a health check conducted by airlines before you're allowed to board your flight. Anyone who shows symptoms of COVID-19 will not be allowed to enter Canada by air. When you arrive in Canada, we'll assess your health before you leave the port of entry. You must have a plan to quarantine for 14 days when you arrive in Canada. This is mandatory, even if you have no symptoms. If you don't have a plan, you'll be quarantined in a facility designated by the Chief Public Health Officer of Canada. Only people who provide essential services, for example truck drivers who regularly cross the border to maintain the flow of goods, are exempt from the quarantine requirements."
1. General information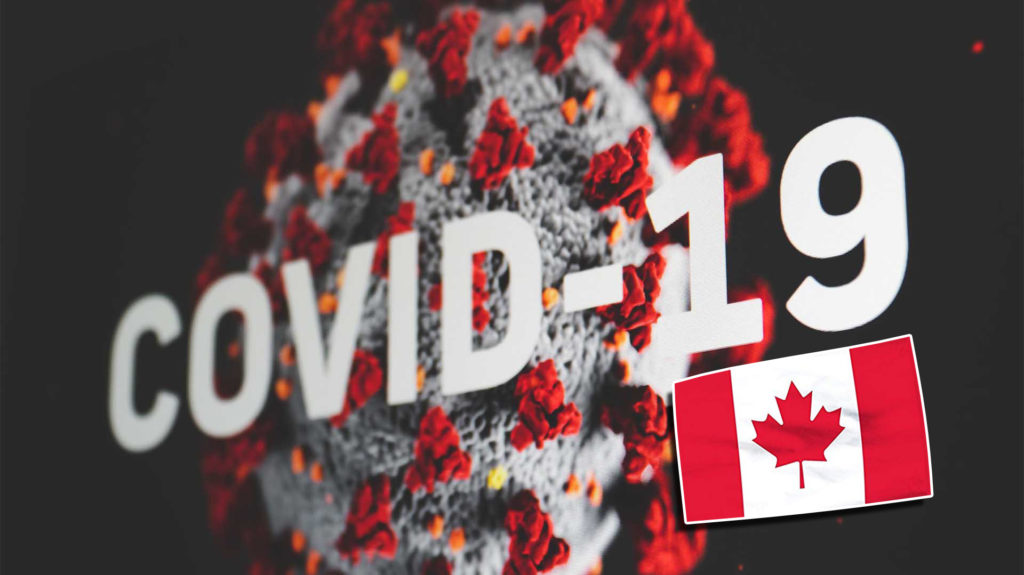 CIC CANADA WRITES (26.3.2020) : "On March 16, 2020, the Prime Minister announced travel restriction measures that will restrict air travel to Canadians, permanent residents and families of Canadians to protect Canada from the outbreak of COVID-19. While these restrictions seek to stop non-essential travel, there are exceptions to ensure essential travel is permitted. The following text addresses common questions about the travel restrictions and other impacts COVID-19 is having on IRCC's clients and operations."
The information on the spread of the Corona Virus (COVID-19) is changing every hour. I follow the developments and I am aware that the news about the danger and spread of the virus unsettles you and overshadows the joy of your Work and Travel Canada adventure. I will try to summarize the most current information here in this article. Check the "last updated" date in the beginning of the article.
Try to stay up to date yourself and get the latest information directly from the Foreign Offices and the Canadian government website. In addition, the Canadian government also posts updates on their Facebook page: "Canadian Immigration and Citizenship"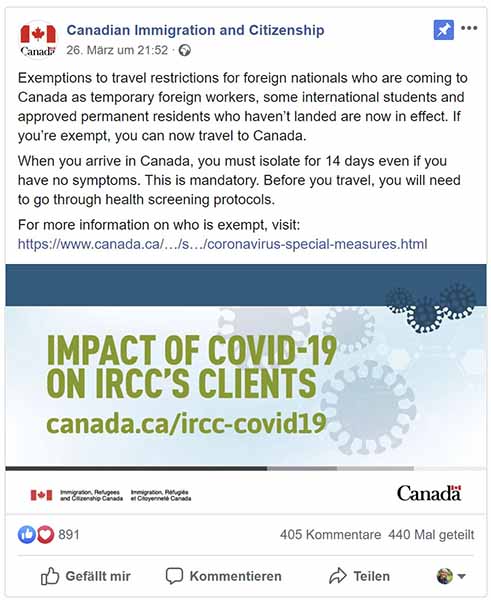 2. What happens if I am already applying for the Working Holiday Visa?
Because of the travel restrictions, no application in progress will be closed or refused due to a lack of documentation or inability to complete the application process in time, such as giving biometrics or completing an immigration medical exam, when travel reopens.
3. Biometrics deadline ???
Some biometrics collection sites are still closed. These sites include
visa application centres (VACs)
United States (US) application support centers (ASCs)
Service Canada offices
If the site closest to you is closed, we'll automatically extend your deadline to give your biometrics.
You don't have to give your biometrics until the sites reopen. This applies to you, even if your biometrics instruction letter (BIL) says you have 30 or 90 days.
You don't have to contact us for this extension, and you don't need a new BIL to make another appointment when sites reopen. Bring your original BIL to your new appointment to show proof of payment.
Your application won't be refused or closed if you can't give your biometrics due to COVID-19 closures.
More Information here.
4. Withdraw your application
If you are affected by the coronavirus from travel restrictions and want to withdraw your application, use the following government web form.
You will receive a refund of your fees paid if you withdraw your application within 24 hours of submitting it. So until the processing has not yet started. (I find the sentence itself very confusing, as it is written on the Canadian side. If you have experience with it, please write me a comment, then I can include it here.)
5. Can I enter Canada with the Working Holiday Visa?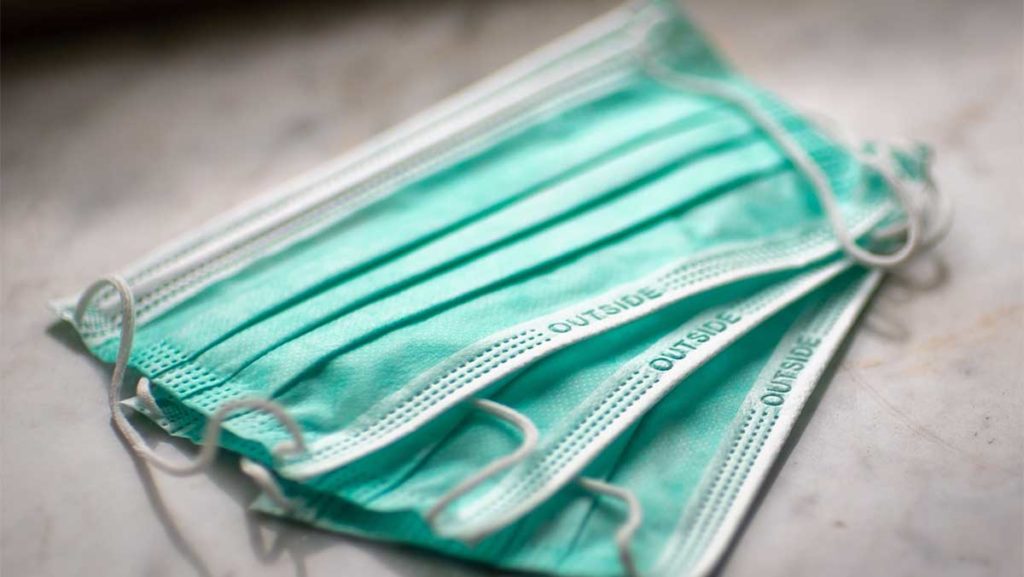 On March 20, the government made it clear that valid work and student visas entitle you to enter Canada. So "YES", you can enter with the Working Holiday Visa.
CIC CANADA WRITES (26.3.2020) "As announced on March 20, 2020, all temporary foreign workers will be able to travel to Canada by air or land. They will be exempt from the air travel restrictions announced on March 16, 2020, as well as border restrictions. Those affected by these exemptions should not try to travel to Canada immediately.

Like all travellers, including Canadian citizens and permanent residents, temporary foreign workers who enter Canada by air or land will undergo the necessary health checks and must isolate for 14 days upon arrival in Canada.

In addition, a temporary modification is being made to the Labour Market Impact Assessment process for agriculture and food-processing employers, as the required 2-week recruitment period will be waived for the next 6 months. We are also increasing the maximum allowable employment duration for workers in the low-wage stream of the Temporary Foreign Worker Program from 1 to 2 years. This will improve flexibility and reduce the administrative burden for employers, including those in food processing."
CIC CANADA WRITES(08.5.2020) : Do International Experience Canada participants fall under the temporary foreign workers exemption? – Yes, the exemption includes International Experience Canada participants.
Effective May 8, 2020, applicants in the Working Holiday, Young Professional or International Co-op categories can come to Canada only if they:
● have a valid job offer, and
● a port of entry letter of introduction
This measure will be in effect until further notice. Continue to check our website for updates.
6. Port of entry letter of introduction questions
a) I received a Port of Entry Letter of Introduction, but do not wish to come to a Canadian port of entry during the COVID-19 pandemic. Will my letter expire?
A Port of Entry Letter of Introduction is valid for one year after its date of issue. Once a letter is issued under the IEC program, it is considered a participation. An issued letter cannot be cancelled.
These letters may be extended upon request, via our Web form. Be sure to select "International Experience Canada" from the drop-down menu and include as many details as possible to support your case.
b) My Port of Entry Letter of Introduction expires in June or beyond. Can I apply for an extension, or do I have to wait?
Please only contact us if your letter expires in the next 30 days and you cannot travel due to disruptions caused by COVID-19. If your letter expires in 60 or 90 days or more, please wait until a month before it expires to contact us. As the COVID-19 situation evolves, we urge you to monitor IRCC's website for updated information.
c) My Port of Entry Letter of Introduction expires soon and I am in Canada. What do I do? Can I travel to a Canadian port of entry to activate my work permit?
You should not travel to a port of entry to apply directly to a border services officer at this time. Travelling to a port of entry from inside Canada to get immigration services is not considered essential travel.
Please check the website regularly as procedures may be put in place to allow IEC participants to activate work permits from within Canada. In the interim, you must ensure that you maintain your current immigration status while in Canada.
d) I have a Port of Entry Letter of Introduction but my employer rescinded my job offer. Will I be able to get another participation?
Yes, if your employer has withdrawn their offer of employment, this will not be counted as an IEC participation. Your participation fee will be refunded. You will then be able to reapply for another participation once the program resumes sending invitations.
"NO", currently the eTA Canada (electronic travel authorization) is not enough to enter Canada. -> While some exemptions apply, most foreign nationals who hold a valid visa or eTA are not able to travel to Canada by air at this time.
8. Do I need a medical exam when I enter Canada?
So far I have not found information that you need one. When you arrive in Canada they will check your health before you leave the port of entry. You must isolate for 14 days even if you have no symptoms. This is mandatory.
9. Is my airline still flying to Canada?
International flights may only land at the following 4 airports: Toronto Pearson International, Montreal Pierre Elliott Trudeau, Vancouver International, Calgary International. This does not apply to flights from the USA, Mexico and the Caribbean – these will still be able to land at all airports. Many European airlines are significantly reducing the number of their transatlantic flights.
Info: Airlines are instructed not to carry passengers who have symptoms of Corona infection (including Canadian nationals). Only if you have a medical prof that shows that the symptoms are not from Corona.
10. What should I do if my plane stops flying?
If you have received your visa, you can consider whether you book another flight or whether you wait a few more weeks and see how it all will go with COVID-19 (CORONA VIRUS). If you have already taken out international health insurance, you can cancel it and get your money back.
11. Is my overseas health insurance still valid in Canada?
You have to check every Insurance Company individual. Some have a new FAQ on der Website or you contact them via Email or Phone. The insurance that i was using for my 5 years travelling still covers everything. Once again contact your Insurance.
12. I am currently in Canada, should I cancel my trip?
I recommend that you don't rush to abort your stay. If you got your trip organized by an organization or a program, contact the organizer and clarify this with them. Many organizations have already sent emails to their participants. Check your spam folder as well.
13. I am currently abroad and have heard of the return campaign organized by different Countries. What does that mean for me?
If you did not use an Organisation to book your flights and you have problems getting a return flight, you should inform yourself if your country offers return campaign for foreigns outside their home Country effected by the corona restrictions.
You can also use those list if you think your flight via the organization might be canceled.
For German citizens, it is the website of the Federal Foreign Office
For Austrian citizens it is the website of the Ministry of Foreign Affairs
For Swiss nationals, it is the website of the Federal Department of Foreign Affairs (FDFA)
14. I am on my Working Holiday in Canada. What should i be aware of?
If, as a work and traveler, you decide not to return home but stay in Canada, that is your personal decision. It is important that you think about what this decision may entail:
It is currently not possible to predict how the situation in Canada will develop. Governments are increasingly taking preventive measures to prevent or at least slow the spread of the disease. This means that restrictions in public life are also increasingly to be expected in Canada. In addition to closings of public facilities, there is also a very high probability that tourist accommodations such as hostels and hotels will close more and more.
So you should make sure that you have safe accommodation in the long term (e.g. your own camper, flat share, etc.). Please also be aware that the local labor market will change because many jobs in the tourism sector will be lost. The opportunities for jobs are currently shifting to other areas (e.g. agriculture: best time for wwoofing). So if you can't find a job, you should have sufficient financial reserves. It is best if you sign up for the crisis preparedness list in your home country. See link above.
15. How should I behave in Canada?
First of all, keep calm. Stay relaxed and don't let the fear tempt you. As with us in Germany, everyday life is more restricted. I recommend that you follow the provincial guidelines. Be aware that you can do a great deal to reduce the risk of the Corona Virus COVID-19. Now is the best time to work and take care of all the things you can't do because of all the traveling. To make it more humorous. Never before in history could you be a hero by staying at home and watch TV. 😀
16. U.S. and Canada border closes
Canada and the United States will partially close their common border from the night of March 20-21. Only absolutely necessary border crossings are allowed, home trips of Canadian and American citizens should be made possible. The traffic relevant to important supply chains should not be affected either.
17. Is my dream of work and travel in Canada now bursting? Should I even make plans and book a trip?
As you could read in this article, you can still stay in Canada with the Working Holiday Visa and will also be allowed into the country. (Always check the latest information on the Canadian government website as this can change daily)
Organizations such as AIFS continue to offer their programs. I assume that all trips and programs will be possible again in the near future. If there is still a travel warning for your travel destination at the time of your planned departure, you can usually switch to another departure date or program at the organizations free of charge.
If you have organized the trip completely independently, note the questions discussed here in the article about flight, entry and insurance.
17. (NEW) Can an IEC participant apply to receive the Canada Emergency Response Benefit (CERB) even if they are not citizen or permanent resident?
For an IEC participant who has stopped working because of COVID-19, the CERB may provide temporary income support as long as you meet the eligibility requirements. Information concerning the different types of support being offered as part of the Government of Canada's approach to the COVID-19 outbreak can be found on the Government of Canada's website.

ATTENTION: Further measures can follow at any time.
Because the subject changes every day, check out the official website of the Canadian government. I will keep the article up to date but always check the date at the top of the article. In addition, clarify your flights with the tour operator, organization or your airline whether your planned trip is still being carried out.
Sources:
For daily travel inspiration, follow me on Instagram: @WorkingHoliday.Blog
Also Read
Disclaimer
:
Please note that some of the links marked with a * are affiliate links, and, at no additional cost to you, I may earn a commission if you make a purchase. I use all the companies listed and recommend them because they rock and have made my travels better. If you are ready to book your trip and would like to support Working Holiday Blog, using these links is one way to do that. If you have any questions about the companies, e-mail me.
Ciao Daniel 🙂
Follow Me on YouTube, Facebook, and Instagram.
If you find this helpful: Share It with your friends!