Update 11.7.2020 – This is the Travel VLOG Series from Tenerife! Back in January i spent 4 weeks one this beautiful spanish island. Tenerife is one of the 7 canary islands in the Atlantic Ocean, just in front of Africa. I shared an AirBnB togehter with Julian (Project-Newzealand) and Nils (KiwiQuest). Both of them are also running their sucsessful online-business. As a challenge i decided to make a video every single day. In the end i created 46 Videos in a row. This series is the REMAKE Version with only the BEST Travel Videos from Tenerife in Spain. Enjoy entertainment, Infos, Guides and secret places!
Tenerife: The most important facts and figures at a glance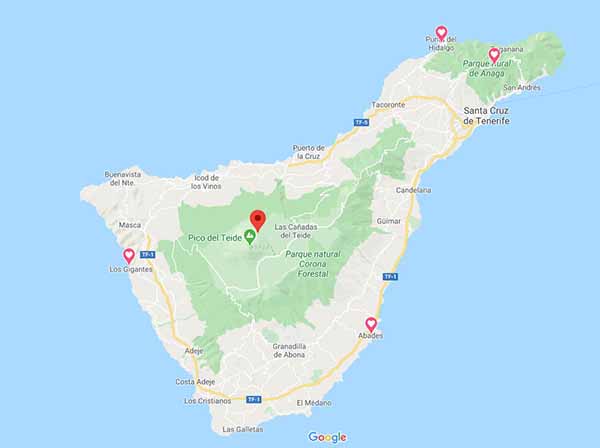 Island
Tenerife
Country
Spain
Autonomous Community
Canary Islands
Province
Santa Cruz de Tenerife
Capital and largest
Santa Cruz de Tenerife
(pop. 207,312)
Population
approx. 917,841
Area
2,034.38 km²
(785.48 sq mi)
Coastline
342 km
(212.5 mi)
Highest point
Teide
Language
Spanish, specifically Canarian Spanish
Currency
€ (EURO)
Time zone
• Summer (DST)
WET (UTC±00:00)
WEST (UTC+01:00)
Average temperature in summer
21°C (69,8°F)
Average temperature in winter
14°C (57,2°F)
[PLAYLIST] Watch the Full Tenerife Series – All Episodes
-> Download Ultimate Backpackers Packing List: >>> Free Packing List here [PDF] <<<
.
1. Tenerife Spain: Travel SIM CARD & Shopping
This was my first day on Tenerife together with Julian. He picked me up on the Airport South wich is located at the south point of the island. In this Episode I'll take you with me to a hunt to get the best Travel SIM Card on Tenerife. Unfortunalty alot of the Phone Shops where out of sim cards. We also went shopping. Have fun with the first VLOG.
2. Best Air BnB on Tenerife & Room Tour
Best Air BnB on Tenerife & Room Tour | VLOG#2 – Today I will give you a room tour from our AirBnb in punta del hidalgo on Tenerife, Spain. Why was this the BEST AIRBNB on Tenerife? I shared this AirBnB togehter with 2 other digital nomads. (Julian & Nils). It was cheaper for us to rent an AirBnB together and split the cost than going to a hotel. This is how we could live in an amazing place for 4 weeks while still living low budget. Have fun with the video.
GET FREE MONEY: If you are NEW to AirBnB you can get some Money off for your first say with this Link*.
3. FROM FAILURE TO SUCCESS – My Video for Lizzie Peirce
This is a REMAKE from my SECRET Project Video Series about the 2 videos I created for Lizzie Peirce. She uploaded the first video on the 1.1.2020 on her Channel. In January I was part of a competition for a video editor position from Lizzie. Together with 5 other applicants we had to create her first VLOG. We got complete creative freedom and should create our own interpretation. The winner would become the video editor for Lizzie Peirce. Did I got the Job from Lizzie Peirce?
-> THIS VIDEO IS ABOUT "How I turned my failure into a personal success!"! What can you learn from my failure?
4. Is this the next INSTAGRAM for Travel? ♥ TRAVEL JOURNAL – Behind the Scenes with Nils
Today I will test the Social Media App Travel Journal (Travel Quest) from Nils Dannemann. He is the founder of KiwiQuest a Work & Travel Portal for Travelers who want to travel New Zealand. He also invented an Application for Backpackers. A Social Media named Travel Journal.
With Travel Journal you can save your location, notes, mood and a picture from your current journey on to a world map. Just using your messanger or telegram. The idea is to connect those moments like a journal. All the Dots on the map will be in a visual representation. So you can share it with your friends and families. Today I will go up a mountain here in Tenerife to see if the idea is actually working. So let's see if this app has the potential to become the next Instagram!
Read the complete Story here: "5 YEARS TRAVELING AROUND THE WORLD ♥ What do I miss?"
Become a BETA tester for Travel Journal
Attention: TRAVEL JOURNAL is still in BETA. This means that the idea and the final functions are far from finished. I just want to give awarness to travelers. Beta tests are a way to test software/app before it is released.
What is special about a BETA tester?
As a BETA tester, you are significantly involved in the design of Travel Quest. You help to find bugs or incorporate improvements. You are one of the first travelers who can record their trip on Travel Quest. Your route will remain after the beta test is over. Only if you want so.
How do I become a BETA tester?
Travel Quest is completely free and will remain free in the future.
If you think the idea is cool and want to become a beta tester, register at the following link:
✩ TRAVEL QUEST ♥ (Travel Journal) ♥ BETA Access
Work & Travel in New Zealand?
After my 2 years in Canada (2015 to 2017), I did Work & Travel in New Zealand (2017 to 2018). After that I even continued and went to Australia for another 1.5 years (2018 to 2019). I just came back to Europe.
If you want to do work and travel in New Zealand, then have a look at the website from Nils -> "KiwiQuest".
5. Where to RENT CHEAPEST CAR Tenerife, Spain!
Today I will show you how and where you can get the cheapest rental car on Tenerife Spain. I will take you with us to the Airport South where you find the car pick up and drop off zone. The cheapest company to rent is "INTER RENT" a company by GOLDCAR.
You can find all the different rental companys at the south airport in Tenerife. I will give you some insides on what to look out for when renting a car on tenerife, so that you don't end up spending more money than you original planed!
Tenerife is one of the most beautiful islands I have ever been. She is an Island so full of different things to explore that one day is not enough. From the beautiful beaches in the south, ghost towns, the volcano Mt. Tide, which is the highest mountain above sea level in all of the islands in the Atlantic ocean, the Spanish villages with all their cute restaurants and cafés to the amazing hikes in the north of the island. This is why you should rent a car for the entire time you are on Tenerife!
,,For 2022 we recommend Travel Credit Card from Revolut.
No Annual Fee, withdrawling cash abroad is free"
Find out more in the article:
Best Travel Credit Card for Working Holiday!
6. Why Tenerife Is MORE Than Just Resorts! – NORTH TENERIFE
Today I take you with me on a Road Trip through the North Island of Tenerife! We will explore, La Victoria, Cuesta de la Villa, Mirador de Jardina, Mirador de Zapata. I'll give you the reason why Tenerife is more than just a holiday island! The north of Tenerife is amazing & beautiful! Have Fun watching Vlog No.6
7. Punta del Hidalgo: THE 5 BEST Things to Do!
These are my TOP 5 Attractions from the fisher Village Punta del Hidalgo! It is a small coastal village with beautiful natural swimming pools. It is located in the extreme north of Tenerife, Spain. I created an whole article about "Things To Do in Punta del Hidalgo" <- Read more here!
8. Tenerife GHOST TOWN – Abades & Sanatorio de Abona
In Abades you will find a Ghost Town! The exact location is Sanatorio de Abona, also known as the Ghost Town Tenerife. In 1942 they began to construct a town near Abades on the East Coast of Tenerife in order to send all the people with leper to be quarantined there.
This place is still known as the Leper Colony of Arico. Today it is an authentic abandoned town next to the ocean, built with rough southern stone that blends into the landscape.
The most visually striking piece is the church "La Iglesia del Sanatorio de Abades" that can be seen from the main highway.
Today I will show you the Ghost Town, Increddible Street Art and one of the most stunning abandoned places I have ever seen!
What is your favorit abandoned places? – Let me know in the comments 🙂
9. Tenerife Bajamar – Crazy Waves & 30 days!
Today I take you with me to Bajamar a small village in the north of Tenerife, Spain. Here you will find massiv Waves! I also talk about, what I learned from 30 Days uploading a videos every single day to YouTube!
10. Tenerife Chinamada & Cave House
Tenerife Chinamada is an old aboriginal farm in which around thirty cave houses in good condition and of great ethnographic interest are preserved, which are currently inhabited. The trail begins to the left of the recently built hermitage of Chinamada, along a trail marked with the reference "La Punta del Hidalgo" that runs over the Tomadero ravine, of a very abrupt nature.
Also Read
Disclaimer
:
Please note that some of the links marked with a * are affiliate links, and, at no additional cost to you, I may earn a commission if you make a purchase. I use all the companies listed and recommend them because they rock and have made my travels better. If you are ready to book your trip and would like to support Working Holiday Blog, using these links is one way to do that. If you have any questions about the companies, e-mail me.
Ciao Daniel 🙂
Follow Me on YouTube, Facebook, and Instagram.
If you find this helpful: Share It with your friends!